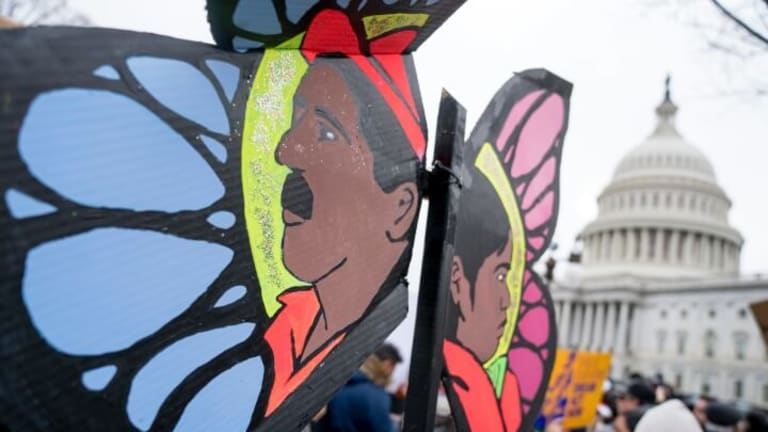 Temporary Protected Status Refugees Fight Expulsion
Nidia Bautista: Orlando Zepeda and Evelyn Hernandez are immigrant activists. Neither has a backup plan in case TPS isn't renewed next year, other than "to keep fighting until we have permanent residency."
Orlando Zepeda and Evelyn Hernandez are immigrant activists. Neither has a backup plan in case TPS isn't renewed next year, other than "to keep fighting until we have permanent residency."
Orlando Zepeda is one of 30,415 Salvadorans living in Los Angeles with Temporary Protected Status, a form of humanitarian relief that will expire next January. He came here from El Salvador in 1984 when he was 18, and has lived in the United States for nearly twice as long as he lived in his home country. Today he shares a Central Alameda home with his wife, Lorena Arana, who is also a TPS holder, and their two U.S.-citizen children, aged 12 and 14. He works providing building maintenance and until recently was involved in his church in Koreatown volunteering as a chaplain in prisons and hospitals.
Evelyn Hernandez, a community organizer at the Central American Resource Center, leads know-your-rights workshops in Los Angeles County, which has the largest Central American population in the country. She's also a TPS holder from El Salvador, with three U.S.-born children, and is married to a U.S. citizen. In January 2018, the Trump administration announced the end of TPS protections for people from El Salvador, who, like refugees from Haiti, Sudan, Nicaragua and Honduras, are under federal order to leave this country by January 2020.
"We're a community fighting for legal permanent status for our families. We're not victims."
"I've had to consider the possibility of leaving by myself, which would be devastating emotionally for me and my children," said Hernandez. "There's a shared anxiety about what's going to happen after the extension is over."
Both Zepeda and Hernandez are activists with the National TPS Alliance, an advocacy organization formed and led by program beneficiaries from across the country. Neither has a backup plan in case TPS isn't renewed next year – other than, as Hernandez said, "to keep fighting until we have permanent residency."
The alliance, which works in collaboration with the Central American Resource Center, is pressing Congress for a more permanent solution through a campaign to allow TPS recipients to adjust to Legal Permanent Resident (LPR) status, which would allow them to live and work anywhere and to apply for citizenship.
Hernandez knows of some families where both parents are TPS recipients. "These children should be focused on fostering emotional well-being rather than worry[ing] what will happen to their parents if they're deported," she said.
She hopes that her oldest child can petition for Hernandez to get permanent legal residency. Hernandez's parents, who live in El Salvador, also depend on the money she sends them every month. "They're concerned about me but they're aging and sick, and I don't want to worry them. I try to be positive."
TPS holders and their families are also suing the federal government regarding the decision to end protections for Sudan, Nicaragua, Haiti and El Salvador. The plaintiffs argue that the termination of the designations are based on "animus against non-white, non-European immigrants in violation of Equal Protection guaranteed by the Constitution."
Orlando Zepeda and his son Benjamin are part of the lawsuit. Benjamin attends St. John Bosco High School in Bellflower and joined other U.S.-citizen children to sue the government for being forced to choose between staying with their parents or their rights as U.S. citizens. At the crux of the issue for the children is the threat of an upended life and separation from their parents.
"Benjamin's grades have dropped since they announced the end to TPS and it's had an impact not only on our family but hundreds of thousands of families," he said. About 273,000 children in the U.S. have TPS parents.
The lawsuit's plaintiffs won a preliminary injunction last October that blocked the Trump administration's termination of their legal status. The administration is currently appealing the ruling in the Ninth Circuit Court of Appeals. In February, the Department of Homeland Security extended temporary protected status for people from El Salvador, Haiti, Nicaragua and Sudan to next January.
Congress first granted TPS to Salvadorans fleeing war in 1990 and George W. Bush's administration designated TPS protections to Salvadorans in 2001 after three earthquakes killed hundreds, destroyed homes and triggered hundreds of landslides. Until Trump's presidency, subsequent administrations extended the protections every six to 18 months after reviewing conditions in El Salvador.
The Trump administration said its decision to end TPS came after determining that the "substantial disruption of living conditions caused by the earthquake no longer exist." DHS instructed Salvadoran TPS holders to "arrange for their departure" or seek alternative lawful immigration status.
Orlando Zepeda left El Salvador in the middle of the country's civil war and fears he would not even recognize the country now. But he says his family will remain here until the last hour. "We don't think about anything but fighting to stay here," he said.
Hernandez says that her family and other TPS recipients plan to do the same: "We're a community fighting for legal permanent status for our families. We're not victims."
Nidia Bautista
Capital & Main

Nidia Bautista is a bilingual reporter covering gender, immigration and politics. She has written for Al Jazeera, Latino USA and CityLab.