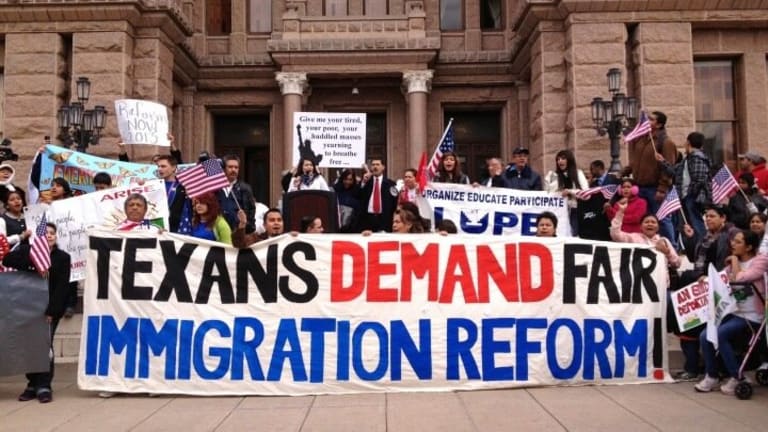 Here's How Texas Should Give Its Immigration Law the Boot
Texas is not the first state to pass an anti-immigrant law targeted toward Latinos; that dubious honor goes to California. In 1994 California voters approved ballot proposition 187 that would strip the provision of any service—including emergency room care and K-12 education—from undocumented persons.
For a while it seemed like California was the exception that confirmed the rule of state's not getting involved in issues of immigration. But after a lull of 16 years, Arizona passed SB 1070, the "show me your papers" law that triggered a number of other states, including Alabama to pass similar measures.
Texas probably won't be the last state to pass anti-immigrant bills. We're in the midst of a political climate where none other than the president of the United States refers to Latino immigrants as rapists and drug dealers.
Regrettably, Texas probably won't be the last state to pass anti-immigrant bills. We're in the midst of a political climate where none other than the president of the United States refers to Latino immigrants as rapists and drug dealers.
But the recently passed SB4 in Texas is of exceptional significance for two reasons. First, the sheer size of the Latino population makes the effects wide ranging. Texas has the second largest Latino population in the nation and, since 2016, is the state with the biggest increase in its Latino population.
Second, the Lone Star state's anti-immigrant law is vast in its scope. The law does not just ban sanctuary localities, it also penalizes police departments for not enforcing federal immigration laws and provides for the racial profiling of individuals who are stopped during routine traffic stops.
The Texas anti-immigrant law is slated to go into effect on September 1. Currently there are court challenges to block it.
In the meantime, immigrant advocates in Texas are pushing back. They got some good advice from Latino advocates gathered in Dallas recently at the 34th Annual Conference of the National Association of Latino Elected and Appointed Officials (NALEO).
On the final day of the conference, a plenary titled "Supporting the Lone Star State Post SB 4: How Latino Leaders Can Unite to Combat Anti-Immigrant Laws and Practices," was held. The plenary panelists consisted of veterans of past immigration battles and current warriors.
The discussion was spirited, to say the least and in the end the advice resulted in a frank and useful to-do list.
Here's some of what they said.
"Be bold, be aggressive, push back as hard as you can, get business community involved!"
Supervisor Steve Gallardo, Maricopa County, Arizona: Steve Gallardo has been on the front lines of the Arizona anti-immigrant battles where the wounds are still fresh. His take home was for Texas to push back with all of its might. Gallardo noted, that the country is watching and if SB4 is fully implemented anti-immigrant advocates in other states will be emboldened.
Gallardo's second point was straight out of the Arizona playbook that saw the author of SB 1070 recalled and Sheriff Joe Arpaio defeated. He emphasized the need to reach out to the business community because at the end of the day anti-immigration policies are bad for business. Gallardo's view is that politics can make for strange bedfellows and in pushing back, Latinos need to reach out to diverse partners who may not usually come to mind at first.
"Elections matter."
Sheriff Ed Gonzalez, Harris County, Texas:Gonzalez, representing most of Houston, noted that the passage of SB4 is a reminder that voting and elections matter and that Latinos need to look at who is representing them. Further, Hispanics can take the SB4 moment as a galvanizing one for the ballot box, using it to mobilize voters and elect candidates who will advocate for the community's interest.
"Don't get mad, get even."
Celina Moreno, MALDEF staff attorney:Moreno's advice was brief and to the point. She called on Texas Latinos to harness their anger at the hateful rhetoric of the past couple of months, especially during the closing days of the Texas legislative session, and put it to good use. Actions speak louder than words, and for Moreno anti-immigrant rhetoric can't match up to a mobilized Latino community.
"We all have a role to play."
Gabriel Sandoval, partner at Atkinson, Andelson, Loya, Rudd and Romo, California: Sandoval is a veteran of the Stop 187 movement in California and now works at a law firm to help local governments to navigate anti-immigrant policies. He highlighted that SB4, like earlier laws, will be an ongoing struggle and that the community will need to push back in a consistent and concerted manner where everyone can play a role.
For some that role will be in the courts, for others informing Latinos of their rights. Sandoval pointed to a high degree of misinformation that is being circulated and in turn stirring up even more fear. Something as simple as getting accurate information out into the community is a key role to play.
"It's difficult, but you are on the right side of history."
State Sen. Ricardo Lara, California: Lara is a veteran of the 1990s California anti-immigrant fight. And with this experience under his belt he pushed Texas Latinos to be unapologetic and undeterred. Sen. Lara also highlighted the silver lining to SB4 and how this (like Prop 187) was an opportunity to mobilize, and diversify Latino political leadership.
Victoria Defrancesco Soto
Dr. VMDS