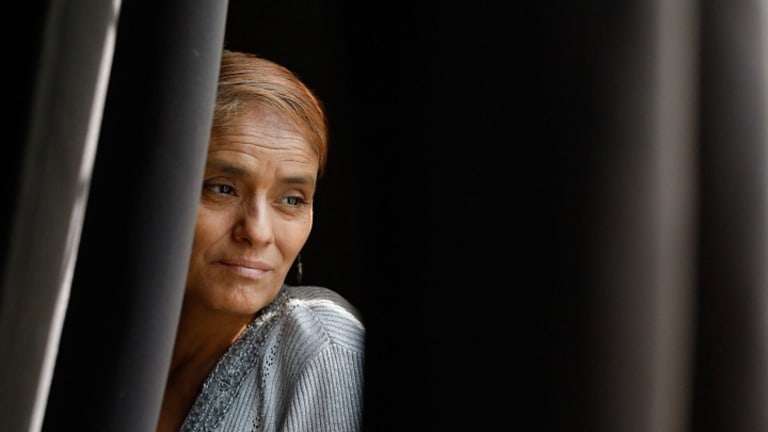 The Forgotten
Abraham Marquez: A California woman watches, unable to help, as her son struggles with Covid and depression inside a notorious ICE lockup. She's found community among families waging a Quixotic fight against official indifference.
A California woman watches, unable to help, as her son struggles with Covid and depression inside a notorious ICE lockup. She's found community among families waging a Quixotic fight against official indifference.
Ana Arellano saw how they cuffed and took away her son. It was in 2018 that Immigration and Customs Enforcement (ICE) came for Jose, but the scene continues to rush to the front of her mind, especially during the long stretches of time she spends sitting silently on her red velvet couch, cellphone in hand, waiting for her son to call.
There is no greater joy, Arellano said, than when he's able to call with an update on life inside ICE's Adelanto detention center, outside of Victorville.
"I hope to hear his name or a call that he is out," said Ana, 53, a Mexican immigrant.
Life for Ana was flipped upside down when ICE took Jose, 28, second oldest of her four children. She had a quiet and humble life in the U.S. for 16 years. She came to California with her husband from Michoacan, Mexico, to be closer to his family. Now, Ana is regularly overcome by waves of emotion, but she knows she must be a pillar: In their phone talks, Ana lets Jose know that he is not forgotten, that he's in their prayers, especially now, in the thick of the coronavirus pandemic.
The Adelanto Processing Detention Center, 87 miles north and east of Los Angeles in Southern California's High Desert, has been a COVID-19 hotbed. In October, nearly 20 percent of the immigrant detainees inside the facility tested positive for the virus. Jose was infected last fall. Ana felt powerless when she got that news, but it also ignited something inside her.
"Somos la gente olvidada del mundo." — "We are the world's forgotten people." — ANA ARELLANO
She doesn't consider herself an activist, yet Ana now finds herself among a group of relatives of Adelanto detainees, using all forms of protest to achieve the release of their family members.
While the Trump administration policy of separating children from their parents captured headlines over the past two years, Arellano's is a different story about family separation: What happens to families when the immigration system keeps someone locked up for mistakes they believed they had already paid the price for.
It also raises questions about why the government has been slow to release low-risk detainees during the pandemic.
"We've seen this all across the country, under Democratic and Republican-run cities, where criminal conduct has little life consequences for citizens, but for undocumented workers, it has a life-shattering consequence," said Simon Sandoval-Moshenberg, an attorney with the Legal Aid Justice Center, which fights for fair treatment of immigrants.
Jose Arellano is one of 158,000 people arrested by ICE in 2018 who had a criminal record. Charges for a DUI or drug possession were the most common among those detained. But more than 20,000 of the detained were immigrants with no criminal histories.
A Dubious Dragnet
Jose Arellano has lived in the United States since he was 11. He only knows Los Angeles. But, Jose also fit the bill for what ICE was looking for in October of 2018.
When Jose was detained, the agency was well into what ICE spokesperson Alexx Pons described as "a targeted immigration enforcement action." Arellano's record placed him in local law enforcement's database, which ICE has access to. What they found was that Jose was "an illegally present Mexican national with criminal convictions for driving under the influence and carrying a concealed weapon." That was one drunk-driving conviction, in 2017. (A first DUI is considered a minor offense in California.) And that concealed weapon was actually a kitchen knife that Jose said he had left in his work truck in 2018. That too was a minor offense and was later dismissed, according to the Los Angeles County District Attorney's Office.
Last Sept. 30, Ana Arellano watched television news coverage of mothers, wives, daughters, and community members camped out at the Federal Building in downtown Los Angeles. They were holding up signs, lighting candles for vigils and staging hunger strikes in support of relatives held inside Adelanto. She saw other women express anger and frustration as they shed tears for their loved ones.
The next day, Ana drove an hour from her home in San Bernardino to downtown Los Angeles and joined in the protest. It was a revelation. She found herself emboldened in her fight against ICE by her new community of women. "I felt like I was part of something bigger," Ana said.
The Nightmare Begins
On Oct. 16, 2018, Ana got up early to make breakfast for the family. Her husband, Jose, had just left for work.
Ana heard a ruckus coming from the front yard. She thought it was her husband returning because he forgot something. As she approached the front door, she saw uniformed officers moving through the yard, trying to enter her home. She abruptly stopped them, holding a strong grip on the doorknob. Her heart was pounding. She was afraid; she was, afterall, an undocumented mother of four. She asked the officers why they were there. They showed Ana a picture of someone, who was not her son, and told her they needed to speak to Jose Arellano about this person. Ana, hoping to avoid trouble, grabbed her son so he could answer whatever questions they had. She hadn't yet realized the officers were from ICE.
The agents surrounded Jose. "They already had all my information, my records," he said, recalling his arrest during a phone call with palabra. from inside the Adelanto facility.
Jose recalled being overcome by a profound feeling of emptiness as the cold metal handcuffs wrapped around his wrist. He said he screamed in Spanish to his mom, "no salgas," ("don't come out"), who watched from inside the house. He felt cold shivers as he heard his mother's cries for help.
Ana said she fell to her knees, in tears. "I wanted to hug him and hold him back," she said. She watched, powerless, while the officers threw him into the back of a vehicle.
The ICE agents didn't tell Ana where they were taking her son. She was left without information on where to find him and how to fight for his release. For several days, Ana and her family wore heavy hearts. They drove to different jails only to be disappointed that his name was not registered. It was not until Jose was finally allowed to make one call that she discovered where he was being held.
The first year of her son's absence was hard on Ana. ''I cried a lot, I felt weak. My husband tried very hard to cheer me up by taking me out to the mall or to eat at restaurants," Ana said.
Now, once a week, Ana gathers the family in the living room while Edwin, her youngest, sets up a video chat with Jose, via an app called GettingOut. Jose looks forward to seeing everyone's face every week. He likes to talk about cooking for all of them once he is out. He promises to make his favorite dish, "lomo picado" -- loin trimmings with his signature green salsa -- and "pozole estilo de Michoacán," a hominy and pork stew that's a tradition in the family's home state in Mexico. Sharing recipes for comfort food has become a routine on daily phone calls and the weekly video chats.
Jose has missed three New Year's celebrations with the family. No hugs. No kisses for good luck. Yet Ana goes on, doing what she can to lift his spirits.
"Hijo, no te desanimes," she tells him in Spanish. "Son, do not be discouraged."
Time, the Other Enemy
Every day brings Jose a new fight against depression. Life behind bars during a pandemic means he must make an extra effort to feel like he's alive. When Jose tested positive for COVID-19, it compounded the stress: TV news kept reminding him of the danger, with daily counts of infections and deaths. In detention, Jose says, he feels hopeless. Uncertainty overwhelms him.
A month after he was infected, there was good news. On Oct. 15, a federal judge ordered a reduction in the population at the Adelanto ICE Processing Center from 772 to 475, to minimize the spread of COVID-19. Authorities began releasing people. Arellano was not one of them.
Over the last two years, Jose has overcome many mental and physical challenges. He's had to accept the fact he will not be seeing his family anytime soon. Plus, there's the constant threat of getting infected again with COVID-19.
Jose has seen at least 30 people win release in recent months. He said he's happy for them, but each day that goes by without his own release leaves him wondering if his name will ever be called. ICE released people with DUIs like Jose. But when palabra. asked why he wasn't released, ICE spokesperson Alexx Pons said releases were determined on a case by case basis. Jose remains in ICE custody awaiting the outcome of his immigration proceeding. And, there are delays because the courts were closed for months due to the pandemic, worsening a backlog in paperwork.
Ana and Jose relied on a friend to help find an attorney to argue for his release. But Jose hasn't spoken to that attorney; he said he remains in the dark on the status of his case. There are days when he wants to give up and just ask to be deported. But immigration law experts said it's possible for someone like Jose, with a DUI, to fight deportation. It won't be easy, though, and without knowing the specifics of Jose's case, the lawyers wouldn't speculate on his chances.
Each night a thick cloud -- a mix of depression, fatigue and uncertainty -- drags him down and interrupts his sleep. He has no idea when, or if, he'll ever reunite with his family.
Rays of Hope
Throughout the five-day protest in September at the Los Angeles Federal Building, community members and immigration activists stopped by to show their solidarity with the women calling for the release of loved ones.
The protest was hosted by local labor unions and religious leaders. "We have to continue to fight the human rights abuse by this administration," said California State Sen. Maria Elena Durazo, D-Los Angeles, who brought water, ice, and medical professionals.
All the support encouraged Ana, and it introduced her to pastor Jael Altamirano, who is fighting for the release of her husband, Allan Altamirano. The women immediately bonded. They discovered Allan and Jose were cellmates inside Adelanto and had become friends, bonding over prayer. They share plans on what they will do when they get out. "We talk a lot inside about how we want to study and work," said Jose.
"It made me so happy that my son is friends with the pastor's husband," Ana said.
The hunger-strike protest ended with a large rally just outside the detention center in Adelanto. Ana was there, emboldened by being with women who knew her suffering. "¡A mi hijo se lo llevaron vivo y así quiero que me lo entreguen, vivo!" she screamed, defying a blistering fall heat wave in Adelanto's desert setting. "They took my son away alive and that's how I want them to give him to me, alive." She said she fears that the deadly virus can still take him away.
There is hope that the new administration of President Joe Biden will attempt to reverse former President Donald Trump's policies, orders that resulted in thousands of deportations and arrests. Biden issued a 100-day freeze on deportations through an executive order, but it has been blocked by a federal court. The Biden administration may also seek to close for-profit detention centers like the one that's holding Jose.
Ana is skeptical. "I always hear presidents talk about the people, but never about those who are detained, who are behind bars, separated from their families with no one to turn to," she said.
She said it's easier for politicians to forget families like hers.
"Somos la gente olvidada del mundo," she said. "We are the world 's forgotten people."
Ana continues to wait by the phone every day to speak to her son, to help him get through these troubling times.
"I want people to read and learn about the suffering that people go through that are detained, and what their families go through," Ana said. "These are human beings, this is their reality and we need your support and voice."
Abraham Marquez and Zaydee Sanchez
palabra
This article was first published in palabra., the digital magazine for independent journalists by the National Association of Hispanic Journalists.