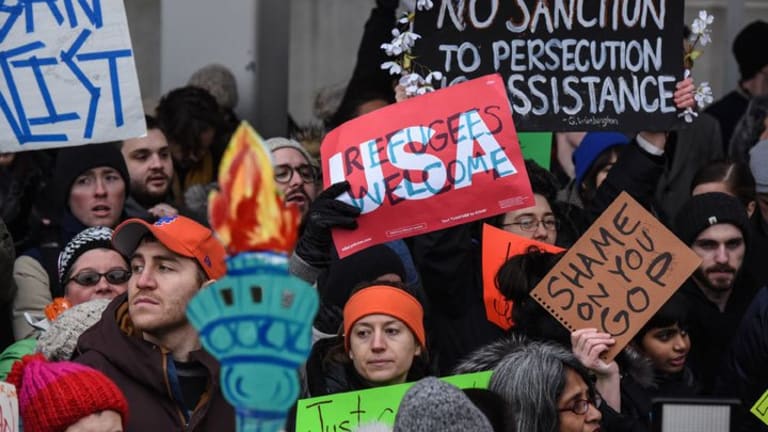 Trump Executive Order Banning Muslims Stopped
Sharon Kyle - Trump Executive Order Banning Muslims Stopped for now.
During his presidential campaign, Donald Trump promised that he would establish a "total and complete" ban on Muslims entering the country. His campaign manager then explained that the ban would apply to "everybody," including those seeking to immigrate and tourists.
On Friday, January 27th, Trump made good on his promise when he issued an executive order essentially banning Muslims from entering the country. The EO called out seven countries in particular but was written in such a way that other countries could be added in the future.
Then, on Saturday, the American Civil Liberties Union, along with several other groups, sued Trump on behalf of two men held at JFK Airport in New York.
The ACLU successfully stopped Trump – for now.
Federal Judge Ann M. Donnelly of the U.S. District Court ruled that Donald Trump and all government actors would be "enjoined and restrained from, in any manner or by any means, removing individuals with refugee applications approved by U.S. Citizenship and Immigration Services as part of the U.S. Refugee Admissions Program, holders of valid immigrant an non-non-immigrant visas, and other individuals from Iraq, Syria, Ian, Sudan, Libya, Somalia, and Yemen legally authorized to enter the United States." Notice that Saudi Arabia, the country that gave us 15 of the 19 people who were responsible for 9/11, is not on the list. Neither are Muslim-Majority countries where Donald Trump has business ties.
The court's order in its entirety can be read here.
The American-Arab Anti-Discrimination Committee created a concise summary page outlining the Trump's executive order banning Muslims. It's being included here because this fight is not over. There are links are the bottom of the page for those who want more information or who want to support organizations that desperately need funding to mount serious opposition to Trump and his advisor, Steve Bannon's, attempts to violate the rights of immigrants. Following are some of the points made by the ADC:
REMAIN IN COUNTRY | Please advise impacted individuals (Undocumented, Visa Holders and Green Card Holders) not to leave the U.S. Their prospects for reentry will be in jeopardy.
RESTRICTION ON MUSLIMS | In addition to the seven listed countries being Muslim-majority, the Executive Order also excludes individuals who "would place violent ideologies over American Law," which is coded language for Islam.
EXCEPTION FOR CHRISTIAN AND "MINORITY RELIGIONS" |The Order creates exceptions for Christians and members of minority faiths from the seven countries to enter as refugees.
INTERVIEW REQUIREMENT |The Order requires all visa applicants to attend an interview, whereby they will be vetted and interviewed on grounds of political, cultural and religious views.
DOES ORDER INCLUDE DEPORTATIONS |Not at this time. However, subsequent immigrant and counterterror measures may function to expose impacted groups to deportation.
IT IS A MUSLIM BAN | The order is specifically tailored to restrict entry of Muslims from seven Muslim-majority countries, so it is a partial "Muslim Ban." So, call it a "Muslim Ban."
The LA Progressive will continue to report on this important issue as more details arise.
Sharon Kyle
Publisher, LA Progressive
The ACLU
The Arab-American Anti-discrimination Committee
Council on American-Islamic Relations (CAIR)