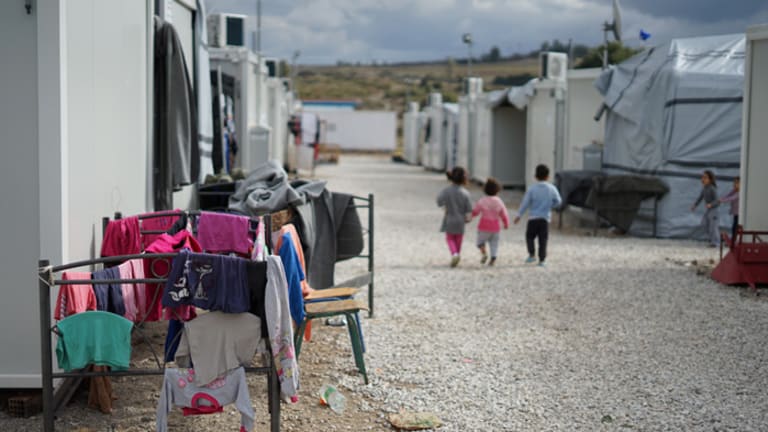 Federal Officials Seek Emergency Shelters for Unaccompanied Migrant Children
David Trujillo: Action to house migrant children in safe shelters is a very good start by the Biden Administration in administering new immigration policies.
There are so many young migrant children seeking entrance into the United State that federal officials are opening up a number of emergency shelters. These young migrant children travel the rough and dangerous roads through cities and towns a hundred and sometimes thousand miles away from their homelands. Some come as far away as El Salvador, Honduras, Guatemala, and other Central American countries. 
They are young and alone. They leave behind memories of their birthplace and they take the dangerous trip toward the U.S where they believe there will be a new future. Undaunted by any dangers they continue to walk toward the U.S. border. 
The history of people coming from foreign lands escaping hardships, economic devastation, and oppression to come to American is part of our short but lively American history. In the 1800s Chinese, Italians, European Jews, Irish, and many others made sacrifices to come and fulfill their dreams in America. Some had success while many others felt the brunt of American racism. The great migration to America has not really faded. It only has been interrupted and structured by various administration's interpretations of U.S. policies.
Today, according to government data over 20,000 migrant unaccompanied children are in U.S. custody. This human crisis of unaccompanied children crossing the U.S border continues on a daily basis. 
Federal Officials are Seeking emergency shelters for these unaccompanied children who are crossing the border. The City of Long Beach in California the seventh-largest city in California, for example, has decided by a majority vote of the city council to take in 1,000 migrant children. The Children will be temporarily housed in the City of Long Beach convention center for a period of 90 to 120 days. 
Action to house migrant children in safe shelters is a very good start by the Biden Administration in administering new immigration policies.
The City of Long Beach is providing the convention center as a major site to shelter unaccompanied children and the federal government is providing funding. Currently, there are only two major sites in Southern California providing such facilities and services. One is located in San Diego and the new one is in Long Beach. Dallas is the only other major city that has converted a major site into an emergency shelter. Federal Officials are moving as fast as possible to secure additional sites.
This action by the City of Long Beach is a humane first step in an attempt to deal with this particular immigration issue. It is also a major step in coordinating immigration issues with the Biden Administration. However, in a new twist, unaccompanied migrant children have created new issues for the current administration.
In the past, there has been a major issue with U S Customs not allowing for unifying migrant children with their families. There was the inhuman tragedy of children kept in cages. A problem that the last administration refused to deal with and in fact made the problem worse. This issue of unifying children with their parents still remains to be resolved. But this action to house migrant children in safe shelters is a very good start by the Biden Administration in administering new immigration policies.
The action by the Long Beach city council was not without heated debate. Opposition to this action by the Long Beach city council has come from anti-immigrant organizations and right-wing groups. Some of these groups have clear ties to racist organizations. The Republican party of Long Beach has also been a major opponent to housing migrant children in the City of Long Beach. They used the age-old racist argument that immigrants are responsible for nearly all the country's ills. They make false claims that the citizens will ultimately have to provide funds for such services.
Robert Garcia, the Mayor of Long Beach has made it clear that this is a much-needed humanitarian action and that all costs will be covered by the federal government. 
The Mayor of Long Beach has a long history of involvement in dealing with immigrant issues. There is a reason for his engaging and pro-action involvement. At the age of five, he came to the U.S. His family was poor immigrants but they succeeded in their new country. Robert Garcia was able to get an education and become the mayor of one of the largest cities in California.
The Biden Administration must continue economic development and foreign policy efforts to improve the short and long-term border situation. Center America and Latin America have been cursed by natural disasters, ineffective executive leadership, and decades of destabilization efforts by the U.S. So the immigration issues will need to be constantly addressed.
The roots of the current situation on the border are complex but the local community efforts like the one the City of Long Beach has made for a much-needed contribution in dealing with protecting children who are coming across the border.
A few of the children who are already living in the streets of San Diego wanted to talk about why they came to the U.S. border. They wanted to share their stories and why they needed to cross into the United States. 
There are so many life-ending threats along the way. Roberto, a 13-year-old from El Salvador, faced robbers. He was with a group of people who were headed to the U.S border. A much older man approached Roberto. He took Roberto forcefully by the arm and dragged him to a field. There he demanded money or he would cut his throat and leave Roberto in the field where no one would find him. Fortunately, some friends he had met along the way saw what was happening. A few rushed the robber throwing rocks at him. The robber ran away. Roberto rejoined the small crowd. They continued their journey toward the U.S. border.
In another case a young woman became sick. She had been walking with a group of migrants. She was weak and dehydrated. She lost her limited supply when they were forced to scatter as security forces moved into their path to clear the road using batons and tear gas. She fell to the ground. Fortunately, she was able to get up in a hurry to avoid any physical harm. Her water and small bag vanished somewhere in the thick uncontrollable crowd as they scattered seeking protection. Her illness was due to the tear gas she inhaled and the lack of water. She of course did not want to be identified. 
Having little resources and facing daily threats these young children carry on the path toward the U.S border. The main reason for leaving their homeland is that there are no opportunities. There is no way to make a living and survive. In many cases, the authorities oppress those who have little. They essentially live in dire poverty with no hope of any future. This phrase is constantly repeated. Young children come across the U.S. border because they have no choice, no choice at all, but to leave and come to the U.S.
David Trujillo