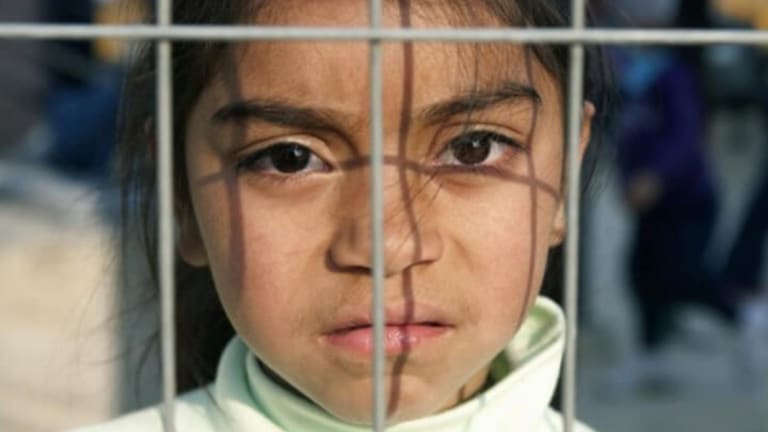 These Children Are Our Children!
Rosemary Jenkins: Instead of greeting these innocent children with open arms, we treated them like criminals, turning them away—caring nothing about what would await them if they were forced to return to their countries of birth.
Remember all too recently when thousands of unaccompanied children crossed the border into our country as they fled from torture and certain death in their homelands, particularly in Central America? Yet, instead of greeting these innocent children with open arms, we treated them like criminals, turning them away—caring nothing about what would await them if they were forced to return to their countries of birth.
Amazingly, those protesters (in places like Murrieta, California, and Oracle, Arizona) held sway, the FBI gave in, and, carrying those frightened, apprehensive, and panic-stricken children, the buses took away the real victims of this controversy. That whole scene reminded me of how the U. S. government turned the Jews away who had crossed the ocean to escape the Nazi terror, only to be returned to European concentration camps, torture, starvation, "scientific" experiments, and death. Aren't we admonished to Never Forget?!
Have you thought (since then) what has come of them? I have continued to worry about them (the pictures are burned into my memory) and, thus, have gotten involved in programs whose aims are to do what our government at many levels has generally not done. One such advocacy group is CLUE—Clergy and Laity United for Economic Justice. It is through its staffers that I was introduced to people from the Center for Human Rights and Constitutional Law, the secular CARECEN (Central American Resource Center), the Catholic Esperanza (hope/promise) Immigrant Rights Project, and the North Hills United Methodist Church (with a congregation of about 65-70% Central Americans) and its Welcome Center for Unaccompanied Minors (whose leader is Pastor Fred Morris who has spent many years in Nicaragua and Brazil, the latter of which is where he, many years ago, was tortured for his championing of human rights).
I must add, before I continue, how proud I am of Congressmember Tony Cárdenas who has taken an active role in advocating for the rights of these and all undocumented people—those who deserve a right to come out of the shadows and be allowed to become or continue to be contributors to their communities without fear of penalties and punishments, let alone deportation and separation from family.
I am so grateful for all the time Pastor Morris granted me as he enlightened me about many of the situations of which I would not ordinarily have been aware. What follows reflects much of the information he so generously shared during our conversation.
You probably have heard stories of the thousands of young people who have left their families, friends, and homelands with the hope they will arrive in America where they can survive in peace. Yet, we have heard of the risky trips, escaping from those at home who would enlist them in gang patrols or kill them, the rugged terrain they must traverse if they manage to get away, the trains on which they grittily hold for dear life, the hunger and dehydration, the assault and rape that must be endured.
And if they manage to overcome all those obstacles, there are still the gangs in Mexico which might kidnap them when those innocents make it that far and hold them for ransom to be paid by anyone who will pay to keep them from being killed if the money is not forthcoming. . . and indeed they do murder these hapless children (after they are tortured) if no one is able to or care to bail them out.
The Welcome Center was begun in 2015 once the National United Methodist Church recognized the need to take a pro-active part in advancing the rights of these children.
The Welcome Center was begun in 2015 once the National United Methodist Church recognized the need to take a pro-active part in advancing the rights of these children. There are four such centers in Southern California: Claremont, Huntington Beach, Escondido, and North Hills. In North Hills, flyers have been distributed in Spanish and English throughout the community to advise people of the services available. The North Hills United Methodist Church now has a full-time Welcome Center, staffed by one full-time person and one intern. Its office is on the premises and is open Monday through Friday from 11 a.m. to 6 p.m.
We know that there are about 300 children in the San Fernando Valley who arrived for the most part as unaccompanied youngsters (though our government knows where they are, those who are wanting to help are not privy to this information because of HIPAA and other privacy laws). Fifty-five are currently under the umbrella of the North Hills Center (about 15 of whom were accompanied by a relative). Because it is believed that the entire group has a valid claim on seeking asylum here, it is essential that each be assisted by a legitimate immigration attorney (keeping in mind that there are too many unscrupulous notarios who claim that they are immigration lawyers only to fleece their victims of $20,000 to $25,000 in fees that lead to poor- quality or no assistance at all). Furthermore, what is ironic is that people posing as FBI agents sometimes contact these naïve individuals (usually adults), claiming that they must send $5000 through Western Union to keep from being deported (we have heard of similar scams with regard to income tax demands, and so forth).
Those children who are represented before the immigration courts have about an 80% chance of being granted asylum and being paired with a family member or foster parent who will take care of them--seeing that they get a proper education, medical/dental/vision coverage, clothing, food, and shelter. It is fortunate for these youngsters and other at-need members of the community that they are offered help by Monroe High School in North Hills. This school is in partnership with a Wellness Center which provides the above-mentioned medical services. Who says that our schools are not providing the kind of education and moral guidance that our students need?
Right now about 44 children, helped by the North Hills Center, have either pro bono (free) or "low bono" (at very reduced fees) representation.
On the other hand, the fact is that the children who appear unrepresented before the immigration courts usually are returned to their mother countries at a rate of 88%. The tragedy and irony is that it is not illegal to cross our border seeking asylum but for mostly political reasons (especially in this election season--which really began years ago), many of those undocumented beings are being placed in for-profit detention centers as if they were lowly criminals (think of the for-profit prison system we have in our country already--all about money and politics, it seems).
Beginning on July 9, 2016, in addition to the above-mentioned services, two certified trauma counselors will be available at North Hills to help children process their nightmarish experiences--all the horrors that transpired not only in their native homelands but along the way here, and upon arriving were trapped behind bars at the American detention centers until they were able to obtain foster homes as they wait for court verdicts on their cases.
In our nation, our well-thought out Constitution grants all people living within our borders the same rights before the law as American citizens. Each is entitled to Miranda rights which includes the right to free representation (just as criminals without means are entitled to a public defender). The current Administration claims that there is not enough money available to provide such representation, but we seem to find funds for wars and other egregious purposes when we feel strongly enough about doing so.
As much as I am a staunch Obama supporter and intensely proud of his enormous and wide-ranging legacy, I am very disappointed with his track record on immigration. He has come to be known as the Deporter-in-Chief, having sent about 2.5 million immigrants back to their home countries (although in recent years those numbers have been declining). Most of that number is made up of the male bread-winner for the family. Their departures, as a consequence, can not only leave these families destitute (often, ironically, forced to rely on taxpayer help for subsistence) but will also break up family units, the result of which frequently leads to gang activity and crime by children who have become lost in the system or have simply slipped through it.
For Obama, the issue has been a matter of political pragmatism and expediency versus a moral imperative. In my heart, I do believe his heart is in rectifying the immigration crisis. To me, his ongoing efforts to work with those on the other side of the aisle in order to accomplish other parts of his agenda along with his hope to retake the Senate, let alone elect a Democratic president, have been meant as a counter-balance to his hope of gaining support for reasonable and compassionate immigration laws.
Despite all efforts, Washington remains at a standstill on passing reasonable and sensible legislation on this matter. There was indeed a serious belief on the part of the Obama Administration (at least during the early years) that its "record-setting deportation figures, [with] strict enforcement at the border would convince Republicans to come to the negotiating table on immigration reform." That's what happens when you trust the opposition (as President Taft did with Senator Aldrich with regard to the highly controversial tariff plan)!
The fact is that significant portions of the President's agenda have become reality while his efforts at immigration reform have been slowed to a crawl. His support of the Dreamers (DACA) and his advocacy for their undocumented parents (DAPA) have been valiant, but sadly it will be left for the next Congress (and not this Administration) to create and pass into law, legislation that will meaningfully and empathetically transform our immigration system into a benevolent one. In the meantime, it is truly unfortunate that those who were caught, arrested, and immediately or eventually sent back across the border now have arrest records that have created a burdensome obstacle for them when, at some point in the future, they attempt to re-enter legally and by the book.
Too many Democrats believe, rather unwisely and foolishly, that most Latinos will vote for them despite the Party's unreliable focus on immigration concerns. Just as the Party often takes the Black vote for granted, it takes the Latino vote for granted as well. Democrats cannot continue to maintain that attitude because people who feel abused, ignored, and downplayed may be unlikely to vote at all or to place a protest vote whose results can be catastrophic for all of us. Bottom line. . . no one and no group should ever be taken for granted--particularly with regard to their vote. Thus, an unintended consequence of not addressing this issue, as it should have been, could have costly results. As Langston Hughes stated, "What happens to a dream deferred? Does it dry up like a raisin in the sun? Or . . . [m]aybe it just sags. . . ."
Despite the politics, maneuvering, and manipulations involved on all sides, there really is no excuse for this kind of treatment by our government toward a large segment of our population that simply wants a new life and a pathway to succeed and contribute (and pay its fair share of taxes no less). And lest we overlook it, consider the thousands of children whose very lives and futures are at stake!
But I digress. . . .
The National United Methodist Church has donated about $300,000 to underwrite the four Welcome Center facilities (see above) but there is still considerable need for additional funding to provide the varied services that are so needed. For this reason, there will be a major fundraiser in the fall to raise about $100,000 to cover attorney and court fees. Low bono lawyers charge about $2000 to $2500 per client (when others, who like to gouge, charge $25,000 give-or-take for doing little to nothing).
It is my intention to follow this article up with interviews from some of those who have successfully made the journey or know of stories about the ones who died along the way. For example, one young man was returned home after ongoing pleas to stay for fear of being sent back to certain death--he was returned and killed while taking a taxi near his home. Another even younger child made it all the way to the border and crossed into Texas where his little dead body was found, having made it all the way only to die from malnutrition and dehydration.
Pastor Morris contends that there are two kinds of people: people people and anti-people people. In which category do we find ourselves? And what are we going to do with our own lives to advance those goals which, by definition, we are meant to pursue?
¡Estos niños necesitan saber que nunca estará solo!
These children need to know that they will never stand alone!
For further information and/or to get involved on behalf of our immigrant children, please contact the following:
Pastor Fred Morris, North Hills United Methodist Church: fced@aol.com; 805-952-3370; checks can be made out to the North Hills United Methodist Center Mission [a tax-deductible 501(c)3]
North Hills Welcome Center: Amanda Escobar at 747-529-4783; amandaromero92@yahoo.com • April Escobar (intern) at 818-406-5029
CARECEN/San Fernando Valley at 16501 Sherman Way, Suite 245,Van Nuys; 818-616-6019
CARECEN/Los Angles at 2845 W. 7th Street, Los Angeles; 213-385-7800
Casa Esperanza at 14705 Blythe Street, Panorama City; 818-786-1076
CLUE: Guillermo Torres: 213-481-3740; gtorres@clue.org • Carlos Holguin, Center for Human Rights and Constitutional Law at 213-388-8693 x 309; crholguin@centerforhumanrights.org • Troy Elder, Bishop's Episcopal Legate for Los Angeles Diocese at 305-298-2550; telder@ladiocese.org
Rosemary Jenkins