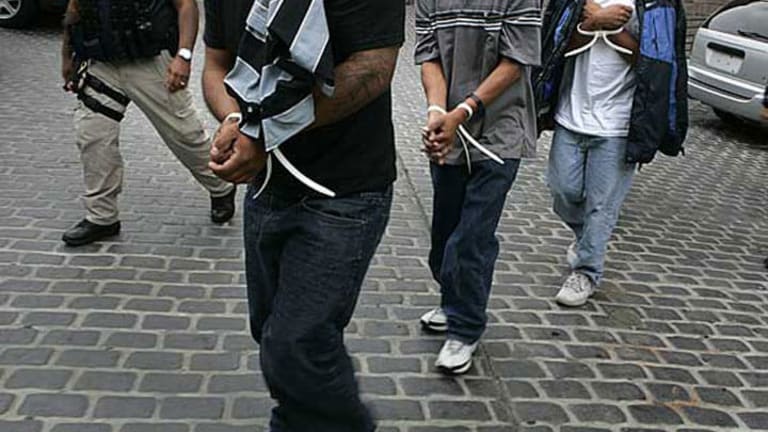 In Pasadena: Which Victor Gordo Will Show Up When the ICE Vans Cometh?
Skip Hickambottom and Dale Gronemeir: Councilmember Gordo is talking out of both sides of his mouth – one day he supports a total ban on ICE contacts but then four days later backtracks from that public commitment.
Pasadena City Councilmember Victor Gordo tells about growing up in Pasadena fearful of immigration raids; his parents told him to take a tin can with money, instructions, and contact information in it to a neighbor if they did not come home. His is a compelling story that persuasively drives home the moral wrong of the Immigration Control and Enforcement (ICE) raids that President Trump is going to rain down on us – i.e., the moral wrong that no child and no parent should have to live daily with that anxiety.
But anecdotes and arousing moral outrage do not directly translate to enforceable policy. Pasadena needs a sanctuary city ordinance that translates its moral outrage into local law. The heart of such an ordinance is requiring the Pasadena Police Department to have no contacts with ICE – a total ban that does not allow any exceptions such as a "bad guy" exception. When it comes to enforceable policy, Councilmember Gordo is talking out of both sides of his mouth – one day he supports a total ban on ICE contacts but then four days later backtracks from that public commitment.
The way ICE contacts undermine local policing
While it may seem counter-intuitive, a complete ban on Pasadena PD contacts with ICE strengthens local law enforcement rather than weakening it. Fear of deportation is a prime driver of non-cooperation with Pasadena police in the Northwest Pasadena Latino community. Even if they are citizens or documented residents, most Latinos have undocumented family or friends. Anxiety about ICE deportation raids is deep and broad among Latinos. Any Pasadena PD contact with ICE that becomes known to the extended immigrant community destroys trust in the Pasadena PD. Knowledge or suspicion that the Pasadena PD is cooperating with ICE leads to crime witnesses and victims avoiding police contact and, in fact, thereby encourages crime.
LAPD Police Chief Charlie Beck was quoted extensively about this phenomenon in Steve Lopez' January 29 LA Times article "Police Chief Beck won't budge on immigration." Chief Beck indicated that the problem is bigger than refusal to step up as witnesses. "A lot of people think, well, he's talking about witnesses to crime, which I am. But I'm also talking about victims of crimes." Chief Beck explained: "When you create a shadow population that fears any interaction with the law, then you create a whole class of victims, because they become prey for human predators who extort them or abuse them because they know they won't contact the police." (We don't intend to gloss over the disparity between Chief Beck's admirable words and what many of his officers do, but that disparity warrants a whole other article.)
In a January 30 LA Times article "Police wary of new duty", LAPD Detective Brent Hopkins illustrated the problem. He was trying to interview witnesses to an incident in which a motorist knocked down a construction worker. He introduced himself to a group of Latino workers. They walked away, with one of them saying "Trump is coming." Hopkins was quoted as saying "It is my job to investigate crimes. And if I can't do that, I can't get justice for people because all of a sudden, I'm losing my witnesses or my victims because they're afraid that talking to me is going to lead to them getting deported."
What Chief Beck and Detective Hopkins describe is the fear before Trump; more fear is being added daily as Trump's zealous enforcement schemes unfold. In this context, adding to the mix any local police contacts with ICE is lethal to community trust.
The fallacy of the "bad guys" exception
Our concern about Pasadena PD contacts with ICE was stimulated by a Pasadena PD/ICE simultaneous operation in Northwest Pasadena in 2015; Pasadena Now and other news outlets reported the simultaneous arrests, naming ICE as a joint participant with the Pasadena PD. We recognized that such apparent cooperation between ICE and the Pasadena PD would worsen community trust. So we began raising the need for a Pasadena ordinance that prohibits all Pasadena PD contacts with ICE in a December Pasadena Progressive Discussion Group forum at which Councilmember Gordo was a panelist. Pasadena PD Chief Phillip Sanchez, who was in the December forum's audience, assured the forum that it was not Pasadena PD policy to work with ICE.
However, he referred to working with ICE on certain cases concerning dangerous bad guys and said "Surely, no one would disagree with that." Mr. Gronemeier, who was moderating the meeting, responded "No, some of us do disagree." The issue came up again in the February 3 Pasadena Progressive Discussion Group. Chief Sanchez reported that there have been no Pasadena PD contacts with ICE since that 2015 ICE/Pasadena PD operation.
The reason we disagree with the bad-guy-exception is that any contacts with ICE do more damage than good. To his credit, Chief Sanchez – like LAPD Chief Beck and Detective Hopkins – recognizes that his police have trouble getting cooperation from many Northwest residents for a variety of reasons, and fear that his police are cooperating with ICE is one of them. To his further credit, Chief Sanchez' police have drastically curtailed contacts with ICE.
But the joint operation 1½ years ago got public notice and is not forgotten. Many immigrants arrive with a distrust of government because in the societies they left government was corrupt, allied with drug cartels, or had police and military working with right-wing death squads. Fear of ICE and deportation add to that distrust, such that any known contacts with ICE only deepen the distrust.
The value from a bad guy getting arrested through local cooperation with ICE is not sufficient to overcome the resultant damage to local policing by a wide swath of the populace not cooperating with it. In addition, it is not clear why the Pasadena police need to cooperate with ICE to arrest a really bad guy. If the guy is truly a really bad guy, why can't ICE go after him alone? Or why can't Pasadena go after him alone?
Why prohibit ICE contacts when they are not going on?
Why not?
Some ask the question "Well, if there have been no contacts between the Pasadena PD and ICE for 1½ years, what is the need for an ordinance prohibiting such contacts?" The obvious answer is that the Trump administration is coming for immigrants.
But another way to answer is by flipping the question to "Why not?" The absence of ICE contacts for 1½ years seems to indicate that the Pasadena PD can get along quite well without any ICE contacts.
Gordo's shifting positions on PD contacts with ICE
We come back to Pasadena's 5th District Councilmember Victor Gordo who is running for his 5th 4-year term against Krystal Lopez-Padley. When we first raised the subject of a Pasadena ordinance to prohibit contacts with ICE at the December Progressive Discussion Group, Gordo told his compelling story about his youth but ducked the issue of a no-contacts ordinance by saying that City legislation should not be worked out in a public forum and deflecting the issue to lobbying the Trump administration on immigration policy. On January 10 at the ACT candidates forum, Gordo said he supported a Pasadena ordinance that would prohibit all Pasadena PD contacts with federal immigration authorities. But 4 days later, Gordo was asked at the ACT Research Committee interview the same question, and he waffled – saying that he didn't favor the PD having contacts with ICE but that he favored an exception for bad guys.
We hope Councilmember Gordo keeps telling his compelling childhood story but waffles back to supporting an ordinance prohibiting all Pasadena PD contacts with ICE. But our experience with his stands on police matters leads us to be more skeptical than hopeful about support from him on the ICE-contactordinance.
He told us in December, 2015, that he didn't oppose some form of police auditor for the Pasadena PD, but at the January 10, 2017, ACT forum he refused to support the proposal for an Independent Police Auditor. Gordo's supporting a 9% increase in police officers at a time that Pasadena faces a structural deficit of $8 million next year; his proposal would require cuts in other services such as parks, libraries, paramedics, sidewalk and street repairs, etc. by forcing those services to shoulder all of the required cuts plus another $3-4 million in cuts to fund 20 more officers. Gordo lashed out at the Office of Independent Review (Mike Gennaco and Rob Miller) for its criticism of the Pasadena PD's killing of the unarmed African-American youth Kendrec McDade.
Gordo's largest campaign contributor besides himself is the Pasadena police union, so there is little reason to believe he won't continue to be in their pocket. His opponent in the March election, Krystal Lopez-Padley, is consistently progressive, as she supports the ordinance prohibiting contacts with ICE, supports an Independent Police Auditor, and does not support hiring more police.
We think resistance will be stronger with Ms. Lopez-Padley as the 5th District Councilmember when Trump's ICE vans want to come to Pasadena. We don't think Victor Gordo's compelling childhood story is a substitute for a strong and enforceable policy, but we urge him to keep retelling it.
Skip Hickambottom and Dale Gronemeir