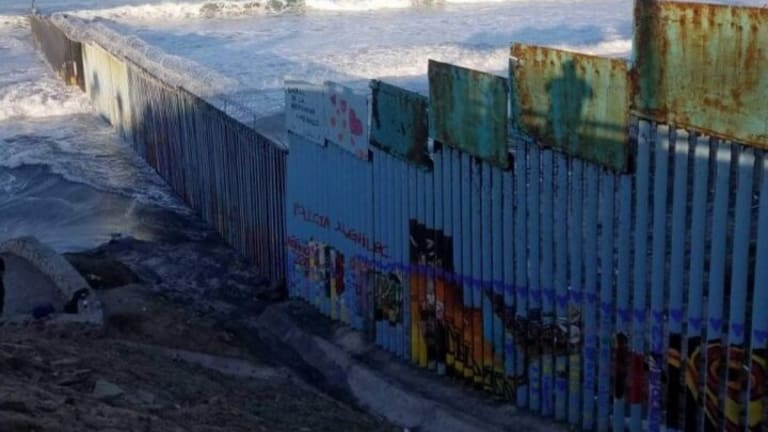 Volunteering in Tijuana at the Heart of the Immigration Crisis
Val Carlson: This government-inflicted crisis at the border is totally unnecessary, illegal, and obscene. The Border Patrol is highly overstaffed. Dozens of them stand around either doing nothing or harassing immigrants, when they could be processing hundreds of asylum applications."
Norma Gallegos and I went to Tijuana representing the Freedom Socialist Party (FSP) to find out as much as we could about the humanitarian crisis at the border and to express solidarity and opposition to the brutal mistreatment of refugees by the U.S. and Mexican governments. We took a bus to the border on Sunday, December 30 and walked across without even a "hello" from any border officials. Our bags were scanned, but we did not undergo body scans like in U.S airports. We returned the following Wednesday night, again with no problems crossing the border.
We came as National Lawyers Guild volunteers to work with Al Otro Lado's Border Rights Project, assisting refugees in Tijuana who request asylum from U.S. officials at the port of entry. The grassroots AOL works out of the third and fourth floors of Enclave Caracol, a community center near the border. Food Not Bombs provides meals and services to the community on the lower floors. AOL serves lunch, provides childcare, and gives know-your-rights workshops and individual consultations with as many as 80 migrants each day. Medical appointments are also often available from volunteer doctors or nurse practitioners.
Our experience was one of total immersion in the crisis. Norma served as a Spanish-English interpreter. We both interviewed and interacted directly with refugees and worked with 50 other volunteers performing tasks needed to keep the project running in an intense and chaotic situation.
Lives filled with fear, horror and perseverance
At the nightly debriefing meeting we attended on Sunday, one volunteer told of a woman who joined the caravan after her family had been viciously attacked by gang or cartel goons dressed in military uniforms. They savagely beat her husband, raped her daughters in front of her, and then raped her. The woman sobbed in grief at what had happened, but also in joy at finally being able to talk to an immigration lawyer and learn her rights. Another volunteer had spent the day helping a mother search hospitals and clinics all over Tijuana for her very ill daughter. Mexican officials had taken her away without saying where they were going.
I saw the anguish on the face of a woman traveling with her daughter and a niece, when I explained that her niece would most likely be separated from her when they crossed the border. Even parents who cannot prove that children are their own and couples who do not have documentation of their marriages are routinely separated by callous Border Patrol officers. Every afternoon, volunteer ministers perform marriages and baptisms to give migrants documentation that may help them avoid separation. After serving as a witness to a gay marriage, one volunteer exclaimed that this had been the happiest moment in her life.
Norma interpreted for a man who had received death threats by gang members when his small business did not bring in enough money to pay the extortion they demanded. Others showed us the scars and bullet wounds they had suffered at the hands of gangs, cartels, and law enforcement.
The U.S. and Mexico's manufactured border crisis
We saw and learned a great deal about corrupt and intentionally abusive actions and inactions by various levels of government, military, and immigration officials from both countries.
At 7:00am, a dozen or so AOL volunteers go to the Chaparral/San Ysidro border crossing where hundreds of migrants come each day to seek asylum. It is cold at the border early in the morning. Migrants huddle in groups and form lines in front of the table under a blue tarp where they will learn who gets to cross the border that day. Children alternately dart around and cling to the adults they are with. Mexico's federal, state, and municipal police and National Institute of Migration officials, along with U.S. Border Patrol agents, are everywhere. AOL volunteers monitor the situation and document any harassment of immigrants. We also give out maps and invite people to Enclave Caracol for the daily workshops and individual legal and medical appointments.
Under national and international law, anyone who enters the U.S., legally or not, is supposed to be able to ask for asylum at a border crossing. However, starting with an influx of Haitians a few years ago, the U.S. and Mexico started a list system that created a horrendous bottleneck in Tijuana (the largest port of entry to the U.S.). The list only allows about 30 – 60 people per day to ask for asylum, depending on Border Patrol's "capacity" for the day. On January 1, 2019, their capacity was zero! The other days we were there, it was around 40.
Mexican and U.S. immigration officials originally operated the "list" which consists of a notebook in which names are hand-written next to numbers. However, after AOL filed a lawsuit against the "list," the governments handed off the list to volunteer List Managers (who are themselves immigrants). In this way both governments try to wash their hands of the backlog.
This government-inflicted crisis at the border is totally unnecessary, illegal, and obscene. The Border Patrol is highly overstaffed. Dozens of them stand around either doing nothing or harassing immigrants, when they could be processing hundreds of asylum applications.
Each morning, the four or five List Managers get the notebook, and start giving out numbers to people who don't yet have them. After U.S. Border Patrol announces its miniscule capacity for the day, the managers call out numbers and check off names. If any of the 10 people associated with a number don't respond, the next number gets called until the quota is met. Anyone who misses their chance has to get a new number and go to the back of the line. Unfortunately, that occurs a lot. When we were there, the numbers being called were around 1,500, and the final number on the list was over 1800.
We and other volunteers were outraged at what we saw. As Norma put it: "This government-inflicted crisis at the border is totally unnecessary, illegal, and obscene. The Border Patrol is highly overstaffed. Dozens of them stand around either doing nothing or harassing immigrants, when they could be processing hundreds of asylum applications."
People whose numbers are called are taken by van to a detention center on the U.S. side of the border until they are called for their Credible Fear Interviews, which could be days or weeks away. Those who don't pass the interview are immediately deported to their country of origin. Those who pass are allowed to stay in the U.S. pending a hearing on their asylum claim which must be filed within a year. The immigration court system is so understaffed that hearings may not occur for a year or more. While waiting, many migrants are held in detention centers all over the U.S. A few are released if they have sponsors. Lately, the Border Patrol has been dumping busloads of migrants in the streets of border cities, compounding a humanitarian crisis on the U.S. side of the border.
The mirage of asylum
At the Credible Fear Interview, asylum applicants must establish that they have suffered and expect future persecution in their home country on account of one of five protected grounds: race, religion, nationality, political opinion, or particular social group. A person must show that they would not be safe simply by moving to another part of their home country. They also have to explain why they didn't report or get help from the police. Also, suffering economically is not, by itself, considered a reason for granting asylum status. Gang violence is rampant in Central America and Mexico, but there must be a connection between it and one of the five grounds.
We did our best to explain how the unfair system works, and give migrants the information they need to make decisions about their futures. We heard heartrending stories of pervasive persecution. Some had tried to move to different parts of their home countries but were found again. They explained why they did not trust the police–who are ineffective and do not stand up to the gangs, thus exposing people to further abuse. Feeling they had no other choice, people fled via the recent caravan or took other routes north. However, they often still are not safe. Gang members have joined the caravan and are in Mexico pursuing their victims.
We had to warn people about the harsh conditions they would face on the other side of the border and advise them to wear warm clothes. Once across, they are held in the U.S. detention facility called the "Ice Box," where they are only allowed to wear one layer of clothing. Through all of this, we were profoundly moved by the determination of the migrants to find a place in the world where they could simply live, raise their children and do productive work without fear and harassment.
Key players in Tijuana
In the early hours of New Year's Day, some migrants desperately tried to cross the border near the beach. The L.A. Times and New York Times reported that U.S. forces were justified in tear-gassing and pepper-spraying migrants who allegedly threw rocks. National Lawyers Guild legal observers were present and documented that tear gas and chemical attacks were instigated by U.S. forces prior to any threats from the migrants.
For several days after we left, Mexican riot police blockaded and threatened eviction at the Benito Juarez warehouse shelter, even though the warehouse had been rented until January 22. The police claimed that they needed to close the shelter because some people there had the flu. NLG volunteers stayed inside and outside the shelter, and the presence of American observers has been a deterrent. However, fearing the chaos of imminent eviction, most of the migrants moved to other shelters, further from the border.
Before we arrived, right-wing and neo-fascist groups protested at and attacked migrant shelters in Tijuana. Two days after we left there were rumors that these bullies were going to one of the shelters. So far, the right-wingers haven't showed up.
We also heard rumors that Mexican government provocateurs were pouring drugs into the shelters to create a basis to arrest migrants. All this is so reminiscent of how the homeless are treated in our cities here—criminalize, harass, and maintain horrible conditions directed at forcing people to leave, die, or get swallowed into detention or prison.
Where to from here?
Tragically for the thousands of migrants stalled in Tijuana and throughout the world, the United States is not the beacon of hope and opportunity that they seek. The onus is on activists here in the U.S. and in Mexico to join hands and fight the oppression that capitalism rains down on migrants and the working class everywhere and to ultimately replace capitalism's brutality with the humanity and real democracy of socialism.
We both got to know an incredible group of volunteers, and shared our political perspectives as members of the Freedom Socialist Party, and are staying in contact online. Already announced is a resolution in support of the caravanistas just passed by the Berkeley City Council. Folks are sharing other resources and developing talking points to take to Congressional representatives.
National Lawyers Guild leaders in Los Angeles are reaching out to other organizations to come together and organize a massive protest at the border. If interested, contact Jim Lafferty at jlafferty@nlg-la.org. Norma and I hope we can up the ante by helping with this and other cross-border protests to show opposition to both administrations' cruel and life-threatening treatment of refugees.
Donations to support AOL's work can be made here.
Or order and pay for needed supplies through this Amazon registry. Items will be sent directly to Al Otro Lado:
Val Carlson
Val Carlson, a longtime civil rights lawyer and National Lawyers Guild member, is a core participant in the End Homelessness Now-LA campaign. Norma Gallegos,the daughter of Mexican immigrants,is a public school educator and anti-fascist activist in San Francisco. Both serve on the FSP National Committee.
ESTE ARTÍCULO EN ESPAÑOL