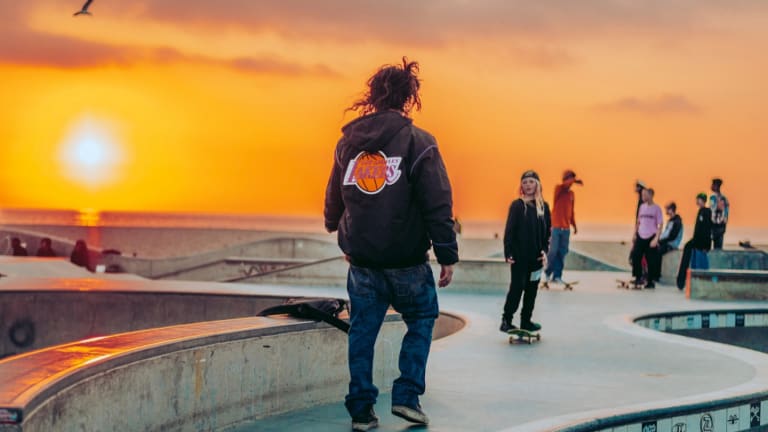 LA's Diverse Teens Have Abolished the Stereotypical, Brainless "Teenager"
Today, teens ages 13-19, 8% of the population, comprise just 4% of L.A.'s violent deaths and suicides and 2% of lethal drug and binge-drinking overdoses.
Los Angeles teenagers are instigating a massive revolution that has profound implications for the nation's future. It is a mystery that progressive commentators are ignoring such crucial social trends that affirm so many liberal-Left ideals, and even contribute to unwarranted anti-youth panics.
True, teenagers used to fit their reckless stereotype. Youth in L.A. of 1975 (now senior citizens) suffered 108,000 arrests for criminal offenses, including 8,700 for serious violence. Youth in 1995 (now the parents) perpetrated 55,000 arrests, 10,000 for violence.
Today, L.A. has a quarter-million more teenagers, now five-sixths of color (Latinx, Asian, Black, Native, and other and mixed race) compared to a little over half White in 1975. Yet, arrests of L.A. youth in 2019 fell to 7,900, including 1,900 for violence. Last year, just 3,400 L.A. youth were arrested for any kind of criminal offense; 999 for violence. Fifteen to 20,000 L.A. teens used to get arrested every year for "dumb-kid crimes" like arson, vandalism, petty theft, and joyriding; today, a few hundred.
L.A. teenage crime has plummeted over 90%. Homicide arrests of youths have fallen by 95%. Forty years ago, six times more under-20 Angelenos were arrested than ages 50-59. Today, twice as many 50-agers as teenagers are getting arrested.
However, grownup trends remain troubling. The FBI reports that adults age 25 and older – not school shooters, gangsters, or cyberbullies – kill three times more children and youth than do under-18 peers. Non-Hispanic White middle-agers in California's conservative-voting, mostly-rural counties are now substantially more likely to die by (and be arrested for) homicide than high-schoolers (five-sixths of whom are of color) in supposedly "gang-ridden" L.A.
Centers for Disease Control statistics through 2021 show an L.A. high-school-age youth is 1.5 times more likely to lose a middle-aged parent to gunfire or homicide, three times more likely to suicide, and seven times more likely to illicit-drug or binge-drinking overdose, than the other way around. Today, teens ages 13-19, 8% of the population, comprise just 4% of L.A.'s violent deaths and suicides and 2% of lethal drug and binge-drinking overdoses.
While press reports continue to depict modern youth in L.A. and elsewhere as suffering high levels of mental distress and suicidality, actual suicide trends are far different. Over the last three decades through 2021, rates of suicide and suspected suicide among L.A. teens have fallen by 14%, as have rates among young adults ages 18-24. Again, suicide trends among their parents' generation are more troubling, suggesting the stresses teens report may originate with family and external issues rather than internal problems.
Unfortunately, Americans (including professionals) treat these new realities as taboo while continuing to stigmatize mental illness, suicide, and addiction as personal failings by powerless outgroups like youth. While troubled teenagers often become troubled adults, the process is circular. Parents who abuse drugs and alcohol, are mentally troubled and suicidal, and get arrested are far more likely to raise teens with similar problems. These issues need to be addressed across age groups, a logical-sounding approach that strangely meets with resistance among interest groups and a mainstream media that increasingly treats teen as completely separate from adults.
Scapegoating youth invites destructive, age-based cure-alls that interfere with youth improvements. Young Californians had been reducing traffic crashes sharply from 1987 to 1997 before legislators, invoking myths of innate teenage recklessness, imposed a draconian "teen driving law" in 1998. Traffic deaths among teens promptly reversed and rose sharply.
Similarly, teens had been reducing smoking on their own for 15 years before California legislators pointlessly raised the "tobacco age" to 21 in 2016, halting progress. This year, again citing obsolete prejudices, legislators raised the age for police training to 21 (actually, research showed male gender and disadvantaged backgrounds, not young age, underlay recruit misbehavior). Age restrictions, though politically easy, jeopardize teen employment and participation in society with no demonstrable benefits and often real harms.
Nor are justice system strategies causing the youth crime decline. Rather, far fewer youths are entering the justice system in the first place, especially at the youngest ages. Over the last 25 years, L.A. curfew and other "youth control" arrests have fallen by 99% and youth incarcerations by 95%. Loosening controls has not accompanied Lord-of-the-Flies mayhem, but massive behavior improvements among young people.
Other indexes confirm dramatic change. L.A.'s most disadvantaged young are charting very different futures than past generations. In 1995, 22,200 L.A. women under age 20 gave birth, mostly fathered by men over age 20. In 2020, just 3,000. Since 1990, high school dropout has plunged by 71%, college enrollment has risen 55%, and college graduation rates have nearly doubled among L.A.'s teens and young adults – especially women.
These numbers are harbingers of a new Los Angeles whose implications we don't begin to comprehend. Sharp decreases in brain-altering toxins like lead in children's systems, the connecting and sublimating benefits cyberculture, and more diverse younger generations stepping up as grownup behaviors and attitudes have deteriorated have been suggested as causal factors in massive youth improvements. Unfortunately, authorities remain mired in sluggish thinking and obsolete prejudices against teenagers from 30 to 50 years ago.
Self-serving adult conceits awarding ourselves "developed cerebral cortexes" and "superior reasoning" compared to the "undeveloped teenage brain" have been thoroughly debunked by scientific inquiry and real-world developments. Los Angeles teenagers, the leading edge of a youth revolution occurring across the country, merit greater participation in voting, office-holding, and positions of power and responsibility to help their struggling elders deal with changing society.