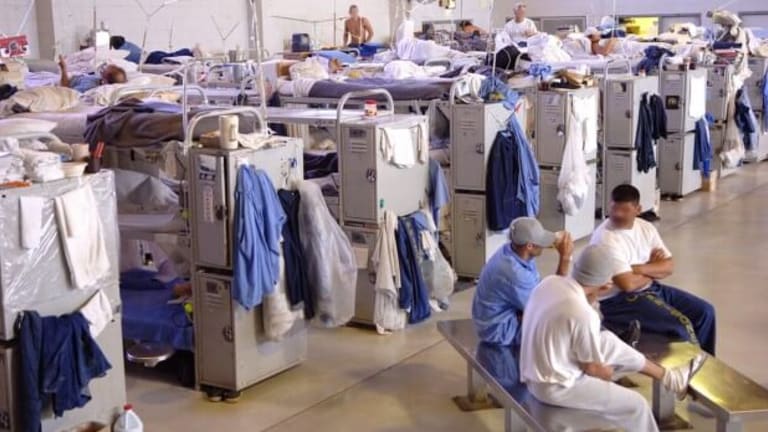 Prison: A Different Perspective
Karen Heil: I have been sponsoring self-help groups with the inmates for the last 10 years–my true passion for continuing to work at the prison.
From the point of view of a staff member at one of our California state prisons, I want to share some of my experiences regarding prison life from a different perspective–from that of a free person working on behalf of the inmates in a prison.
Before doing so, however, let me tell you a little about myself so you'll have some understanding of why I feel so passionate about the work I do and the men I serve.
I grew up in a small town in northern Texas during the 50's. There were quite a few prominent rich people who lived there but most came from the lower-income working poor. This was also during the time of segregation. Attending elementary and junior high schools there, I was always pretty popular but not for the reasons you might think. There were always some popular kids in class like those who played football, did cheerleading, or came from prominent, affluent families in our town.
I think what made me popular in the classroom is that I was involved in none of those activities, yet I was always kind to kids that everyone else didn't like. Even at such a young age, I reached out with empathy to the kids who were not liked, who were poor, or who had physical or mental developmental issues, so how I interacted with all these schoolmates made me popular for my compassion.
Maybe it was a way of making up for the emptiness in my own life or maybe it was a reaction to the way things were at home. Regardless of the reasons, I felt drawn to kids that seemed helpless–as if no one else in the world could love them. Since there was always quite a population of that group of kids, it seems that whenever it was time to elect the homecoming princess, the class president, or someone to represent the class in the county spelling bee, they would vote for me. The really popular kids could never figure out why I would always win and I didn't understand it either until way into my adulthood. I came to understand later in life that it was a gift given to me from God–to actually know the worth of EVERY soul.
So why did I choose to work at a prison? Good question. Have I ever regretted it? Not for one moment. I have a favorite song (that seems to explain my choice) entitled "The Least of These" and the last verse goes like this:
HIS LIFE IS SAD FOR HE IS HELD,
IN A GRAY AND LONELY PRISON CELL
YEAR AFTER YEAR, BEHIND DARK WALLS
DON'T KNOW HIS CRIME BUT I KNOW THIS MUCH
IT'S REALLY NOT FOR ME TO JUDGE
THAT'S GOD'S DOMAIN AS I RECALL
AND THE ONLY THING THAT HE EXPECTS OF ME
IS TO WILLINGLY FORGIVE AS HE'S FORGIVEN ME
AND BLESS MY BROTHER IN HIS NEED.
LORD HELP ME LOVE THE LEAST OF THESE
HELP ME TO GO – WHERE THY LIFE LEADS ME
GIVE ME A HEART THAT SEES ANOTHER'S NEED
AND LOVES TO SHARE WITH THE LEAST OF THESE.
Despite my own decisions and the reasons for them, it is understandable that many people would have difficulty recognizing the worth of these often neglected and abandoned souls, but working at Mule Creek State Prison has truly changed my life.
I started work at there about 11 years ago, first working in the clinics and for the last three years in what's called Receiving and Release. It's in this area that the inmates are bused in and out of the prison. When coming to prison, an inmate loses two things right away: your name (because now you are known only by your CDC number) and your dignity. The reason is that any time you go anywhere, whether it be to or from work, or out to medical or to court, it's the same routine: strip out, lift up your nuts, bend over, spread your cheeks, cough. Enough said about loss of dignity.
I have been sponsoring self-help groups with the inmates for the last 10 years–my true passion for continuing to work at the prison.
I have been sponsoring self-help groups with the inmates for the last 10 years–my true passion for continuing to work at the prison. I have been able to see on a personal basis how it is possible for men who really want to change, can do so. One of the groups I sponsor is called the Juvenile Diversion Program, or JDP. I work closely with 21 men in this particular group whom I would consider "The Best of the Best" inside of prison. Once a month they work closely with at-risk youth from Stockton, Lodi, and San Joaquin County–trying to show them a way to make better choices and decisions in their lives so that they don't end up in prison, or worse, dead.
The oldest man in the group, Mark, was 51. He had been down since he was 16 for a gang-related murder. He paroled this year after 35 years. The youngest two in the group are 23 and 25. The younger one received a life sentence of 129 years to life; the latter, 124 to life. Both for gang-related murders. Yet here they are, doing all they can to give back to their communities by trying to keep these youth from making the same mistakes they had made. Of the 21 men, 16 of them are in for a murder they committed at a very young age.
As we receive continued updates and hear the news that some of the student visitors have dropped out of gangs and are going back to school or are learning trades or heading to college, our hearts are filled with gratitude. And yet, at least 5 of these young boys didn't make it—killed in drive-by shootings before they had a chance to prove themselves. When this kind of news comes, it's devastating for these men--these dedicated inmates who have worked so closely and have grown genuine attachments with them. Tears are shed, guilt is felt, and training intensifies.
These men have changed many of these young boys' lives for the better, and they have changed mine. I have grown to love and respect (yes, I use the words love and respect) these men over the years as if they were my own sons. In return, they have expressed gratitude to me numerous times for making them feel human again and that they have worth and for being the mom most of them never had. I know there is a special place for them in heaven, and in my heart they will remain with me for the rest of my life. I try to remind them daily that they are NOT defined by the worst thing they have ever done.
I once read a talk by a spiritual leader that said this: to effectively serve others we must see them through a parent's eyes. Only then can we begin to comprehend the true worth of a soul. Only then can we sense the love that Heavenly Father has for all of His children. Only then can we assume the mantle of being our brother's keeper.
Many people who may read this will be of the mindset that we should just put them all on an island away from the outside world and let them die. It's easy for many to believe this way because they have never personally been confronted with senseless tragedy. But I have and yet still feel the compassion I believe I am meant to demonstrate.
At the age of 14, a special young boy came into my family's life. His heart was pure and he never had a bad day. He served his country in the military for 8 years. His whole life was spent in the service of others. And yet on New Year's Eve in 2013, he was gunned down by gang members while trying to help a young father of three children who was being attacked. A gun was pulled and seconds later this son of mine was gone. He was only 36 years old.
The hardest thing for me was to go back to work and face the very men I was working with, knowing most of them were in prison for the same kind of action. Yet, something unexpected and so welcome transpired. They wept with me, encouraged me, mourned with me. They helped my heart to heal quickly as I realized that here they sat, next to me, changed men, not criminals--not animals. They convinced me that someday, that young man who committed this heinious crime, would have the opportunity to change as they had done—if given the opportunity. I had to forgive because holding on to resentments is like drinking poison and waiting for the other person to die!
Are there many staffers at the prison who feel the way I do? No. Maybe a hand full. I know that I have been tainted in my own feelings towards many individuals, mostly correctional officers who do not believe in rehabilitation. They do not believe these men will ever change. Once a dog, always a dog.
Most of my self-help work has been done on a level 4 yard which is the highest security level in a prison. The mindset on that yard by staff makes me sick and angry. I often hear officers refer to the inmates as scum of the earth, filthy animals, and other names I can't print. And that's to their faces. I've been called an inmate lover, told to go hug a thug, and other names so horrid, I do not choose to repeat. But it doesn't change how I feel toward "my" men. The men on that yard refer to me as "Mama bear" and "Care Bear." They know I will go the distance with them and for them, to help them when I know they are in the right. Therefore, I too have made a lot of enemies on that yard.
Despite everything, I look back on my eleven years here at Mule Creek with pride. And yet sometimes I ask myself, did I do the right thing? I gave up promotions along the way in order to continue working with these men. I have been blessed to see some of the fruits of my love though. There are so many names (I don't name them because I want to preserve their privacy), so many success stories--men I have worked with, seen their amazing transformations, and watched as they paroled, and are now successful in every way.
To end on a spiritual note, the words (paraphrased) from the 25th Chapter of Matthew come to mind:
Come, ye blessed of my Father, inherit the kingdom prepared for you from the foundation of the world: What you were willing to do for Me, you must be willing to do for the stranger--whether he (or she) is sick, hungry, unclothed, or even in prison. Verily I say unto you, Inasmuch as ye have done it unto one of the least of these my brethren, ye have done it unto me.
Other have shared the following with me:
The Qu'ran2:186 offers this message: "And when My servants question thee concerning Me, then surely I am nigh. I answer the prayer of the suppliant when he crieth unto Me. So let them hear My call and let them trust in Me, in order that they may be led aright."
I was told that Jewish philosophy coincides when it states emphatically, "If none will speak up for one of us, then who will stand for me?" It is, therefore, our mission, without any preconditions, to help those in most need. We must seek justice, love mercy, and walk humbly with one's God. . . .
And so it is up to each of us to answer the call to help and nourish and show compassion to the least of us (and that includes those who have fallen and chosen divergent paths but are worthy of redemption and second chances).
When I retire next year, it won't be easy making ends meet. But by far, I will be the richest woman on earth! I hope I will have made my mark not only on the prisoners with whom I have come into contact over the years but with the others with whom I share my story.

Karen Heil