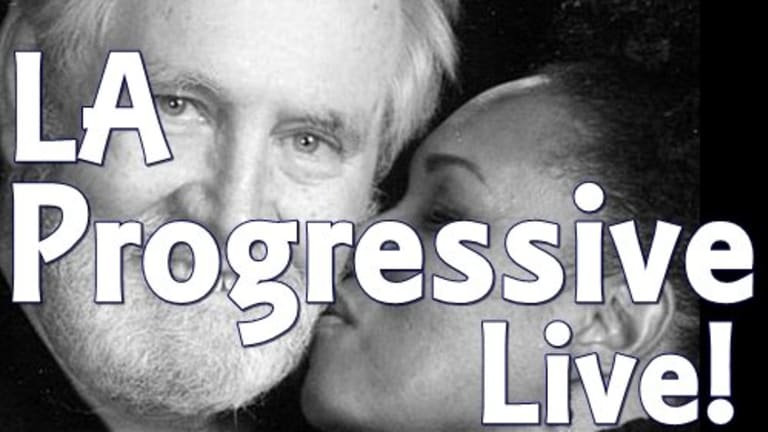 LA Progressive Live
Tune in Monday, November 3rd, at 3 p.m. PST for the kickoff of our new Internet radio program, "LA Progressive Live!" You'll find us at LA Talk Live!—and we'll archive the 1-hour show on LA Progressive for later viewing.
The LA Progressive is going live!! We're excited to announce that Monday we'll launch the pilot of what we are hoping will be a weekly broadcast devoted to progressive politics and social justice.
Tune in Monday, November 3rd, at 3 p.m. PST right here for the kickoff of "LA Progressive Live!". You'll find us streaming at www.laprogressive.com — and we'll archive the 1-hour show.
Our election-eve debut will be devoted to the election. We'll drill down on some of the key races and propositions appearing on the California ballot. We'll also explore some of the election frustrations that continue to plague us and discuss ways the average voter can change things and empower themselves.
Prop 47 Front and Center
If you've been following LA Progressive, you know that we have been putting lots of energy behind Prop 47, the Californians for Safe Neighborhoods & Schools Act.
Prop 47 promises to help California take a big step towards fixing its mass incarceration mess. According to one report, California's prisons were so overcrowded that inmates were crammed into cells the size of phone booths as a result, the United States Supreme Court mandated that California remedy its extreme prison overcrowding asserting that California prisons violated the 8th amendment's prohibition against cruel and unusual punishment.
If passed, Proposition 47 would convert many non-serious low-level offenses like personal drug use, writing bad checks or receiving stolen property—from felonies to misdemeanors.
The State would save hundreds of millions of dollars a year by reducing its prison and jail populations. Much of the savings would be invested in helping people avoid returning to prison, or from going there in the first place, by investing in badly needed mental health and drug-abuse treatment programs. Other funds would support anti-truancy programs and crime victim services.
But not surprisingly, some law enforcement officials are raising red flags, saying the bill would let criminals steal guns and carry date-rape drugs with impunity—Willie Horton all over again.
To help us sort through the controversy, we've invited Lynne Lyman, Executive Director of the California Drug Policy Alliance, and Charsleen Poe, intake officer for A New Way of Life Reentry Program and a formerly incarcerated woman whose life would be far different had Prop 47 been in place years ago.
What to Make of Propositions and Judicial Races
We'll also discuss a few key races here in California and around the nation, giving special attention to the challenges associated with judicial races and California's whole initiative process.
How many times have you stared at your ballot in the voting booth, only to be confronted with long lists of judges without a clue of who they are, what they've done, and what they would do should they be elected?
What have you done? Picked by race? By gender? By closing your eyes and poking holes at random? Or have you just skipped the whole section?
So we'll talk about how California got into the business of electing judges, how other states go about picking people who will have such power over people's lives, and what might work better for California.
The initiative process is not much different: cleverly worded statements and slick commercials designed more to cloud issues than to shed light; television ads with actors playing doctors getting drunk or other actors pretending to be small business owners, millions of dollars spent to capture your vote without any real discussion of the pros and cons?
On Monday we'll take a closer look at the overall initiative process and talk about how it has affected Californians in dramatic ways.
If you'd like to do some reading before watching the live stream, here's a good guide to the six statewide propositions that will appear on Tuesday's ballot from The Jewish Journal.
Here's another comprehensive guide from Ballotpedia.
Here's the California Secretary of State's Official Voter Information Guide.
And finally here is one prepared by the LA Progressive.
See ya Monday!
Dick Price & Sharon Kyle