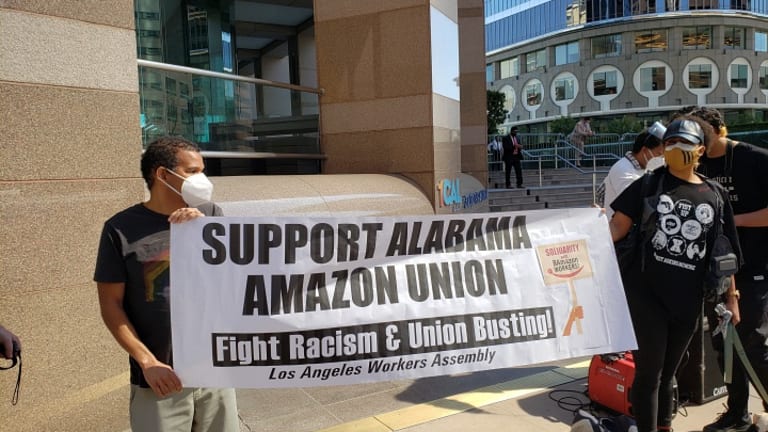 Amazon Workers Unionizing
Mark Friedman: A victory would make it the first unionized Amazon workplace in the United States, inspiring other Amazon workers to unionize.
LA and 45 Cities Hold Support Rallies
Nearly six thousand Amazon warehouse workers at the Bessemer, Alabama plant, are at the center of a potentially game-changing union vote taking place right now thru the end of March. On February 8, the they were sent ballots by mail to decide if they want to join the Retail, Wholesale and Department Store Union (RWDSU). Just getting to this point was a major victory considering the aggressive union busting by the world's largest retailer and the fact that employees are working during a pandemic.
A victory would make it the first unionized Amazon workplace in the United States, inspiring other Amazon workers to unionize.
Workers have been subjected to aggressive anti-union messaging but if the union drive works, Amazon could be forced to negotiate with workers on the size of their salaries, the conditions of their workplace, and more. A victory would make it the first unionized Amazon workplace in the United States, inspiring other Amazon workers to unionize.
LA rally Supports Unionization Drive
A rally took place in LA as part of nationally coordinated protests in 45 cities at Amazon warehouses or Whole Foods Markets (owned by Amazon)—held in front of the notorious anti-labor law firm Morgan, Lewis & Bockius, hired by Amazon to crush the organizing drive. Morgan Lewis, has been attacking the union movement for decades. It has backed Amazon on federal tax disputes, hazardous COVID conditions, and discrimination against pro-Black Lives Matters employees.
The rally was sponsored by the LA Workers Assembly and featured Fernando Ramirez, a United Electrical workers union organizer, who told the protestors "The only way we will win hazard pay is thru struggle. We are profoundly against Amazon and its anti-worker, anti-union efforts," he said. "Our union is in solidarity with the Amazon workers who are making history in their organizing drive, which is an inspiration to other workers to stand up against unsafe working conditions and low wages and exploitation in general."
Also speaking was Rebecka Jackson who told us "My father tested positive while working at an Amazon warehouse in Atlanta from lack of PPE and neglected sanitation across the facility. It ended up infecting our entire family, taking them out of work for days."
Sonali Kolhatkar—founder, host and executive producer of "Rising Up with Sonali," a radio show on Pacifica stations told the media, said "As a proud union member of SAG-AFTRA at KPFK Pacifica Radio we have benefited regularly from such protections even against a small nonprofit public radio station struggling to make ends meet. When faced with a ruthless for-profit corporation that has built its empire on the backs of a nonunionized workforce, Amazon's workers are on the front lines of those who most need the protections a union can provide."
Stuart Appelbaum, the president of the RWDSU, described in a Lifeissue interview what he calls "the most aggressive anti-union effort I've ever seen…They are doing everything they possibly can," he said. The company has been "bombarding people with propaganda throughout the warehouse. There are signs and banners and posters everywhere, even in the bathroom stalls."
Amazon is also texting its workers throughout the day urging a "no" vote and pulling people into "captive audience" meetings. Unsurprisingly, resorting to the most commonly told lie about unions: that it will cost workers more money to be in a union than not. One poster pasted on the wall of the warehouse claims, "you already know the union would charge you almost $500 a year in dues." But Alabama is a "right-to-work" state where workers cannot be compelled to join a union if they are hired into a union shop, nor can they be required to pay dues. A slick website that the company created—DoItWithoutDues.com—has photos of happy workers giving thumbs-up signs create a veneer of contentment at the company and includes scare-mongering reminders of how joining a union would give no guarantee of job security or better wages and benefits. It says, "Why pay almost $500 in dues? We've got you covered with high wages, health care, vision, and dental benefits."
On Amazon list of "Global Human Rights Principles," it says "We respect freedom of association and our employees' right to join, form, or not to join a labor union or other lawful organization of their own selection, without fear of reprisal, intimidation, or harassment."
In the middle of the Coronavirus pandemic, the company attempted, but failed in a National Labor Relations Board decision, efforts to have a one-day union vote "conducted manually, in-person, making it easy for associates to verify and cast their vote in close proximity to their workplace."
Organizers in Bessemer had taken to engaging the workers while they stopped at a red light upon leaving the Amazon warehouse, and have also held outside rallies.
So aggressive are Amazon's anti-union tactics that 50 members of Congress sent the company a warning letter saying, "We ask that you stop these strong-arm tactics immediately and allow your employees freely to exercise their right to organize a union." Even the company's own investors are so shocked by the tactics that more than 70 of them signed on to a letter Amazon to remain "neutral" in the vote.
The path to this union vote was paved by staggeringly high inequality that worsened during the pandemic as workers were stripped of their insultingly low hazard bonus of $2/hour. Meanwhile, Amazon made billions. Former CEO, Jeff Bezos is the world's second-richest man—worth a mind-boggling $188 billion—increased his wealth by $75 billion, over the past year alone, the same time period that about 20,000 employees tested positive for Coronavirus. The Federal Trade Commission announced Amazon had stolen nearly $62 million in tips from drivers working for its "Flex" program.
Some Amazon employees see no need for a union. Ora Mcclendon, a "packer", quoted in The Guardian, said working at the warehouse is "great." "The pay is great. The benefits are awesome," she said. "You get your benefits from day one, but at many other companies, you have to wait 60, 90 days." Mcclendon, 62, who had worked at a plastics factory, denied that the pace of work was too rapid or stressful. "I come from another packing plant," she said. "I'm used to the culture. I don't think it's too fast. It's fair, and it's workable."
She praised the fulfillment center's managers, saying they "stress teamwork". At the same time, she voiced skepticism about the union: "I don't know what they're offering us. I talked to one of their leaders on the telephone, and I asked what they could bring to the table that we don't already have, and he couldn't give me anything. I don't see why they want to be here."
Another worker, Bates, 48, complains about the relentless pace and the paucity of rest breaks. "A robot can work longer than we can," she said. "We're human. Our bodies get tired. I think Amazon understands that, but they don't care."
Bates said that some co-workers are scared to support a union. "They're afraid of losing their jobs," she said. "One guy said he used to make $7 an hour and worked three times as hard and was glad to be making $15 now. He doesn't ever want to go back to $7." Union organizers said several managers had warned that the warehouse might close if the RWDSU wins.(This is what every company says when threatened with a union-MF)
National support for unionization
Major national figures including Sen. Bernie Sanders, Rep. Ilhan Omar, Stacey Abrams, and Danny Glover are supporting the union. Other unions have been present at support rallies in Bessemer and elsewhere. At the JFK warehouse, employee Chris Smalls (Interviewed by this reporter for RLNews previously and who appeared on Sixty Minutes) was fired for organizing for safety conditions and PPE for workers there. Smalls drove to Alabama to support the unionization effort. In an exclusive phone interview with Random Lengths, he spoke of his experiences there.
Traveling to Bessemer, Alabama, was like stepping into a time machine. Speaking with locals in Selma and understanding the history was the most important thing to get a grasp on what we're up against. I traveled with three other members of The Congress of Essential Workers (TCOEW) who are also workers of Amazon, some coming all the way from Arizona to join us.
Our first night doing some grocery shopping we randomly ran into a full-time employee of BHM1 Bessemer Alabama Amazon's facility. I approached her and kindly introduced myself. Before you know we spoke for a half hour. She informed me that she was on the fence and have not filled out her ballot yet. After that conversation and her learning my story, not only did she give her promise to vote yes, she said she will spread the word to her coworkers as well.
The next day, as we canvassed the area outside the facility in Bessemer, I found out how they operated, with police at every entrance and traffic lights adjusted by the city so workers don't even have the opportunity to stop and speak with union reps anymore. The hotspot for conversation was the Circle K gas station across from the warehouse. The Amazon cafeteria has a history of being overpriced with poor selections.
We learned that Amazon has made all workers attend four classes a shift in small groups, at which they were handed union-busting gear. Our team learned that the plant general manager has a million-dollar budget to spend on incentives to get workers to vote no.
From my experience, I know that workers need one-on-one conversations, leading up to the last day because workers are being misinformed daily while Amazon continues to hire. I shared my feedback with the lead organizers as we departed, and plan to assist back in NY and NJ.
The union sees the historic union vote as more than just a labor struggle. Eighty-five percent of the people who work at the facility are African American. This is as much a civil rights struggle as a labor struggle. Appelbaum explained, "people get their assignments from a robot, they're disciplined by an app on their phone, and they're fired by text message. Every motion they make is being surveilled."
"Amazon is transforming industry after industry, and they're also transforming the nature of work," he said. Indeed, the level to which Amazon has fought against unionization at just one warehouse in Alabama is an indication of how important it is to the company that its workers remain powerless.
For more information on the Amazon workers' efforts to unionize at www.BAmazonunion.org.
Mark Friedman