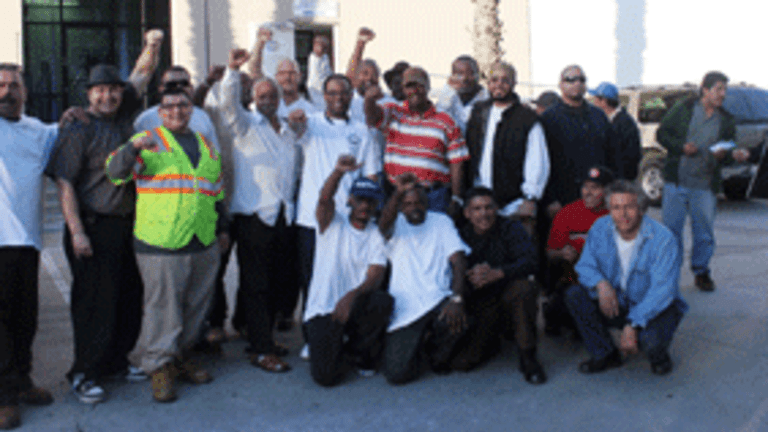 Foreign Dollars, Bad American Jobs
Jessica Durrum: The quality of the jobs this program created is far below what workers deserve. Health care is out of reach. One driver delivers pizzas after a long day transporting shipping containers for American Logistics just to make ends meet.
The issues of immigration and workers' rights are inextricably linked, as seen in the participation of 30 L.A. labor unions in today's Citizenship Caravan to Bakersfield. The unions are joining organizations from all over California to call for immigration reform with a path to citizenship.
A less widely known example of this link is an obscure immigration program that is being used by irresponsible companies in ways probably not envisioned by the government. One of those companies is located here in Southern California and is locked in a labor dispute with its employees.
The EB-5 investor program connects wealthy immigrants with U.S. businesses seeking capital. Run by the U.S. Citizenship and Immigration Services agency (USCIS), its stated purpose is to "stimulate the U.S. economy through job creation and capital investment by foreign investors."
In exchange for a million-dollar investment (only half a million if the business is located in a high-unemployment area), USCIS grants the investor a green card if they can prove that their investment created at least 10 jobs.
The program, which has been around since 1990 but expanded in recent years, is intended to be a win-win-win scenario: If all goes according to plan, the American company gets start-up capital, the foreign investor gets a green card and the local community gets 10 jobs per investor.
If the program is not responsibly run, however, communities, investors and workers stand to lose. In the wake of recent high-profile abuse of the program – including a failed EB-5 project in El Monte – USCIS and even the Securities and Exchange Commission have stepped up oversight of the program to ensure that neither investors nor the communities in which they committed to create jobs are defrauded.
Yet while USCIS monitors job quantity, the quality of jobs should matter too.
Workers at American Logistics International, a port trucking company based in Carson, know this all too well. USCIS has facilitated the flow of millions of dollars to American Logistics to expand operations since the company joined the program just over three years ago. Meanwhile, the quality of the jobs it has created is far below what its workers deserve. Health care is out of reach. One driver delivers pizzas after a long day transporting shipping containers for American Logistics just to make ends meet.
To improve their working conditions and have a voice on the job, drivers at American Logistics approached the Teamsters for help in organizing a union and announced their organizing efforts earlier this year. The company has responded with fierce opposition, interrogating workers, attempting to coerce them and even bringing in a costly union buster to aid management in opposing the workers' organizing efforts.
The company's actions have drawn the consternation of public officials and agencies. Back in June, American Logistics drivers spoke out at a Carson City Council vote on a resolution calling for a responsible port trucking industry. Their concerns were echoed by community and clergy supporters, and even by the council and mayor. The resolution, which passed unanimously, called upon American Logistics and the more than 50 other port trucking companies in Carson to respect the rights of its workers to organize.
Unfortunately, it appears the company has not heeded the council's exhortations. A regional office of the National Labor Relations Board recently charged American Logistics with violating federal labor law by "interfering with, restraining, and coercing employees."
The Board's complaint found that American Logistics interrogated workers about their union support, promised them benefits if they refrained from union activity and prohibited them from demonstrating support for a union, all of which is illegal under U.S. labor law.
In the absence of adequate oversight of the use of EB-5 dollars, drivers are taking their concerns about management's behavior directly to investors. Accompanied by community and clergy supporters, they have sent delegations to recent EB-5 conferences in Long Beach and Newport Beach to shed light on the abuses by American Logistics' management.
The EB-5 program – which connects businesses with millions of investment dollars, and millionaires to green cards – hinges upon the hiring of workers. These government-administered funds should come with vigorous standards for the treatment of those workers, including respect for their right to organize to improve the quality of those jobs.
Jessica Durrum
The Frying Pan
Wednesday, 14 August 2013