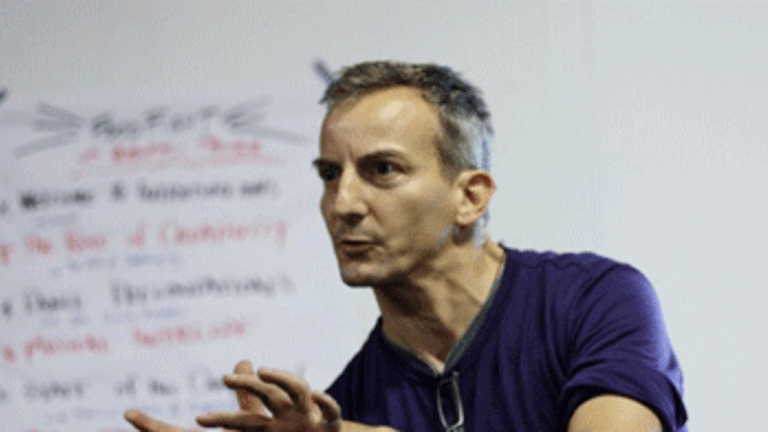 Beautiful Trouble Makes a Creative Splash for Activists
Dan Bluemel: Members of SEIU and striking fast food workers got an earful on creativity last week when they attended an event put on by Beautiful Trouble, a project that educates activists on the art of creative direct action.
Members of SEIU and striking fast food workers got an earful on creativity last week when they attended an event put on by Beautiful Trouble, a project that educates activists on the art of creative direct action.
The event highlighted the importance of using art to add flare to otherwise stale tactics that too often end up being ignored by the media and public. It is the unexpected, aesthetic embellishments, its proponents argue, that often provide images and messages that stick in the public consciousness.
Andrew Boyd, Beautiful Trouble's co-editor, said art, along with the hard work of organizing, can make or break a protest or campaign.
"It is the creative piece that often makes for the margin of victory," he said. "It is when the artist's toolbox joins with the organizer's resilience and strategy that you can have a special sauce that can make the difference in winning or losing these fights."
To highlight Boyd's point, the event featured members of Beautiful Trouble who used creative tactics in social and economic justice campaigns who gained favorable media attention and community support as a result.
Beautiful Trouble's director of training, Gan Golan, said progressive ideas are often unpopular because they challenge the status quo. The use of pop culture, however, can make progressive messages more palatable, he said.
A few years ago, Golan turned to comic book superheroes as a source of inspiration to highlight economic injustice. He co-wrote a comic book of his own, called "The Adventures of Unemployed Man." The comic features characters such as Wonder Mother, who built her invisible jet out of her employer's indestructible glass ceiling, and Fantasma, a cleaning woman from Oaxaca who is invisible only to her employers.
Golan then took these characters to a protest against Wall Street practices, which happened to coincide with Halloween. The cops thought they were part of a Halloween event and were able to pass police barricades.
"Sometimes it helps not be dressed like a protester," said Golan.
The superheroes got the attention of the media, one of whom was featured on CNN.
"He was able, because he was in costume, to talk about all the problems in our economic system," said Golan. "If he were just a protester they wouldn't have let him on the show."
Golan also participated in creating a fictional baseball team called the "Tax Dodgers," where each player was a major corporation. The team also had its own cheerleaders, the "Corporate Loopholes." The press attention from that event led to a Tax Dodgers uniform being put on display at the National Baseball Hall of Fame.
"It shows how using our creativity we were able to force ourselves into the popular culture where people didn't even think we were protesters, but our message was able to get across and reach thousands of people," said Golan.
Andrew Boyd, co-editor of Beautiful Trouble, talks to audience members about using art to keep methods of direct action fresh and captivating to the public. (Dan Bluemel / LA Activist)
The event was held at the Lyric Theatre in Hancock Park. About 45 activists were in attendance.
The Beautiful Trouble project began two and a half years ago. It's book was published late last year. The project is encyclopedic in nature because it is constantly being updated to broaden its scope and include new tactics. Multiple activist organizations and activists have collaborated on the project.
Boyd, who founded the Billionaires for Bush campaign, as well as Agit-Pop Communications and The Other 98%, described the project as the "mutant love child of Saul Alinsky and Abbie Hoffman."
Along with its artistry, Boyd acknowledges the presence of certain marketing principles in the project, saying "the truth does not announce itself on its own." To wit, it needs a helping hand.
The Beautiful Trouble book, for instance, has a section called "Brand or Be Branded," where it separates the concept from its corporate connection and positions it as a tool for activism. Otherwise, states the book, if activists don't brand their campaigns, their enemies will do it for them.
"The man steals from us and we steal from the man," said Boyd. "Abbie Hoffman was a big proponent of understanding the science of Madison Avenue and adopting it for revolutionary ends. I would say we are in that tradition as well."
But using marketing principles or art doesn't mean one can only work in the domain of popular culture. Diana Pei Wu, a trainer with Beautiful Trouble, spoke about using cultural traditions and community to assist in activism.
Wu was part of a successful campaign that preserved affordable housing in Oakland's Chinatown. By using a deep-rooted cultural respect for a community's elders, along with Asian-themed art, the campaign was able to reframe the debate over affordable housing, said Wu.
The tactics led to negative attention in local Asian media for the tenants' wealthy landlord, who tripped up under media scrutiny and was quoted as saying he had no moral obligation to his tenants or the City of Oakland, but only to his pocket book.
"It's the importance of being able to do work that is culturally appropriate, that draws on our own traditions and that can also speak to a wider audience," said Wu.
After the presentations, audience members were put in groups to brainstorm on creative tactics. When organizers asked what audience members got from the event, "having fun," "being bold" and "thinking outside the box" were a few items that were mentioned. For Boyd, that was exactly the kind of thinking he wanted to inspire.
"Art just doesn't happen in galleries," he said. "Some of the most beautiful and powerful art happened directly in the context, embedded in the midst, of social movements."
Dan Bluemel
LA Activist
Sunday, 29 September 2013