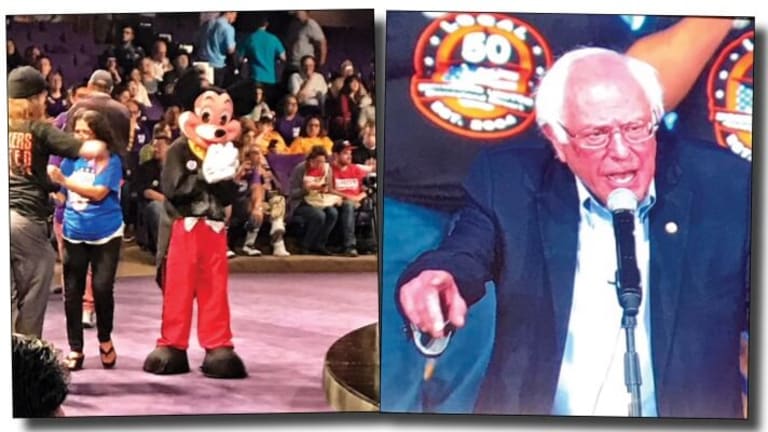 Bernie & Unions Blast Disneyland
Marcy Winograd: Over a thousand union members and supporters joined Bernie in demanding the "Happiest Place on Earth" not treat its low-paid workers so miserably.
[dc]"B[/dc]ernie! Bernie! Bernie!" came the chants of the union crowd at the #StopDisneyPoverty rally this weekend, when the Coalition of Resort Labor Unions (CRLU), a group of 11 Disneyland unions, packed the Anaheim River Arena.
Over a thousand union members and supporters joined Bernie in demanding the "Happiest Place on Earth" not treat its low-paid workers so miserably. Energized for a possible 2020 Presidential run, the former ever-popular presidential candidate scorned Disney for its wage gap—$400 million for its CEO and minimum wage for too many Disneyland employees.
While Vermont Senator Bernie Sanders was the guest celebrity, Disneyland "cast members" (Disney-speak for employees) – stage hands, candy makers, puppeteers, food servers, housekeepers –were the star attraction at a high-energy mobilization ​to support a city living wage ballot initiative, also a coordinated call for Disney to pay at least $15 per hour and for the park to stop its irregular employee scheduling which makes it impossible for struggling cast members to work a needed second job in order to feed their children.
Rose, a married toffee maker at Disneyland, had to move back in with her parents, because she couldn't afford to pay the rent on her candy maker salary—$13 per hour after 11 years on the job.
In "Working for the Mouse" – a published survey (2/27/18) of Disneyland employees – written by Occidental politics professor Peter Dreier and co-authors at the Economic Roundtable – more than 85% of Disneyland employees reported earning less than $15 an hour, 1 out of 10 said they were homeless within the last two years and 68% reported food insecurity, uncertain they'll be able to afford the next meal.
On a panel of workers, Bernie Sanders a commentator, one Unite Here Local 11 food service worker at Disneyland told the crowd Disney fires starving restaurant employees who – instead of throwing left-overs in the recycle bin – eat the extra food.
The Coalition of Resort Labor Unions (CRLU) is asking union supporters to sign a petition to Disney demanding the company, which reported almost $11-billion in profits last year and sure to enjoy a $1.5 billion Trump tax cut –pay a living wage to the people who bring magic to children's lives.
After years of individual Disneyland unions clamoring for better wages and working conditions, most of the unions at the amusement park have joined the coalition because, in the words of rally organizers, "when we stand united, we win."
As rally participants streamed out of the arena, many, including this blogger, bought Bernie buttons and t-shirts, anticipating a Bernie for President 2020 campaign. One t-shirt on sale pictured an outline of Bernie's face with the words: Hindsight is 2020.

Marcy Winograd
Marcy Winograd attended the rally with her husband Ira "Buddy" Gottlieb, a union-side labor lawyer who represents Disneyland stagehands (IATSE 504). Marcy, a retired public school teacher and member of United Teachers of Los Angeles, serves on the Executive Board of the Progressive Caucus, the largest caucus in the California Democratic Party.