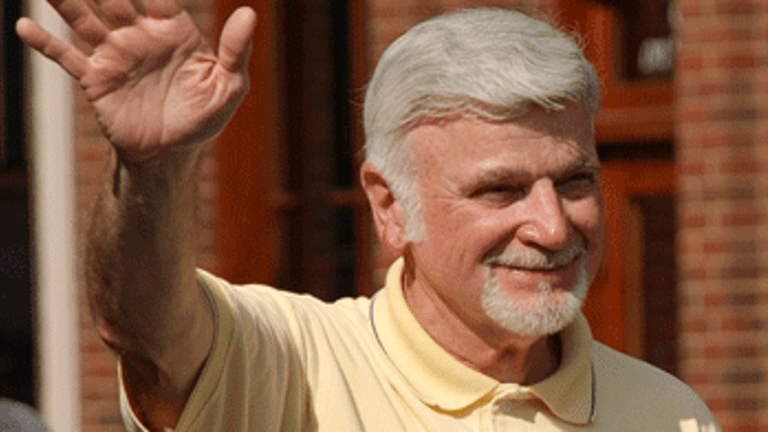 Bible Lesson on Patriotism
Berry Craig: Throughout the New Testament, Roberts says, Jesus Christ "talks about the people who are poor and living in poverty. Today, who tries to lift people out of poverty? It's the labor movement."
The Republicans' shameless publicity stunt with the elderly veterans at the World War II Memorial in Washington the other day reminds me of a conversation I had with Cecil Roberts, president of the United Mine Workers of America, when he was in Paducah, Kentucky, for Labor Day.
Roberts says it's time for unions to take back two big issues the labor haters have hijacked from our movement: "The Bible and patriotism."
He wants to know "At what point in time did the Bible start belonging to the Republicans and the business folks? At what point in time did patriotism?"
Adds Roberts, 66, a Christian and a combat veteran of Vietnam:
"If you want to find where this movement has its essence, take the Bible. Don't wave it. Don't point it. Don't pander. Read it… Jesus of Nazareth would be walking with us and standing with the poor, standing with the sick, standing with the afflicted, if he comes back tomorrow."
Roberts, a native of Cabin Creek, West Virginia, says a big part of the UMWA's stand against Peabody Energy and Arch and Patriot coal companies is rooted in the Ten Commandments. "Honoring your mother and father means fighting for their pensions and health care."
A sixth-generation coal miner who grew up in a UMWA family, Roberts calls the fight "faith-based. We have ministers and priests getting arrested with coal miners…People of good will and people of faith are saying that…when you give your life to a corporation, and you get into your elderly years…no one should be able to pull a rug out from under you. Two hundred of us have been to jail. I have been to jail eight times, and I am prepared…to go to jail and go to jail and go jail because this is nonviolent, and we are standing on the principles of God Almighty."
Throughout the New Testament, Roberts says, Jesus Christ "talks about the people who are poor and living in poverty. Today, who tries to lift people out of poverty? It's the labor movement."
Roberts, who is also a member of the Executive Committee of the AFL-CIO's Executive Council, says all Americans should be grateful for veterans who risked, and sometimes lost, their lives so people can freely worship as they see fit. He is proud that unions include tens of thousands of men and women who served in the military.
Roberts was an Army infantryman, a "grunt," in Vietnam in 1967-1968. He was in a mortar crew with the 196th Light Infantry Brigade of the 23rd "Americal" Infantry Division.
He has a message for flag-waving, conservative saber rattlers who never dodged enemy bullets in a war. "Who is Sean Hannity to decide who is a patriotic American? Who is Rush Limbaugh? They were never in the service.
[dc]"W[/dc]orking class people fight most of the wars. Working class people, when called upon, they answer the call, whether it's World War I, II, Korea, Vietnam, the Mideast."
Wherever he speaks to a crowd, Roberts, who was part of a wreath-laying ceremony at the Tomb of the Unknown Soldier, acknowledges fellow vets. He said every UMWA local has a veterans committee. "Thanks to our veterans, we live in the greatest country in the world."

Berry Craig
Sunday, 6 October 2013