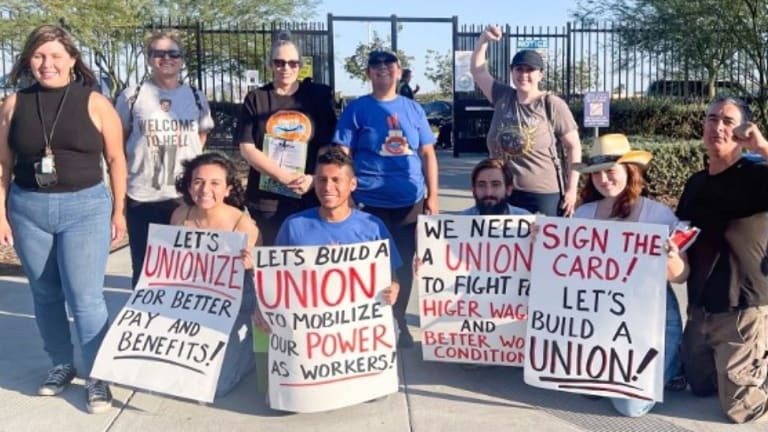 California Amazon Workers Petition for Union Election
Workers' anger at the low pay and conditions of work have been percolating under the radar for a long time.
On April 1, the Amazon Labor Union (ALU) won a historic union representation election at JFK8, the Amazon fulfillment center in Staten Island, New York. It was the first-time workers at one of the retail giant's U.S. facilities voted to unionize. Since then, the ALU — a group led by rank-and-file workers with no affiliation to any established national trade union — has been collaborating with Amazon workers across the country and world trying to organize themselves into a union.
The following is based on in-person and zoom interviews— with Nannette Plascencia, a worker at the Amazon ONT8 fulfillment center in Moreno Valley, California, and a lead organizer of United4Change, an affiliate of the ALU.
California's Inland Empire (IE) is a metropolitan area in southern California, east of Los Angeles. The region — encompassing San Bernadino County and part of Riverside County — is larger than 10 U.S. states and similar in size to the combined area of Connecticut, Delaware, New Hampshire, New Jersey, and Rhode Island.
Its network of major highways and rail lines, along with its proximity to the two largest shipping ports in the United States — Los Angeles and Long Beach, make the area a critical logistics hub for Amazon and other corporate giants, such as Walmart, United Parcel Service, and Target.
Amazon is the region's biggest employer, with close to 40 facilities and tens of thousands of employees. A new warehouse, largest in the world, is under construction in Ontario and will increase Amazon's footprint in IE.
In the New York Times Magazine article "Amazon's Great Labor Awakening," reporter Erika Hayasaki wrote: "The company is so enmeshed in the [Inland Empire] that it can simultaneously be a TV channel, grocery store, home security system, boss, personal data collector, high school career track, internet cloud provider and personal assistant … [It] is reminiscent of the company towns of the late 19th and early 20th centuries."
ONT8 at heart of Inland Empire
Amazon's ONT8 warehouse, located at the heart of the IE, is classified as a "cross dock" facility. Within the hierarchy of Amazon's logistics supply chain — air hubs, fulfillment centers, sortation centers, and last-mile delivery stations. Cross docks serve as central hubs that receive, sort, and distribute products to surrounding regional fulfillment centers. This minimizes the need for workers because products are not racked or stored at a cross dock. After processing at ONT8, the company sends goods to a fulfillment center directly across the street.
Nannette Plascencia works the day shift in the prep department on the inbound side of the warehouse. New hires start at $16 an hour, Plascencia said. After working at ONT8 for 7½ years — a lifetime given the 150% annual turnover rate at Amazon — Plascencia makes $19.25 per hour.
The workforce is majority women and 80-90% Hispanic.
Plascencia, the lead organizer in the union drive at ONT8, is called "Coach" by her coworkers because of her many years as a soccer coach.
Workers' anger at the low pay and conditions of work have been percolating under the radar for a long time, Plascencia explained.
"Workers would raise their concerns with management but felt they weren't being heard," she said. "Amazon's standard answers are, 'We hear you, we see the problem, good suggestion, we're working on it and we'll get back to you,'…but nothing ever gets done. It's like they're pulling you on a string. Eventually people just give up trying, figuring nothing will ever change.… [We felt] belittled, degraded, like we didn't matter."
United4Change founded in March 2020
The outbreak of Covid-19 in March 2020 proved to be a breaking point. Concerns about job safety took on a new urgency. Workers were "scared … people were getting sick at work, and nothing was being done. Two long-time coworkers died. We had hundreds of cases."
That's when Plascencia decided it was time to start organizing a union. She and some of her coworkers founded United4Change in March 2020. Plascencia herself has never been in a union, but her husband has.
Plascencia first met Chris Smalls last August when he visited Hollywood, California, during a nationwide organizing tour. Smalls is the ALU president in Staten Island, New York; Plascencia's friend Carolina Verduzco — a community organizer in the IE — contacted Smalls on Instagram and told him that Plascencia has been trying to unionize for two years and could use his help. Smalls then reached out to Plascencia. At a press conference on September 9, United4Change announced it was affiliating with the ALU.
Time Off Task (TOT) was the first issue Plascencia started organizing around, launching a petition drive in 2019. TOT is Amazon's dystopian system for tracking workers every minute of their shift. TOT is different from the job rate that workers must meet, which the company raised to 175 items per hour last January.
"You could be at 100% of your rate and still get disciplined for TOT," Plascencia emphasized. "TOT never stops. If you go to the bathroom, or you stop to pick something up that fell on the floor, or the line jams — which is out of your control — it's all going to show as TOT. With TOT you don't get a warning, you don't get written up, you can go straight to a firing. Amazon calls it 'stealing time from the company.'"
Even the company's longtime employees are often one wrong move away from losing their jobs. "Workers get fired very easily over the smallest things," she said.
ONT8, which opened in 2014, is one of Amazon's older warehouses. Plascencia said the equipment is constantly breaking down.
'Like we got wardens'
Plascencia said management is constantly monitoring workers "like we got wardens."
"Managers walk up and down the aisles looking at us and following us when we go on break," she remarked. "If we're one minute late they scan our badge and give us a warning, so we have to use time from our UPT (Unpaid Time Off) bank. We earn UPT in minutes, but it can only be taken in increments of hours. So, if I have to use a minute of UPT because I'm a minute late, they will actually take one hour away from my UPT bank."
Pay is another big issue.
"We work so hard," Plascencia said. "We feel we're not compensated at the level we deserve. At the end of every year, they complement us with, 'You hit a record, you pushed hard, your volume is up…' And every year it's another record. They keep pushing us to do more with fewer people. This year I had to do two people's jobs, last year I did one. This year we got a 5% raise. But with the increase in the medical plan, we aren't really getting any raise at all. We got a CEO that makes $214 million. Why does he get to decide I'm only worth $19.25 an hour?"
United4Change campaigns openly inside the warehouse. It tries to increase its visibility with the sporting of union T-shirts and buttons.
"The day when we had the meeting about the raise, everybody was so mad at how little it was that in the break room people were coming up to me asking for a union card," Plascencia said. "I think just at break and lunch that day 15 people signed. Now more and more of my co-workers, my friends, come up to me and volunteer to do stuff."
United4Change uses a private Facebook and WhatsApp group for ONT8 workers. "People were scared so this makes them feel safe to post what's going on in their work area," said Plascencia. There is also a public Instagram account called Union4Amazon with a GoFundMe account where supporters of the union can donate to help the organizing campaign.
JFK8 union victory 'a game changer'
Plascencia credits the ALU victory at JFK8 in helping with their organizing efforts.
"When I started organizing back in 2020, people would say it couldn't be done," she pointed out. "'Amazon will never allow it. They'll break the laws, fire us, and nothing's gonna happen to them because they're the richest company in the world.' So, I said, 'We're not asking their permission, we're telling them, we're going to have a union. It's up to us. I put myself out there — made myself a target — and said, 'See, I'm still here. I'm still fighting.' When the ALU won people saw that it could be done. It was a game changer."
Plascencia emphasized how the laws are stacked against workers. "They make it very hard for us to unionize," she said. "We have to go through the process twice — first getting the cards signed, and then the vote. And, in the six weeks between those two, Amazon will use their fortune to spread lies and try to scare everybody. There are grids of TV screens everywhere in the warehouse and they're going to use them to tell you why you don't need a union. Every stall in the bathrooms and every table in the breakrooms display their anti-union placards. And then there's the daily text messages and mandatory anti-union meetings."
'Majority of our work is education'
"Some workers are scared because Amazon has so much power over us — our paycheck, promotions, what job we do, and whether or not they get rid of you — and they've heard rumors that if the union wins, they'll take away our medical and other benefits," Plascencia said. "Managers can use this power to punish workers who are outspoken and reward those who are compliant. This is especially true of the young kids who've never even heard what a union is. So, the majority of our work is education, from the beginning and explaining the basics."
United4Change sets up literature tables in the parking lot twice a week, timed to catch workers during shift change. Day shift used to end at 4:30 pm and night shift at 3:30 am. Amazon, however, recently mandated 11-hour shifts, so everyone now has to stay an extra hour.
To catch the night shift coming off work Plascencia arrives at 3 am to unload her car and set up the table. She stays until her shift starts at 6 am. Volunteers who are not Amazon workers join her to help. They include a group of Teamster members who work at UPS.
"The more people out there, the better, because it makes you less afraid and more willing to stop and talk," the union organizer said. "I want better for my co-workers. I know how much better it would be if we unionize. They work hard and they deserve it." And when asked if she was concerned about being fired, she answered, "I'm out in the open. They know it's me and I'm still here. I will never stop fighting."
LA Solidarity
After the October 29 LA rally to end the US blockade of Cuba, Plascencia met with a dozen leaders and activists from the ILWU, LA Tenants Union, Palestine Youth Movement, LAMAS and the Hands-Off Cuba committee to discuss solidarity efforts in LA. These include arranging speaking engagements for her at local union meetings, bringing cars of supporters out to their public rallies. For more information or to help: Union4Amazon
Amazon Labor Union Calls off Election Attempt at California Warehouse
On October 21, less than 2 weeks after filing for an election, United4Change – an affiliate of the Amazon Labor Union (ALU) – withdrew its petition to hold a unionization vote at Amazon's ONT8 warehouse located in Moreno Valley, California. To hold an election supervised by the National Labor Relations Board, unions must show that they have gathered signatures of support from at least 30% of workers eligible to vote. United4Change estimated there are 800 workers in the proposed bargaining unit, but Amazon formally challenged that number in a filing with the NLRB saying the actual number is 2,645. The NLRB has accepted the company's numbers without comment.
In a follow-up interview on October 30 Amazon ONT8 worker and lead organizer Nannette Plascencia described this as a temporary setback and said they are continuing to collect more signatures. "Now I have to build on top of what I already have and then we're going to resubmit. I have no intention of stopping," said Plascencia.
"Since Amazon wouldn't provide us with their number, 800 was our best guess. That's why we turned in the cards. We believed we had 30%. So of course, we had to pull them out because we don't have 30% of that high number. A lot of my coworkers are in shock because nobody ever thought we had that many workers here. We work here every day and we do not see those numbers," said Plascencia.
Exaggerating the size of the workforce is right out of Amazon's union busting playbook. In November 2021 the ALU at the giant JFK8 fulfillment center in Staten Island withdrew its signatures after being told that it didn't reach the required threshold of 30%.
As the union continues to win more workers to its side Amazon has stepped up its union busting tactics inside the warehouse. Plascencia said the company is now holding mandatory 'training classes' ostensibly to "notify and educate us about what an authorization card is and the repercussions when we sign one." Union busters hired by Amazon, who make $3,200 a day, "Try to scare you by saying that the government and third parties will have all your information. We are told to 'Do your research, because you could be losing your paycheck and all your benefits. And this union, in particular, has no experience, nobody backing them up, and could be taking all your money and pocketing it for themselves.'"
The union will be holding a virtual town hall meeting next week where workers will be able to raise their concerns and ask questions.
By Mark Satinoff (World Outlook) and Mark Friedman (Random Lengths News)
Originally published in twice in World Outlook and here.