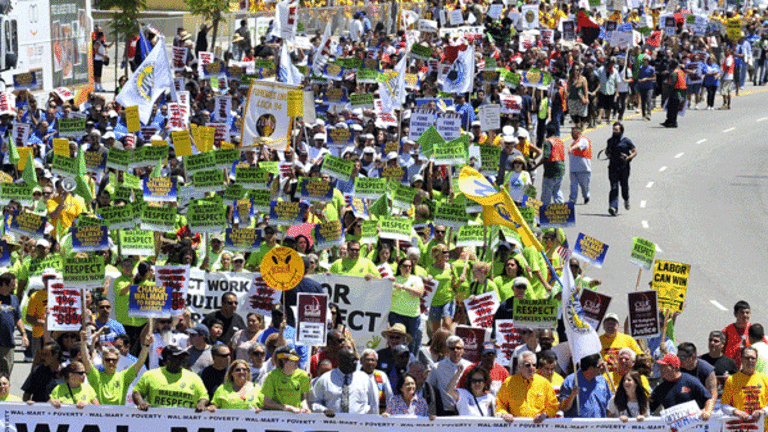 Latino Workers Look to Aida Alvarez for Change at Walmart
Venanzi Luna: Despite the growing number of Latinos in the US and Walmart being the nation's largest employer of Latinos, we continue to face issues in the workplace that have not been addressed.
I have worked at Walmart for more than seven years. For more than three years, I have been involved with an important worker-led effort to change Walmart for the better. Last week, we had what I believe is an important breakthrough. Allow me to explain.
Growing up, my father instilled in me a strong sense of pride in my community, my neighborhood, my culture, and the people we work with every day. I also learned from him the importance of standing up for fairness and equality. I have taken those core values to heart, and every day I strive to do the best work that I can do for my customers as a department manager at Walmart. I love the work that I do, which is why in recent years I have joined other Walmart employees from across the U.S. in standing up and calling for better jobs and better pay at Walmart.
Since its inception in 2011, the Organization United for Respect (OUR) at Walmart—a worker led organization—has been publicly calling on Walmart to improve upon serious systematic problems ranging from discrimination, disrespect, and poverty wages. Walmart workers, as members of OUR Walmart, have come together to voice their concerns of workers who are often rendered voiceless—something many of us Latinos have experienced at work. Yet despite the growing number of Latinos in the US (in fact, the majority of California's population is now Latino) and Walmart being the nation's largest employer of Latinos, we continue to face issues in the workplace that have not been addressed.
We have just taken an important step forward in these efforts.
Aida Alvarez, a pioneering Latina and admired leader in the Latino community, serves on the Board of Directors at Walmart. Walmart itself says that the Board of Directors is responsible for ensuring that "Walmart operates with integrity and accountability." Alvarez also serves as the chair of the board of the Latino Community Foundation, a nonprofit organization that serves the needs of the Latino community in the Bay Area. It is because of her influential role at Walmart and her important work in the Latino community that I sought out to speak with personally with Ms. Alvarez.
For more than two years, along with other Walmart Associates, I have requested meetings with Alvarez to share our concerns about working at Walmart. Before last week, she was unwilling to meet. But, we didn't give up. Last week, I joined other members of OUR Walmart to attend a Walmart-sponsored Gala for the Latino Community Foundation. We knew Alvarez would be there and were determined to speak with her.
At the event, I shared my story about working at Walmart, and concerns that I have for the company. I emphasized to Ms. Alvarez that these are systemic problems which cannot be solved one at a time and that they require a change of approach at the highest levels of management.
We had a productive conversation that was characterized by mutual respect and now that Alvarez has had a chance to meet me in person, I hope that she understand a little more about the challenges we face every day inside of our stores. Change is happening at Walmart because workers are standing up and sticking together. My hope is that, in Alvarez, we now have a voice who will serve as an advocate for change inside the company. I am thankful that Ms. Alvarez took time to listen to my concerns and that of many Walmart workers.
We have made some significant advances in our efforts to change Walmart though there is still a lot work to be done. I hope that this conversation is the first of many about how we can make Walmart a better place to work and a better place to shop.
Venanzi Luna