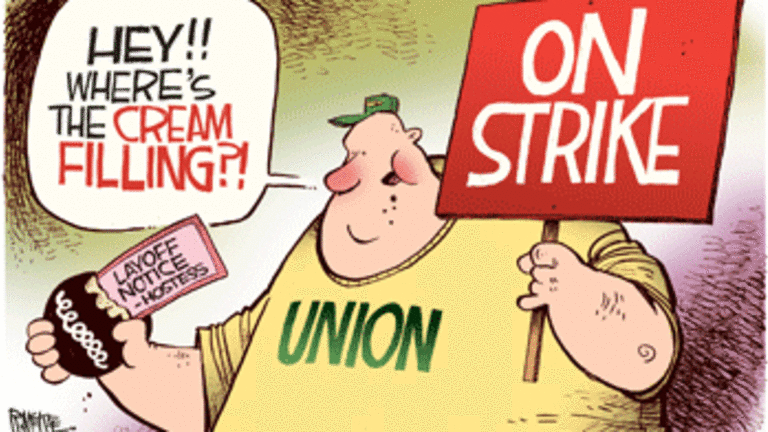 "Shared Sacrifice" at Hostess and Walmart That Isn't
Julie Driscoll: In the "real people" world (not the "corporations are people" world, but the people people world), running up debt prior to filing for bankruptcy would likely be considered fraud.
As a proud union family – my husband has been a Teamster for almost 30 years – I put my boots on the ground for four weekends in Wisconsin, for a couple of protests in Lansing, Michigan, and for every pro-union rally that popped up in Chicago.
Two things stand out in recent days: Hostess closing its doors, and Wal-Mart's Black Friday worker strike. Hostess is a union shop, Wal-Mart is not (yet). But in both cases, CEOs are (or, at least in the case of Hostess, were) raking in the dough, while workers struggled, granted concessions, and gave up benefits and pay raises. Worker security was sacrificed on the altar of CEO mega-millions, and even mega-billions.
I'm sick of it.
Today, although I support the Wal-Mart strike, I want to talk about Hostess, which offered up as the reason it was going out of business the usual low hanging fruit: The failure of the Bakery, Confectionery, Tobacco Workers and Grain Millers International Union to grant more concessions to keep the doors open.
Union greed was its screed. But the BCTGM union notedthat "as the company was preparing to file for bankruptcy earlier this year, the then CEO of Hostess was awarded a 300 percent raise (from approximately $750,000 to $2,550,000 [later reduced to $1.5 million]) and at least nine other top executives of the company received massive pay raises. One such executive received a pay increase from $500,000 to $900,000 and another received one taking his salary from $375,000 to $656,256."
Following the court-imposed mediation, which was unsuccessful, Hostess, blaming the union strike, asked the Court for permission to liquidate. That process is now beginning, which will result in at least 15,000 immediate layoffs.
It's really easy to blame unions for everything when corporations mishandle their money and things go bad. But even as Hostess blames the collective bargaining agreements for its current plight, that seems to be something of a hard sell, considering that Hostess was simultaneously hiring restructuring lawyers for a looming bankruptcy and giving its executes 75-80% raises.
In the "real people" world (not the "corporations are people" world, but the people people world), running up debt prior to filing for bankruptcy would likely be considered fraud. But Hostess knows how all this works, since this is not Hostess' first rodeo in the bankruptcy court. In 2004, it went into bankruptcywith almost $700 million in debt (debt that was not reduced during the bankruptcy); in 2009, it exited bankruptcy due to an infusion of cash from a private equity firm, as well as "substantial concessions by the two big unions," the Teamsters and the BCTGM. The reasons Hostess cited for its 2004 bankruptcy were multi-fold, and not simply that the unions were breaking its back: ". . . [D]eclining sales, high food costs, excess capacity and worker benefit expenses."
In this latest strike, the Teamsters agreed to concessions, but the BCTGM did not. They'd all been down this road before with Hostess, making concessions to save the company while executives went on their merry way with raises and bonuses. At this point, some members of the bakers union noted that their wages had fallen so low that it made just as much economic sense to file for unemployment as it did to bow and scrape before Hostess to keep their jobs.
As an insider, an employee, bluebarnstormer at the Daily Kos clarified the misconception about the highly-paid bakers union workers (and it's a great read). He wrote, "What was this last/best/final offer? You'd never know by watching the main stream media tell the story. So here you go…
8% hourly pay cut in year 1 with additional cuts totaling 27% over 5 years. Currently, I make $16.12 an hour at TOP rate of pay in the bakery. I would drop to $11.26 in 5 years.
They get to keep our $3+ an hour forever.
Doubling of weekly insurance premium.
Lowering of overall quality of insurance plan.
TOTAL withdrawal from ALL pensions. If you don't have it now then you never will."
Since 2005, this employee went from $48,000 in 2005 to $34,000 in 2011, and would see his wages drop to $25,000 within five years if the union agreed to Hostess' "last/best/final" offer. And watch: Whoever buys Hostess' assets will bring it back as a non-union shop. If anyone ever questions what good unions are, he or she need only look at Hostess. These workers got screwed with a union in place; imagine how these workers would have been treated had it been a non-union company. Oh wait, yes – probably about like Wal-Mart treats its workers.
[dc]"I[/dc]t will be hard to replace the job I had," bluebarnstormer wrote, "But it will be easy to replace the job they were trying to give me."
I highly doubt that Hostess' CEO, with his "concession" to reduce his pay to the lowly rate of $1.5 million, and the other top four execs, who stayed on for a paltry $1 millioneach, feel the same.
Julie Driscoll
Smoking Hot Politics
Posted: Saturday, 24 November 2012