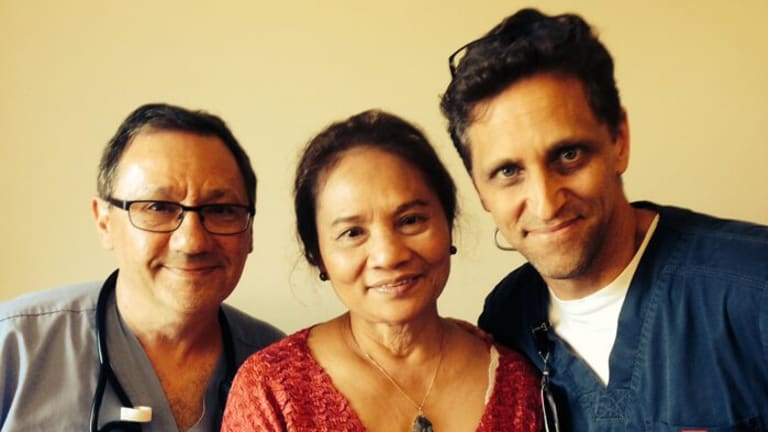 Huntington Hospital Union Busters Play Voter Suppression Game
Peter Dreier: Since the union drive began last May, the 123-year old 625-bed hospital has engaged is a nasty and expensive union-busting effort, harassing and intimidating nurse and undercutting their organizing efforts.
How low will Huntington Memorial Hospital stoop to undermine its nurses' union drive?
Dolly Farquhar - who has worked at the Pasadena, California hospital for 31 years - just found out.
The hospital arbitrarily moved her resignation date from April 16 to April 12 so that Farquhar – an outspoken supporter of the nurses' affiliation with the California Nurses Association (CNA) – wouldn't be eligible to vote in the union election scheduled for April 15 and 16.
Since the union drive began last May, the 123-year old 625-bed hospital (named for Henry E. Huntington, a turn-of-the-century railroad baron) has engaged is a nasty and expensive union-busting effort, paying a bevy of experienced and high-priced anti-union firms and consultants - including Littler Mendelson, IRI, and Genevieve Clavreul of Solutions Outside the Box - to harass and intimidate nurses and undercut their organizing efforts. If a majority of the 1,220 nurses vote to unionize, the hospital will be required to negotiate a collective bargaining contract with the nurses, who will be represented by CNA.
Last month, Farquhar - who is well-known within the hospital as a pro-union supporter - met with Patricia Villarroel, a senior benefits officer, to announce her plan to retire, effective April 16. They talked about Farquhar's pension plan and other benefits. When Villarroel told Farquhar that the hospital could continue to cover her health insurance until April 30, the 66-year old nurse was relieved, and began filling out paperwork to switch to Medicare starting May 1. Farquhar submitted her official resignation on March 26, went on a short vacation, and returned to Pasadena expecting to cast her ballot yesterday (April 15) in favor of giving nurses a voice at work.
She learned about the hospital's devious (and likely illegal) action last Friday night, when the hospital sent a letter to her house announcing the change. A hospital-sent courier entered through the service gate and dropped the envelope on Farquhar's front doorstep. The letter, signed by Candace McMullin from the hospital's human resources office and dated April 10, said that "we've processed your resignation effective April 12." It noted that her benefits, including health insurance, would expire on April 12.
"Is this how they treat someone who has worked there since 1984?" Farquhar asked. "This is very dirty and very low."
"The letter was a huge surprise, a real shock," explained Farquhar, "because I had filled out my forms last month indicating that I had planned to retire effective April 16. I wanted to vote in the union election."
"Is this how they treat someone who has worked there since 1984?" Farquhar asked. "This is very dirty and very low."
Last Monday morning, Farquhar went to the hospital where she's worked for three decades to talk with CEO Steve Ralph. She had to enter the hospital through the patients' entrance because her employee identification card had already been deactivated.
"He knows me," explained Farquhar, who worked in the critical care unit. "I've been there over 30 years. My two daughters volunteered at the hospital when they were in high school. I figured he'd see me."
Farquhar met Ralph in the hospital cafeteria, where they talked for about 20 minutes.
"I told him I was really upset. I've done everything right. Then I get this letter, cutting off my medical benefits. I gave him all the paperwork. I said I didn't expect this kind of treatment. I've served this place loyally. Somebody had the audacity to arbitrarily change my date of my retirement from April 16 to April 12."
"I told him that this is very dirty and very low."
Farquhar - who had spoken out in favor of the union at several hospital-sponsored forums where Ralph was present and had attended pro-union rallies - didn't mention the union election in her conversation with Ralph, who makes over $1.2 million a year.
"I didn't have to say anything about it," Farquhar explained, "He knew why it happened."
Yesterday (Wednesday), Farquhar went to the hospital to cast her vote in favor of unionization.
"My suspicion was 100% accurate," she said. "My name was on the list of employees, but I was in a different category than most of the other nurses.
At a pre-election conference yesterday, Robert Millman - an attorney with Littler Mendelson, the expensive union-busting law firm that represents the hospital - insisted that Farquhar be removed from the list of nurses eligible to cast ballot. CNA disagreed, so her name was kept on the list and she cast a ballot which a hospital-sponsored "observer" then officially challenged. The dispute will be resolved by the National Labor Relations Board after the election results are tabulated.
"It's like not being a full citizen," Farquhar said. "I've earned the right to vote."
A native of the Philippines, where she earned her nursing degree, she came to the United States in 1970 to work at the famous Mayo Clinic in Minnesota. After two years, she moved to California, worked at a hospital in downtown Los Angeles, then joined the Huntington staff in 1984.
Farquhar expects to spend her retirement years traveling, playing with her three grandchildren, and tending to her new vegetable and herb garden.
"But before that, I want to make sure that my vote will count. We're going to fight this. They're trying to disenfranchise me. That's why nurses need a voice at work. That's why we need a union".
Peter Dreier