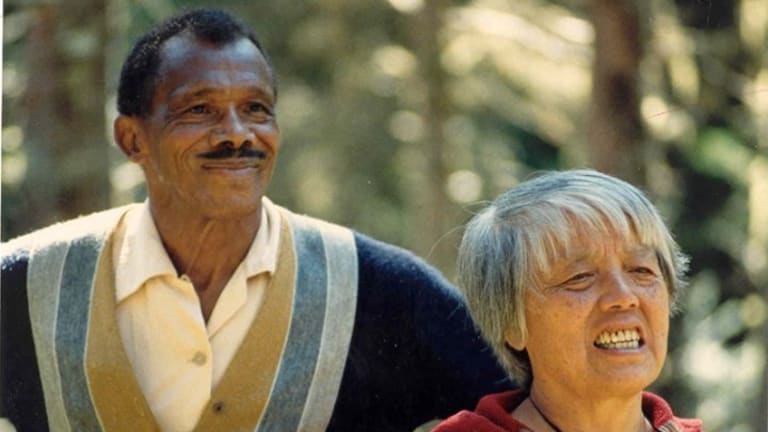 Economic Visionary James Boggs Turns 100
Valerie Vande Panne: Boggs' theory was that some people will be left outside of production, and they can be either destructive or creative because they'll be left out.
Celebrating the life of a hero from working-class Detroit.
James Boggs was an African American autoworker, working on the factory line at Detroit's Chrysler-Jefferson plant from 1940 to 1968—28 years.
That might conjure up particular images of a post-war, rust belt factory worker. Probably a union man.
And Boggs was a labor activist, but he wasn't what you might call an 'average' worker.
Rather, he was a revolutionary, a writer, and a theorist. He was a contemporary philosopher; a thinking human who cared about his community.
And he believed—rather, he knew—you are all those things, too.
In Detroit, the James and Grace Lee Boggs Center to Nurture Community Leadership, named for James and his famous wife Grace Lee, carries on this working man's legacy with a week of celebration and remembrance at the end of June.
After all, this is a man who inspired, among many, many more, Malcolm X.
Born in Alabama in 1919, Boggs came to Detroit for the first time in 1937 to find work in the auto industry. He got involved in labor and civil rights activism and in the Marxist movement.
In the 1950s and 1960s, he published the bi-monthly Correspondence, focused on workers and community struggles.
"That was the beginning of being an intellectual," says Stephen Ward, board member of the Boggs Center, associate professor in African American Studies at the University of Michigan, and author of In Love and Struggle: The Revolutionary Lives of James and Grace Lee Boggs.
James Boggs' first book, published in 1963, The American Revolution: Pages from an American Negro's Notebook, was his analysis of where we were as a country and the prospect for revolutionary change at that moment, says Ward.
In Boggs' book, he made an analysis of automation and came to a prophetic conclusion, simply based on what he saw in the factory and in his community. Boggs witnessed that automation was replacing workers. Humans, he concluded, were coming into a new epoch, and the industrial need to work was coming to an end.
His solution, at that time, became a call that is even more relevant today: We, as humans, need to rethink how we organize society.
He knew then what so many are fighting against now. There simply will not be enough jobs for all of us to "work."
Boggs' theory was that some people will be left outside of production, and they can be either destructive or creative because they'll be left out.
"That's why we think he's significant today," says Ward. "He saw where we were going," and was thinking about the implementations of change that were needed.
"So rather than saying we need to keep employment," explains Ward, Boggs said, "We need to reorganize society."
Boggs' theory was that some people will be left outside of production, and they can be either destructive or creative because they'll be left out.
Boggs was not calling for a universal basic income. But he was thinking about how the civil rights movement can be a part of reorganizing society, to think about how it can improve the lives of black people.
"Black people are fighting to be incorporated into the system, but the system as it is now cannot incorporate everybody," explains Ward.
At the same time, Boggs began to expose the need to replace the economic structure of the time, which to this day has a stranglehold on our lives.
Not only did Boggs recognize the need to reorganize the economic system, but he said, "we need to think differently about what we expect from the system, how we conceptualize the system," says Ward.
Boggs recognized that reality is always changing and driven by the internal contradictions that people face. Hence, we are always in the phase of being and becoming.
Boggs taught that, "Thinking cannot be static, and our thinking needs to change and not get stuck in old ideas and theories of revolution," says Richard Feldman, who is also a member of the Boggs Center board and worked with Boggs beginning in 1972.
"We learn from history, we learn from revolution, but we cannot let our ideas get stuck in old concepts," Feldman says Boggs taught. "What are the new concepts in this moment to understand reality?"
Feldman says Boggs was an organic intellectual—not formally trained in the academic sense and still profound and prophetic. Feldman says he'd ask Boggs a question, and Boggs would answer by starting with "the rise of feudalism and an hour later answer my question. He understood history is important. He wanted to know 'what time is it on the clock of the world?'"
"I think the significance of James Boggs and his spirit is how prophetic his writings have been," adds Feldman. "Because of technology revolution evolving, people need to ask themselves, 'what kind of work do we need to do?' He puts forward the fact that tech displacement will create a permanent outsider and underclass. So rather than see the worker class rise, a permanent underclass," would be created.
Boggs, says Feldman, "saw this change as related to the history of racism and capitalism, and challenged people to fundamentally ask the question of 'what does a revolution in the United States look like?'"
And rather than turn to a demand for jobs or a universal basic income, Boggs focused on community efforts—community ways to meet our needs, rather than corporations.
Boggs supported creating small businesses to fulfill the needs of the community, and community identifying and meeting each other's needs—people looking toward each other to come up with the structures that they needed, and build those structures themselves.
In addition, "He was one of the most creative thinkers developing the concept of Black Power. Black pride. Black unity, and so forth," says Ward. He focused on creating leadership for those in the black struggle.
And he was passionate about getting young people to be involved with rebuilding their communities and rebuilding their cities, from the ground up.
Boggs also came to the recognition that it was important to "recognize the world is changing, and therefore, what worked in one period might not work in a later period," explains Ward.
And because society is constantly changing, we need to evolve and change with it.
"He believed in his own capacity to come up with the ideas we needed, and he encouraged others to believe in their own capacity," says Ward.
"'I'm an autoworker, but I know much more than auto work,' he'd say. He was saying he's an autoworker, but had the capacity to change society," says Ward.
He also made a perhaps surprising assertion: "I don't believe anyone knows how to run this country better than me."
"What he was saying is, 'you can and should think along those lines, rather than sit back and let people in power dictate it to you,'" says Ward.
Not only did he believe he had the capacity to change society, but he believed others did too, and that everyone needed to take responsibility to do so.
"Reflection was really important," to Boggs, says Feldman. "And his commitments were always about the fundamental belief that every human being could reach his or her potential, and we as revolutionists—our job is to create the opportunity for that growth to happen. He understood that people internalize the values of the enemy—of capitalism. And we had to struggle against those that were internalized. And it was dual, internal and external. To struggle against the internal enemy is to have the energy to struggle against the external enemy."
"Rebellion is where people rise up against the injustices of our society and reject those in power," says Feldman of Boggs' philosophy. "To be a revolution projects where we are going, and the kinds of humans we need to become."
Boggs understood that every revolution is unique, and encouraged people to study history, not just revolution in the abstract, and fostered study groups across the country.
He taught changing our selves to change the world. "We always ask ourselves not to get stuck in old patterns, in old thinking," says Feldman. Boggs taught, "The only reason for revolution is to advance the evolution of human kind."
He was truly a man ahead of his time.
To learn more about James Boggs or for a full calendar of events in Detroit, go to www.jb100.org or follow along on social media with the hashtag #jb100detroit.
Valerie Vande Panne
Independent Media Institute

Valerie Vande Panne is a writing fellow and chief correspondent at Local Peace Economy, a project of the Independent Media Institute. She is an independent journalist whose work has appeared in Columbia Journalism Review, In These Times, Politico, and many other publications.
This article was produced by Local Peace Economy, a project of the Independent Media Institute.