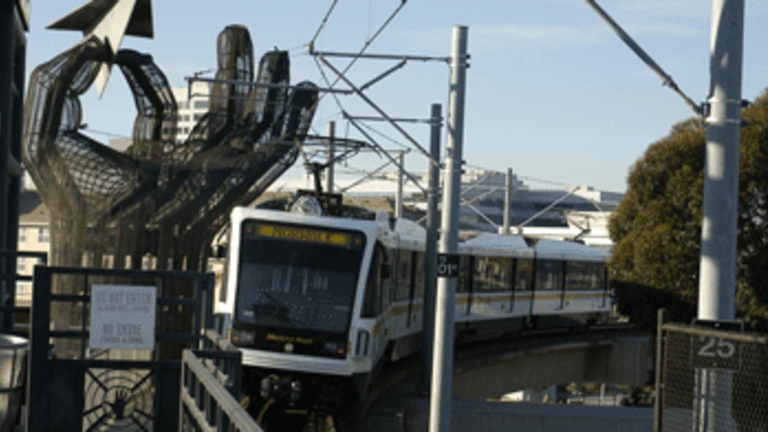 L.A.'s Lost Opportunity for Job Creation
Madelaine Janis: It's critically important that we build consensus among public officials across the country in the years ahead that job creation should be considered one of the primary criteria in the purchase of equipment for public use.
On April 30, the L.A. Metropolitan Transportation Authority voted to award an $890-million contract for 235 light rail cars to Kinkisharyo International, a Japanese firm that will build a significant portion of the cars in Osaka, Japan, rather than in California. Just a week later, on May 9, the Bay Area Rapid Transit agency voted to award a $2.5-billion contract for the manufacture of 775 rail cars to a Canadian firm that will build many of the car components in Mexico. With the awarding of these two contracts, California lost the opportunity to create more than 2,000 good American jobs building rail cars for our transit systems.
That argument was made clearly and repeatedly by a broad-based coalition of labor, community and business leaders who supported the losing bidders. But not everyone agreed that creating jobs should be a top priority in awarding a contract. The transit agencies said that when giving out a contract for rail cars, the most important thing is building the best possible rail cars at the best possible price. Jobs are a nice side benefit, they argued, but they are secondary in the contracting process.
I disagree, and I think that in both of these cases, the transit agencies made a mistake. In fact, I'd go further: It's critically important that we build consensus among public officials across the country in the years ahead that job creation should be considered one of the primary criteria in the purchase of equipment for public use. In Los Angeles, taxpayers will be spending billions of dollars over the next decade building and retooling their 21st century transportation system; creating good middle-class jobs for local workers should not be given second billing.
We are already part of the way there. The federal Buy America law, in effect since 1983, requires that all transit-related goods and equipment purchased with federal dollars need to be substantially made in America. This means that at least 60% of the rail car components must be made in America, and final assembly must occur in the U.S. Last year, the California Legislature went further and allowed local transit agencies to give extra points to bidders that commit to building more of their rail cars in the U.S. than their competitors.
That's an important start. Now we need to create a process in which the quality and number of U.S. jobs to be created can be legally considered by public officials in a manner equal to the consideration of things like cost and performance.
In the recent L.A. rail car procurement process, MTA officials started out on the right path. They included language in the request for proposals that required all bidders on the rail car contract to create a "U.S. employment plan" that emphasized the creation of permanent living-wage jobs and training opportunities for unskilled people. And they promised to conduct a "trade-off analysis" in which the value of the jobs plan could be deducted from the proposed cost of the rail cars.
But the MTA staff didn't follow its own criteria. It rejected a proposal from Siemens Industry Inc. that would have created 1,100 direct full-time equivalent U.S. jobs in favor of Kinkisharyo's plan, which will create 438 direct FTE jobs, according to our analysis. While Siemens proposed to spend $5 million on workforce training and to build a rail car factory in East Los Angeles, Kinkisharyo made vague promises to work with local nonprofit groups and to build a temporary facility somewhere in the U.S.
The MTA staff claimed to have chosen Kinkisharyo because of a 5% lower cost and "better expected performance," but it failed to answer the fundamental question of why Kinkisharyo wasn't required to fully comply with the sensible requirements of the U.S. employment plan language.
In 2008, L.A. County voters adopted Measure R — the primary source of funding for the purchase of these rail cars — precisely because public officials promised that the tax revenue would be invested in desperately needed job creation and traffic reduction. Measure R itself stated that one of the purposes of the half-cent sales tax increase was to "stimulate the local economy [and] create jobs." A 2008 study by the L.A. County Economic Development Corp., commissioned by the MTA to support the tax, projected that Measure R would create more than 500,000 jobs, including 33,000 manufacturing positions.
Even once everyone agrees on the importance of job creation in the procurement process, transit agencies will still need to establish clear procedures on how to value jobs and job creation. Should a part-time, temporary job be counted the same as a full-time job with extensive training opportunities? Is the creation of a temporary facility as valuable as the construction of a permanent manufacturing facility in a poor neighborhood?
These are questions that the MTA failed to address in its procurement decision. Yet research shows that building permanent, environmentally sound manufacturing facilities in poor neighborhoods can breathe life into those communities and into the larger regional economy.
Public officials charged with expending precious tax dollars on equipment need to select companies that manufacture their products in the United States.
Madeline Janis
The Frying Pan
Posted: Wednesday, 30 May 2012
(This article first appeared as a Los Angeles Times opinion piece.)