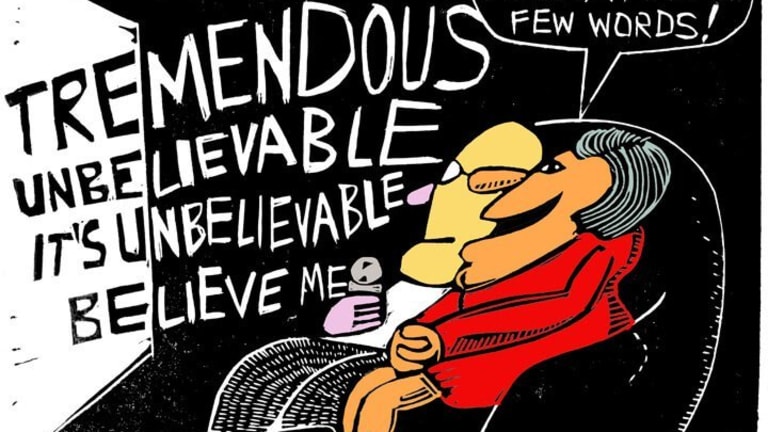 Trump Could Create American Jobs Right Now
Berry Craig: "Why doesn't some reporter stick a mike in Trump's face and say 'When are you going to bring your jobs back?'"
Job Creator Donald Trump
To hear GOP presidential hopeful Donald Trump tell it, jobs will fall upon the land like manna from heaven if he's elected.
But why wait, Mr. Trump? You can prove you're a job creator right now: Start making your duds and other stuff stateside instead of abroad.
"Trump's products have been made in 12 other countries," claims an ad from the campaign of Hillary Clinton, his AFL-CIO endorsed Democratic foe. The Washington Postverified the charge.
"We know of at least 12 countries where Trump products were manufactured (China, Netherlands, Mexico, India, Turkey, Slovenia, Honduras, Germany, Bangladesh, Indonesia, Vietnam and South Korea)," wrote the Post's Michelle Ye Hee Lee. All but the Netherlands and Germany are low-wage countries.
"Further, Trump products traveled through other countries through the packaging and shipping process — meaning workers in more than 12 countries contributed to getting many of Trump's products made, packaged and delivered to the United States."
"Why doesn't some reporter stick a mike in Trump's face and say 'When are you going to bring your jobs back?'"
Two western Kentucky labor leaders are on to Trump's hypocrisy on jobs. "He says he wants to bring jobs back to America, but all of his signature lines are made somewhere overseas," said Jeff Wiggins, president of Steelworkers Local 9447 in Calvert City and president of the Western Kentucky AFL-CIO Area Council in Paducah.
"Why doesn't some reporter stick a mike in Trump's face and say 'When are you going to bring your jobs back?'" asked Jimmy Evans, business manager of IBEW Local 816 in Paducah and a council delegate.
Meanwhile, Trump, though a proven big league outsourcer, continues to lambast outsourcing and trade deals like the North American Free Trade Agreement, which grease the skids for American companies like his to shift production and jobs—and often bust unions in the process—abroad, usually to cheap labor countries.
So think about it.
Would a President Trump really deep-six trade deals and stop outsourcing, moves that would hit him where it hurts him the most—in his bank account?
Oh, Clinton, as Trump loves to point out, was for NAFTA before she came out against it. But mum's the word from Trump about how he was cool with outsourcing before he ran for president.
But here's another point to ponder: Clinton doesn't make a pile of money off products made in low wage countries and shipped stateside. Trump does. Hence, who's more likely to put the kibosh on trade deals and outsourcing--the candidate who fattens his wallet off outsourcing or the candidate who doesn't?
Anyway, the other day I heard a Bernie Sanders booster, who I'd bet the farm won't vote for Clinton, blame her and the whole Democratic party for NAFTA and other job-killing trade deals. Trump would love this guy who fancies himself a liberal and claims to be a Democrat.
It's true that President Bill Clinton backed NAFTA in 1993. But most Democrats in Congress didn't. The Republicans got NAFTA passed.
In the House, 102 Democrats voted "aye" and 156 "nay." The Republicans were for NAFTA 132-43. One independent voted no. His name is Bernie Sanders and he's now in Clinton's corner and in the Senate.
On the Senate side, the GOP went for NAFTA 34-10. The Democrats were 28-27 against NAFTA. (One Democrat did not vote.)
Trump, too, is fine with American companies moving jobs and production from one state to another. Almost always, the migration involves a unionized company closing down and pulling up stakes in a non-"right to work" state and reopening non-union in a RTW state.
Trump prefers RTW states to non-RTW states.
Trump is like the Kentucky horse trader of old. He's happy to show you his teeth, but not the horse's.
Berry Craig