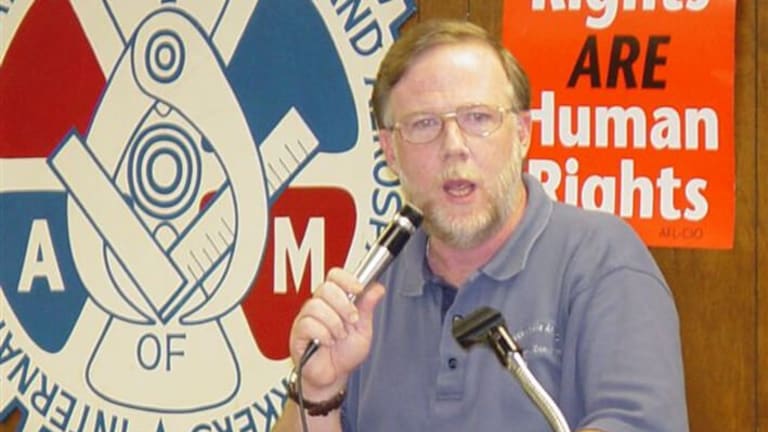 Three Out of Four for Kentucky Democrats
Berry Craig: We're ready to advance beyond these regressive policies of Gov. Bevin and these other anti-worker Republicans and start turning Kentucky around.
Labor-endorsed Democrats have won three of four special elections for the Kentucky House of Representatives, the only legislative chamber in the South that Republicans don't control.
"These elections were a repudiation of Gov. Matt Bevin's anti-worker policies and a rejection of the Republicans' continuing effort to 'flip the House' as they call it," said Bill Londrigan, Kentucky State AFL-CIO president.
Jeff Taylor, Chuck Tackett and Lew Nicholls will be heading to Frankfort to boost the Democrats' House majority to 53-47.
It was 50-46 before Tuesday's balloting, which was overshadowed by presidential primaries in Michigan, Mississippi, Idaho and Hawaii.
Taylor, from Hopkinsville, defeated Republican Walker Wood Thomas, also from Hopkinsville, in District 8. In the District 62 race, Tackett topped Republican Phillip Pratt. Both are from Georgetown. Nicholls of Greenup turned back Republican Tony Quillen, Greenup, in District 98.
"The Republicans didn't 'flip the House' because their polices are not in sync with the interests of the hardworking men and women of Kentucky and the unions they support," Londrigan added.
Londrigan said out-of-state, dark money groups spent lavishly on ads supporting the GOP hopefuls. Unions countered with a get-out-the-vote ground game that included neighborhood canvassing, phone banking and "doing everything else that was required to break through all that money the Republicans spent on media.
"We went door-to-door talking to people individually at their homes, their workplaces and at their union halls. We convinced them how important it is to come together to beat these anti-worker and anti-union policies that we have witnessed in Indiana and West Virginia."
He said the elections prove that "workers really are concerned about what the future holds for their jobs, their families and their standard of living."
But he said unions aren't about to rest on their laurels. Organized labor is already focusing on the November elections when the whole House and half of the 38-seat Senate will be up for election.
"We're ready to advance beyond these regressive policies of Gov. Bevin and these other anti-worker Republicans and start turning Kentucky around. We want to make Kentucky a state that supports workers and unions and not a crusade to destroy both."
Taylor will replace State Rep. John Tilley, a Hopkinsville Democrat who resigned to take a cabinet post in Bevin's administration. The 8th District includes Christian County and part of Trigg County in western Kentucky.
Likewise, Nicholls' victory is another Democratic hold. The seat became vacant when Rep. Tanya Pullin, D–South Shore, stepped down to become an administrative law judge. The 98th District covers Greenup and Boyd counties in eastern Kentucky.
Tackett's win is a Democratic pickup. He will succeed State Rep. Ryan Quarles, a Georgetown Republican, who was elected agriculture commissioner. The 62nd District encompasses parts of Fayette, Scott and Owen counties in central Kentucky.
In the other special election, Republican Daniel Elliott finished ahead of labor-endorsed Democrat Bill Noelker in House District 54. The seat had been held by GOP State Rep. Mike Harmon who was elected state auditor. All three men are from Danville. The district includes Boyle and Casey counties.
Berry Craig