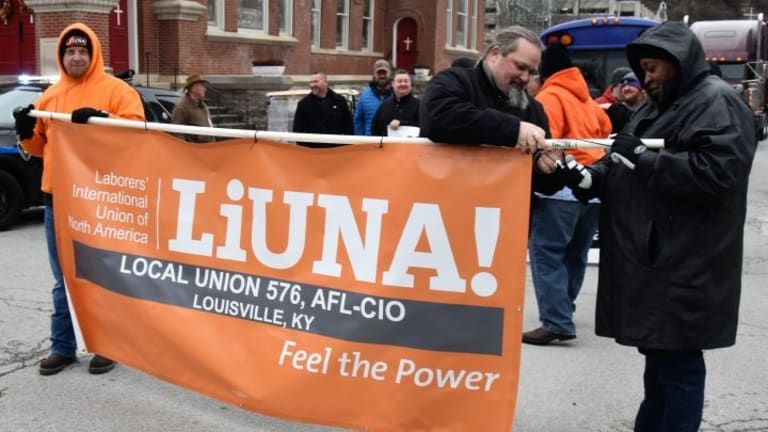 Bright New Beginning for Kentucky Workers
Berry Craig: Gray overcast skies, a raw wind and temperatures hovering around freezing failed to cool the enthusiasm of the crowd
Sue Foster's cup runneth over.
"Today is like Santa Claus came and the presents are under the tree and we are all happy," said the Louisville union leader Tuesday in Frankfort, Kentucky's capital, when labor-backed Democrat Andy Beshear was inaugurated as Kentucky's 63rd governor. "It's like all the family has come back together again to celebrate this wonderful day."
Foster is president of American Federation of State, County and Municipal Employees Local 4011, which represents about 4,000 support personnel in Jefferson County public schools. "We've got our laborers, we've got our educators, we've got parents, grandparents and children, the wonderful marching bands and even Republicans.
"We've got a lot to celebrate in this state today and many good days to come, I believe."
Gray overcast skies, a raw wind and temperatures hovering around freezing failed to cool the enthusiasm of the crowd
Lt. Gov. Jacqueline Coleman was also ceremoniously sworn in on the Capitol steps. Gray overcast skies, a raw wind and temperatures hovering around freezing failed to cool the enthusiasm of the crowd, which included several union leaders and rank-and-file members.
A number of them marched through town in the inaugural parade, which included a Louisville Teamsters Local 89 bus and a Teamsters Joint Council 94 trailer truck, as well as towed trailers from Louisville-based United Food and Commercial Workers Local 227 and United Auto Workers Local 862.
Marcher Jerald Adkins, a legislative agent with Working Strategies 2, is pleased with Beshear's appointment of Larry Roberts as labor secretary. Roberts, a veteran trade unionist, was secretary of labor in 2013-2015 under Democratic Gov. Steve Beshear, Andy's father.
"I retired from the labor cabinet in 2015, and I'm glad to see it getting back to what it should be," said Adkins, who is from Frankfort.
Neal Cotton, another Louisville labor official, remembered GOP Gov. Matt Bevin's inauguration on December 8, 2015. "It was a disaster," said the Laborers' International Union of North America Local 576 president and business manager. "'Right to work' hit us. We got locked out. They turned their backs on us."
Bevin was one of the most anti-union governors in Bluegrass State history. He and his Republican-majority legislature teamed up to make Kentucky a "right to work" state and to repeal the state prevailing wage law on government-funded projects.
Four years and two days later, "there's a change," Cotton added. "Things are going to get better. We know it won't happen overnight, but at least we're headed for a change."
Never mind that the sun hid behind the clouds all day. Chris Volz, Local 576 vice president, called Tuesday "a bright new beginning--a chance to regroup, build all over again and stay together." He's looking forward to next November "when we get some House seats back and maybe get a little bit of the Senate."
Dwayne McCauley, Local 576 secretary-treasurer, said inauguration day meant "we finally have a voice again [in the governor's office]. We didn't have one for four years. [Bevin]...wouldn't even remotely listen to us."
Beshear and Coleman narrowly defeated Bevin and state Sen. Ralph Alvarado, whom the governor chose as his running mate for a second term. Jenean Hampton was Bevin's lieutenant governor.
Few lieutenant governors were more hostile to organized labor than Hampton. Alvarado fiercely opposes unions.
With Bevin, labor "anticipated it was going to be a miserable four years and it was," said Bill Finn, state director of the Kentucky State Building and Construction Trades Council. "Now we've got a governor that supports working families. It's a great new day."
Finn also praised Roberts. "Larry has spent his whole life representing working people, whether in the labor cabinet or the state building trades or with the Kentucky Pipe Trades. We couldn't be happier that he's back."
Roberts had Finn's job for 11 years before he joined the first Beshear administration. He spent the last four years as a consultant to the Kentucky Pipe Trades.
Jeff Wiggins, Kentucky State AFL-CIO secretary-treasurer, said Beshear will need help from the voters next November. Meanwhile, he faces Republican super-majorities in the legislature.
"I'm happy that we have a labor-friendly governor, but until we change the House and Senate, the atmosphere in there will still be grim. We have a stop at the governor's office, but it's not anything that 51 percent can't kill."
Wiggins meant that under the state constitution, a simple majority of both houses overrides a governor's veto.
Chad Conley, Wiggins' fellow Steelworker, also conceded that "we've still got a legislature that is going to work against us." But Conley, a shop steward with United Steelworkers Local 7153 in Burnaugh, hopes "having a governor that won't work against us will make a big difference."
Clarence White, International Union of Electronic, Electrical, Salaried, Machine and Furniture Workers-Communications Workers of America Louisville Local 83761, said that with Beshear, unions will enjoy more support "and no arrogance." Like Donald Trump, Bevin is notorious for berating and belittling anybody who opposes his policies. Mother Jones magazine dubbed Bevin the "Trumpiest Governor in the Country."
Trump -- and Vice President Mike Pence-- came to Kentucky to campaign for Bevin.
Angela Helm, White's union sister, also helped Beshear best Bevin. She considers herself "fortunate enough to be door knocking for Andy Beshear this campaign season. To see him win is awesome. I'm excited."
Mark Hamilton, also with Local 83761, said Beshear has brought "new energy to the state of Kentucky. I'm ready to see what he's going to bring to the table."
Willie Roberts, another Local 83761 member, volunteered for Beshear, too. "It was my first time being involved in a campaign. I was excited to be a part of the process."
"It was a good day for the state of Kentucky, a good day for working families and labor organizations," said Chad Helm of Carpenters Local 357 in Paducah.
Bill Londrigan, Kentucky State AFL-CIO president, agreed. "The second Republican governor in Kentucky history able to succeed himself was denied that opportunity."
Steve Beshear--state AFL-CIO-endorsed like his son--defeated Gov. Ernie Fletcher in 2007. "We sent Matt Bevin packing, and now we have a governor that's going to stand with working families," Londrigan added.
Joshua Swiney, Winchester CWA Local 3321, hopes that Beshear "can reach across the aisle and get some good legislation passed. We've spent the last four years on the defensive, not getting good legislation passed and getting a lot of bad legislation thrown at us. We're prepared to do what we can to help him out in the upcoming 2020 session."
Philip Orr, vice president and business agent of Ironworkers Local 782 in Paducah, was happy to join the state capital celebration. "If nothing else, we'll have a fail-stop in the governor's office. But we need more labor friendly people [in the legislature]. We also need to get some of these bipartisan bills passed and find some common ground in Frankfort."
Louisville International Brotherhood of Electrical Workers Local 369 President Kevin Kazunas is glad Beshear wants to repeal the state "right to work" law and restore the prevailing wage, yet he admits that the legislature almost certainly won't go along. "But it's good that he's fighting for us."
Kazunas is also looking forward to the 2020 election cycle. "Every election important," he said, adding that he's gratified to see "the young kids finding out how much politics does affect their everyday lives. I'm getting more and more involved in politics myself."
Berry Craig