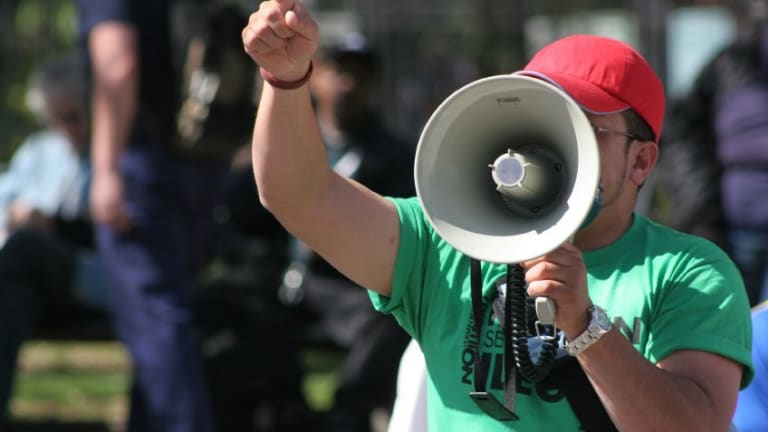 Koch Industries Orchestrating Wisconsin Anti-Teacher Protest
Lee Fang: In response to the growing protests in Madison, Koch fronts are busing in Tea Party protesters to support Walker and his union-busting campaign.
Koch Industries Slashed Wisconsin Jobs, Helped Elect Governor Scott Walker, Now Orchestrating Pro-Walker Protest
Wisconsin's newly elected Republican Gov. Scott Walker is facing a growing backlash over his attempt to cut pay and eliminate collective bargaining rights for public employees in his state. Although Walker is claiming his power grab is an attempt to close a budget gap, the budget "crisis" was engineered by Walker as soon as he got into office. As Brian Beutler reported, half of the budget shortfall comes from Walker's own tax cuts for businesses and other business giveaways enacted in January.
A number of the big business interests standing with Walker are beneficiaries of his administration's tax giveaways. But the greatest ally to Walker is the dirty energy company Koch Industries. In response to the growing protests in Madison, Koch fronts are busing in Tea Party protesters to support Walker and his union-busting campaign. Last week, MSNBC's Ed Schultz reported on the involvement of Club for Growth and the Koch-financed Americans for Prosperity in the pro-Walker protest scheduled over the weekend.
Watch it:
Koch Industries is a major player in Wisconsin: Koch owns a coal company subsidiary with facilities in Green Bay, Manitowoc, Ashland and Sheboygan; six timber plants throughout the state; and a large network of pipelines in Wisconsin. While Koch controls much of the infrastructure in the state, they have laid off workers to boost profits. At a time when Koch Industries owners David and Charles Koch awarded themselves an extra $11 billion of income from the company, Koch slashed jobs at their Green Bay plant:
Officials at Georgia-Pacific said the company is laying off 158 workers at its Day Street plant because out-of-date equipment at the facility is being replaced with newer, more-efficient equipment. The company said much of the new, papermaking equipment will be automated. [...] Malach tells FOX 11 that the layoffs are not because of a drop in demand. In fact, Malach said demand is high for the bath tissue and napkins manufactured at the plant.
Koch Industries was one of the biggest contributors to Walker's gubernatorial campaign, funneling $43,000 over the course of last year. In return, Koch front groups are closely guiding the Walker agenda. The American Legislative Exchange Council, another Koch-funded group, advised Walker and the GOP legislature on its anti-labor legislation and its first corporate tax cuts.
According to the EPA, Koch businesses are huge polluters, emitting thousands of pounds of toxic pollutants. As soon as he got into office Walker started cutting environmental regulations and appointed a Republican known for her disregard for environmental regulations to lead the Department of Natural Resources. In addition, Walker has stated his opposition to clean energy jobs policies that might draw workers away from Koch-owned interests.
Moreover, other organizers for the pro-Walker protest are from groups associated with corporate and Koch interests. American Majority, a Virginia-based front group founded by organizers funded by millionaire investor Howie Rich, is on the ground contacting Wisconsin Tea Parties to support Walker in Madison. Austin James, an American Majority official who was caught teaching Tea Party members to spam Amazon.com profiles of liberal books with negative comments, is the contact for the Facebook page organizing the pro-Walker protest. Eric O'Keefe, a longtime conservative operative who helps lead American Majority, attends Koch strategy meetings.
Lee Fang
Think Progress