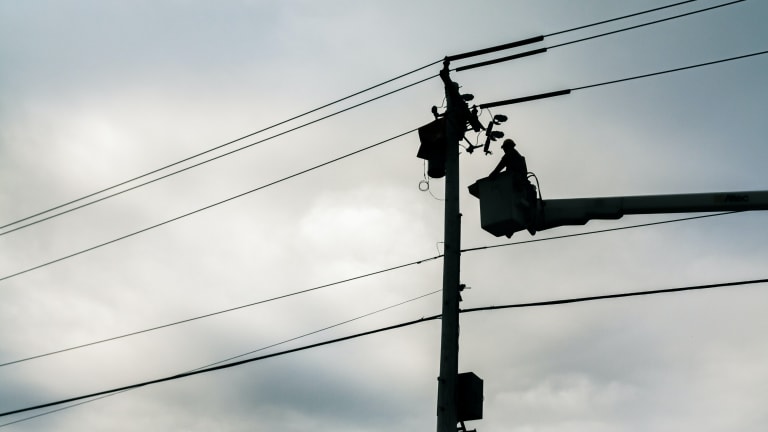 LADWP Training Program: Power and Jobs for the People
Right now, UPCT is unique; no other utility has partnered with a union to provide such extensive training. But, advocates say UPCT could be replicated with the right people, with any utility.
Before he began working for the Los Angeles Department of Water and Power's earn-and-learn Utility Pre-Craft Trainee program (UPCT) seven years ago, Manuel Hernandez had no experience in any construction trade. The pay was a step down from his salary of $40,000 a year as a community organizer, but he knew there was room to move up. The program is operated by the LADWP and the International Brotherhood of Electrical Workers (IBEW) Local 18, and Hernandez is a journeyman electrical mechanic there. His income has nearly tripled, and he's considering buying a house — pretty good, he admits, for someone with a high school diploma.
"There's other folks from other classes that have the same experience with coming from the street, earning minimum wage or having two or three jobs to make ends meet to now having one job 40 hours a week, being able to spend time with their families, being able to provide for their kids, [and have] a better quality of life," Hernandez said. "The UPCT program is definitely life changing."
Hernandez joined the program at a time when the LADWP needed trained electricians to maintain the grid as the utility transitioned away from fossil fuels and toward renewable energy. UPCT provided him upon entry with on-the-job training, and $16 an hour pay with full benefits. By offering hands-on help, the program removes some structural barriers to full-time employment and gives job seekers an alternative pathway to civil service careers at the Los Angeles Department of Water and Power. 
Hernandez's path was from electrical craft helper to electrical mechanic, but UPCT can prepare workers for skilled trades and other positions at the utility, such as steam plant journeyman and station electrical operator. Graduates don't even have to work in a skilled trade at the utility after passing a civil service exam. They could land jobs in clerical or custodial at LADWP, or they could take the skills gained at UPCT and work for another utility if they want to, but LADWP's goal is to hire as many from the program as possible.
Since its launch in 2011, 218 trainees out of 420 who have come through the UPCT program have been hired in full-time jobs at LADWP or with the City of Los Angeles. In addition to classroom instruction, trainees receive on-the-job training to install energy efficient equipment for LADWP's Home Energy Improvement Program.
These are people who ordinarily wouldn't be considered for, or themselves consider, a job at LADWP. A 2016 report from the University of California, Berkeley, found that more than two-thirds of people accepted into UPCT are from zip codes with very high unemployment rates, and where more than half of the population lives below the poverty level.
A 2021 report authored by Professor Virginia Parks of UC Irvine took interviews from current and past participants and concluded that the program achieved its aims of providing a strong pipeline into stable public sector employment. Specifically, participants noted the link between training and jobs, integrated training and workforce development, earn-while-you-learn wage support and wraparound services, including help with background checks and prep for civil service exams.
The demographics of the program closely mirror the population of Los Angeles, notes the report. The program has been particularly successful in recruiting African Americans, who represent 9% of Los Angeles residents and 26% of program participants. In addition, 46% were Latino, 23% were white and 5% Asian American. Women comprised 23% in a male-dominated field. Those who completed the apprenticeship had a good chance of getting a job: 
75% received offers for permanent employment at LADWP
An additional 12% were hired in other public sector jobs
The mean hourly wage of all graduates who gained employment was just over $39. Several past participants moved up the pay scale quickly, and some are now earning close to $50 per hour after just a few years. All respondents, even those who left the program, reported a high level of satisfaction.
Most trainees are midlife career-changers or, more accurately, career finders who've never experienced stability, upward momentum and good benefits. The median age of UPCT participants is 39. Nearly all said their previous work experience consisted of dead-end, low wage jobs. A majority had at least some educational experience beyond high school. Nearly half had some college experience but no degree. Some 15% had an associate's degree, while 10% had earned a bachelor's degree.
One benefit of UPCT, Parks told Capital & Main, is that the skills learned are transferable to other utilities, as well as to other jobs in the public sector, including the LADWP's community solar program.
"One thing that I love about this program is that it can position people for those jobs as we're thinking about a transition off of fossil fuels," Parks said. "But it also just sets people up for success in all sorts of different occupations." Another benefit is the wraparound support, including help in taking the necessary civil service exams. "Helping workers navigate the system and take tests, and even just exposing people to the testing, and decreasing the novelty of that … reduces the fear, the anxiety," she said. "You get better test taking."
UPCT was the brainchild of a now-retired business manager for IBEW Local 18, Brian D'Arcy, who saw a need for more journey-level tradespersons. He also saw that a large percentage of IBEW members were ready to retire. D'Arcy also noted that, due to budget cuts, few hands-on skilled trade classes were offered in schools. So in 2011, he sold the idea to the LADWP, which quickly came onboard. 
Soon the partnership added a community component through labor advocates at the Los Angeles Alliance for a New Economy and the South Los Angeles environmental advocates at SCOPE. Both organizations have long fought for good jobs, and green jobs, for the most disadvantaged communities in Los Angeles. That community component ensured that outreach efforts were aimed at Los Angeles zip codes with high unemployment rates.
"The goal is giving second chances and giving others opportunities that [they] normally wouldn't have," said Shawn McCloud, assistant business manager of IBEW Local 18. "The goal is that we provide support services for everyone. And what we do is have tutoring and give them the resources that they need in order to be successful. We give people hope, mentoring, and we look at them as a whole individual."
 Cynthia McClain-Hill, LADWP's board president, emphasized several benefits for the communities from which UPCT draws its participants. The program can help "make sure that people who are in disadvantaged communities or underserved communities, folks who may not know how to access the utility, that there remains a strong pathway for those individuals to get involved in the trades, to prepare themselves for employment and to actually get employment at their very own municipal utility. UPCT represents a substantial effort to not only bring people into the utility, but the bulk of the projects that UPCTs are working on are projects that are in their own neighborhoods."
McClain-Hill sees UPCT as a workforce development strategy for the entire community because it includes a career path for people who may want a stable, civil service job, but don't necessarily want to work in a trade. "We made a pretty substantial investment in these folks and they in the department. So creating a path for them into the department beyond the craft conditions was a challenge, and we've been able to do that.
"What was unique about the establishment of the UPCT program is that our labor leadership saw their mission as doing more than just protecting wages for their current members. They literally are committed to expanding opportunity and seeing that opportunity distributed in a way that is fair throughout the community."
One of the reasons UPCT is so effective, advocates say, is its small size. They also admit that its size is a drawback. Even for a program that's largely promoted only by word of mouth, the waiting list is years long. "The UPCT program requires a significant investment in training and resources," McClain-Hill said in acknowledging the long waitlist. But she also noted that the LADWP board recently allocated a $50 million increase in resources to fund the UPCT program.
Another potential downside, according to the UC Irvine report, is resentment from long-term workers at having to train apprentices without recognition for their efforts. "I think that that's a structural issue that these folks on the job, the permanent workers, are asked to do more on their job in their position, the training, good training takes time," Parks said. Worker-trainers are "not compensated, and compensation could be additional monetary compensation, but it also could be comp time, or reduction of their own work tasks."
McCloud countered that UPCT does have recognized trainers attached to the program, and they rotate every six months. "There's not any compensation on that part because they're in addition to their core group that they have. So we don't have 100% buy in. We have some naysayers."

McCloud said the union is in discussions with other municipalities in Southern California to form similar programs, and that a deal is near to expand into the Owens Valley, which is, like L.A., governed by LADWP. Right now, UPCT is unique; no other utility in the country has partnered with a union to provide such extensive training, according to McCloud. That may be due to the fact that LADWP is, by far, the largest utility in the nation, serving 4 million residents, with an operating budget of $7 billion in fiscal year 2020-21.
But advocates say UPCT could be replicated, with a willing labor partner and a willing public sector employer, at any public utility. "And the politics matter," Parks said, "because initially this program came out of a community organizing drive that LAANE and SCOPE spearheaded."
The most recent report card from the American Society of Engineers estimates that the U.S. needs to double infrastructure spending to upgrade current systems, without taking into account the need to transition from fossil fuels and improving water efficiency.
Even if workers end up in non-trades jobs, programs like UPCT could benefit utilities and marginalized communities in other cities, Parks said. "Particularly in large, urban areas, this is a program that we should be thinking really seriously about. Because [with the] large number of jobs that are available, you're increasing your odds of success."

This article was originally published on Capital & Main.