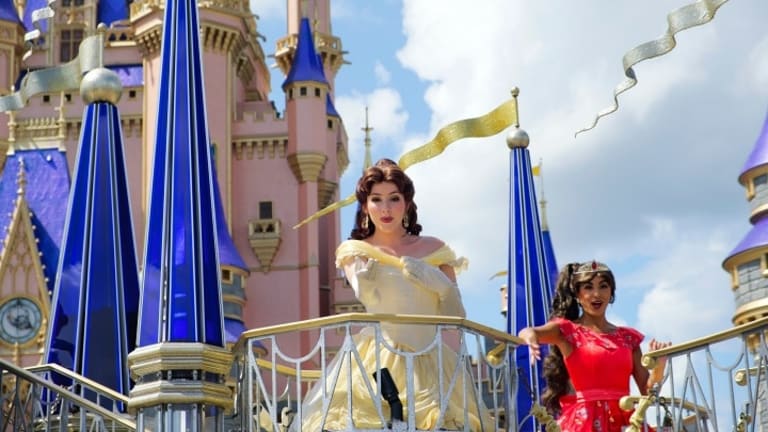 Laid-Off Disney Workers Blame Trump, Not Mickey
Dierdra Funcheon: Will all the door knocking and pixie dust be enough to secure a win for Biden in Florida?
Will all the door knocking and pixie dust be enough to secure a win for Biden in Florida?
Upon getting laid off by an employer, some workers might fire back with angry emails, lawsuits or at least a few choice curse words. But employees cut loose from Walt Disney World in Florida? They're busy carving mouse-ear shaped coffee tables, starting YouTube channels about Disney cruises, and re-creating foods from the theme parks. 
"It Is through you the magic lives on," one poster said to her peers in a Facebook group for laid-off workers.
"I know that Walt would be proud of us all for helping each other through this difficult time," posted another. 
The pixie dust is strong with this crowd. But it's been no match for coronavirus, which has caused Disney to lose at least $5 billion so far. The company closed all of its hotels and theme parks around the world in March, and even though some of its Orlando area properties have now partially reopened, Disney announced in September that it would be laying off 28,000 U.S. employees.
Workers remain fiercely loyal to the Mouse in part because Disney has treated them well – and that's largely due to a healthy network of unions fighting for pay raises and job protections. Fresh off a few big wins in recent years, the unions have become a significant political force in Florida. This year, they've mobilized about a thousand laid off workers through a get-out-the-vote campaign they hope will benefit Joe Biden over Donald Trump in one of America's most important swing states. 
As cheerfully as some laid off Disney workers are trying to make up for lost corporate paychecks with side hustles and homemade crafts, many are still struggling. Bryant Coleman had worked in numerous roles during his 15 years at Disney. Most recently, the 37-year-old slung lasagna and pizza at Tony's Town Square, an Italian restaurant on the Magic Kingdom's Main Street. With checkerboard floors and wait staff in crisp white shirts and vests, it's a replica of the place Lady and The Tramp had their fateful, spaghetti-induced kiss. Coleman's favorite part of the job was interacting with guests, like one little kid with an annual pass who showed up every weekend to gossip about the Golden State Warriors.
"I had a one-bedroom apartment, but the rent kept going up and up and up. I couldn't afford it, so I moved into a motel."~ Bryant Coleman, laid-off Disney World employee
Coleman said he earned about $5.45 an hour, plus tips. (Florida's tipped minimum wage increased from $5.44 to $5.54 this year, more than double the federal minimum cash wage of $2.13) "You could have 70 guests a day," Coleman said. "The plates cost $20 and up, so [the tab for] a party of four runs about $80." Even though the job was classified as part-time, he could pull in $50K per year. Coleman had hoped to join Disney's Aspire program, through which the company would pay for tuition and books. 
Yet $50K is barely enough to cover the cost of living in Central Florida. "I had a one-bedroom apartment, but the rent kept going up and up and up, to $1,600 a month," Coleman said. "I couldn't afford it, so I moved into a motel." It's not much cheaper, but he didn't have to give a security deposit.
Normally, Coleman would look out his window and see families unloading suitcases or gearing up for a day at the theme parks. But now, months into a coronavirus pandemic and with Disney World parks operating at 25 percent capacity, the parking lots are empty.
Orlando's housing crisis – exacerbated by landlords who could make more renting their properties to tourists on Airbnb than offering yearlong tenancies for locals – sparked a social-justice fire in Coleman. He began attending city commission meetings and studying zoning laws. 
Coleman had already been furloughed (meaning his hours were cut) in the spring when he got news of his layoff (meaning his employment would be terminated) by spotting his name on a list on Facebook. Coleman figured the layoff was coming since he'd seen the news that Disney CEO Bob Iger was forfeiting his salary. (The Disney chief made a base $3 million with a total compensation of $47.5 million last year.) The layoffs take effect November 1. Some workers will also lose benefits of the Aspire program.
At least some laid-off Disney workers will lose the benefits of the Aspire program, through which the company pays for college tuition.
In Orlando, there are two main coalitions of unions. The Service Trades Council Union (STCU) brings together six unions that cover jobs like food service workers, drivers and costumed characters. It comprises 43,000 Disney employees, aka "cast members." Thousands of other Disney workers are represented by North America's Building Trades Unions Craft Maintenance Council, which brings together other unions that represent painters, electricians and carpenters. Separate unions exist for actors, musicians and security guards.
Coleman applied for unemployment through Florida's notoriously frustrating online system, but found work with his union, Unite Here! Local 737, part of the STCU. He joined a team of canvassers knocking on doors, asking neighbors to come out to the polls and to vote for Joe Biden. They're part of a temporary workforce in Florida hired by Unite Here via an independent expenditure campaign and paid with a mix of union funds earmarked for politics and PAC money, including from Take Back 2020. Unite Here has about 300 canvassers on the ground in Florida and more in other battleground states. They're covering a lot of minority neighborhoods, and strategically targeting people who are registered to vote but often don't. With hundreds more volunteers carrying out a phone-banking effort, Unite Here has about a thousand laid off-workers campaigning for Biden. (Disclosure: The union is a financial contributor to Capital & Main.)
Belinda Hanzman, 50, is doing a job similar to Coleman's, leading a team of seven. She was a housekeeper at the Art of Animation Resort, where she cleaned 16 rooms per day. Thanks to union gains, she had been making $16 per hour. She had health insurance, could take her family to the theme parks 16 times per year for free, and could go every day by herself if she wanted. Her husband was a part-time server at Tusker House in the Animal Kingdom park. Working three days per week, he could pull in $80K per year, Hanzman said. He's now working as an EMT and only earns half that. 
"The full-time [servers], they can make a lot: $150,000 a year," depending which Disney restaurant they work at, Hanzman said.
A union agreement gives laid-off park employees the right to return to their jobs if Disney starts hiring again. Workers at many other theme parks have no such protections.
Hanzman lauded the STCU for helping to ensure that the layoffs, while disruptive, will not be permanent. Per an agreement negotiated by the STCU, cast members have the right to be recalled to their jobs or transferred to new ones by Oct. 1, 2022. (Workers at SeaWorld and many other theme parks and hotels have no such protections.) 
Even though she'll be re-employed, Hanzman is fired up politically because she was born in San Pedro Sula, Honduras, sometimes called the "Murder Capital of the World." She came to the U.S. in 1991 and has Temporary Protected Status (TPS). For decades the immigration program has allowed people from certain countries that face war, natural disasters or other dangers to stay in the U.S. Trump has been moving to end the program. If he gets his way, Hanzman could be deported even though her two children are U.S. citizens, she said. There are about 45,000 TPS holders in Florida. 
Hanzman said she wanted to knock on doors because "I wanted them to see what a TPS face was and talk to them about what would happen to us if [Trump ends] the program." 
"The union has been here since Disney opened in 1971 and it was really sort of a traditional union for a long time," explained Jeremy Haicken, the elected president of the Unite Here! Local 737, representing hospitality workers. 
Then in 2017, the STCU decided to aggressively embark on a fight for wage increases and successfully got minimum pay rates bumped from $10 to $15 per hour. This November, Floridians will vote on Amendment 2, a proposed change to the state constitution that would gradually raise the minimum wage to $15 an hour by 2026. Disney is already years ahead.
In 2019, Universal Studios got Florida's Orange County to spend $125 million building a road into their park, and union leaders, incensed over the massive tax giveaway to the giant corporation, helped elect an underdog candidate to the city council, Haicken said. This year Unite Here shifted its political energy to support Biden. Given that in 2016 Trump won Florida by just 1%, Unite Here aims to push Democrats to the polls and win Florida's crucial 29 electoral votes. 
Eric Clinton used to work on the Great Movie Ride in the Chinese Theatre at Disney's Hollywood Studios. "You drove through movie scenes and at the end, get kidnapped by a gangster or bandit," he remembers. There was Clinton, snatching people out of ride cars. 
"People don't blame Disney for the fact there's not guests traveling. They blame Ron DeSantis for causing a massive spike in cases and denying unemployment for months."~ Jeremy Haicken, president of Unite Here! Local 737
He left to work for Unite Here's Local Union 362, representing custodial workers and ride operators at theme parks and eventually became the union president. Clinton said that about two-thirds of Orlando-area theme park workers belong to a union. Those workers include a significant number of minorities and immigrants on TPS who are angry at Trump. In fact, Wilna Destin, a housekeeping organizer, is a lead plaintiff in a federal lawsuit to stop the Trump administration from scaling back TPS. Union members also include a significant number of Puerto Ricans, who Haicken said are angry about Trump's failure to direct aid to the commonwealth long after Hurricane Maria.
"People don't blame Disney for the fact there's not guests traveling," Haicken said. "They blame [Florida governor] Ron DeSantis for causing a massive spike in cases and denying unemployment for three months. They blame Trump for lying about coronavirus." 
Anything that happens to Disney workers reverberates through the region, Haicken suggested. "Every Disney worker has a wife, a kid, a neighbor, a cousin who works for Universal or Marriott or SeaWorld or Hyatt." Good policies at Disney can spur improvements at the other parks, since they compete against one another for workers. 
But for now, 75% of Unite Here's 34,000 Florida members are out of work. Federal unemployment benefits of $600 per week ran out in July, and unemployed people in Florida can receive a maximum payout of only $275 per week. Normally, there's a 12-week maximum for collecting benefits. That has been extended, but only until December. 
"People are terrified" about what will happen in January, Haicken said, with neither Congress nor the state of Florida having passed any sort of follow-up stimulus plan after the CARES Act. 
Growing desperation is visible during a weekly drive-through food bank the unions set up, Haicken said. The first week, 200 families came. That jumped to about 600 families this summer. "Last Saturday, 1,700 came."
Clinton said that the unions will support whatever candidate is best for workers, not always Democrats. Leaders send candidates questionnaires, then interview them. This year, they spent four hours per week for eight weeks deciding whom to endorse. 
Said Coleman: "If there was ever a Republican offering support for the working people, I would be open to it."
Dierdra Funcheon
Capital & Main