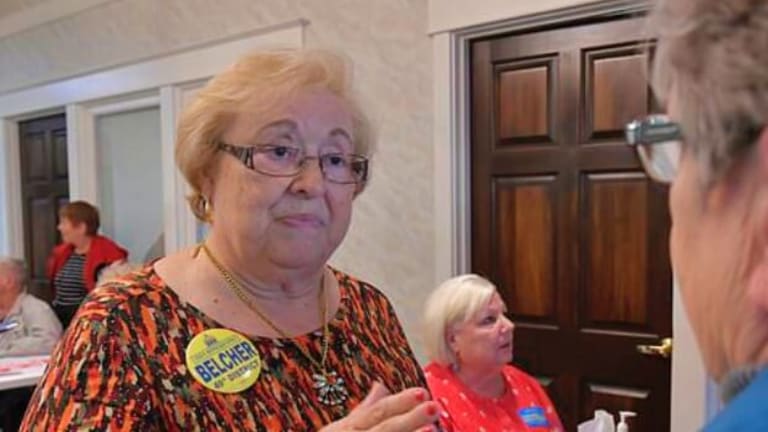 Union-Backed Linda Belcher Wins Big in Kentucky
Berry Craig: Nobody is happier to see Belcher return to the General Assembly's lower chamber than Kentucky's unions. Organized labor played a big role in her romp.
Labor-endorsed Linda Belcher's Bullitt County blowout was reportedly the 37th Red-to-Blue reverse in state legislative races since Donald Trump was sworn in as president.
In Tuesday's 49th House District special election in Kentucky, the Democrat collected 68.45 percent of the vote to 31.55 percent for Republican Rebecca Johnson, according to the Louisville Courier-Journal, the Bluegrass State's largest newspaper.
Nobody is happier to see Belcher return to the General Assembly's lower chamber than Kentucky's unions. Organized labor played a big role in her romp.
Nobody is happier to see Belcher return to the General Assembly's lower chamber than Kentucky's unions. Organized labor played a big role in her romp.
"From the twenty-first of January, members of local unions came together to canvass and make phone calls for Belcher," said Tim Morris, a spokesperson for the Greater Louisville Central Labor Council.
Belcher's win also was a big boost for her party. Democrats had enjoyed House majorities for 95 years before the Trump tsunami of 2016. The Democrats lost 17 seats, including Belcher's. Republican Dan Johnson, Rebecca Johnson's late husband, edged her by 156 votes, The New York Timesreported.
He committed suicide in December, necessitating a special election. The county GOP nominated his widow to try to keep his seat.
In last year's legislative session, the ultra-conservative Johnson joined the GOP House majority in passing a pair of union-busting bills: "right to work" and prevailing wage repeal. The Republican Senate approved both measures, which GOP Gov. Matt Bevin eagerly signed.
Rebecca Johnson shared Dan Johnson's anti-union and far-right-wing politics. Unions considered Belcher pro-labor when she was in the House.
"Unions stand in solidarity with pro-working family candidates," said Todd Dunn, president of the GLCLC and UAW Local 862. "We are proud to fight for folks who will pass pro-working family policies and give all of Kentucky's hardworking men and women a better life."
Morris said dozens of union members showed up to fan out across the district, knocking on doors and making phone calls on Belcher's behalf. The 49th encompasses part of Bullitt County, which is just south of Louisville.
Volunteers came from several union organizations, including the GLCLC, the Kentucky State AFL-CIO, USW, LIUNA, and UAW 862, according to Morris. He added that volunteers also spent hundreds of hours engaging in more than 10,000 conversations with district union members.
After the Republicans passed the RTW and PW repeal bills in January, 2017, Louisville-based Teamsters 89 "swore...we would do everything in our power to flip any seat that voted against workers," said Fred Zuckerman, the local president.
"...The Kentucky Labor Movement has done just that by helping to elect Linda Belcher. They started this 'war on workers,' but in the end, we are going to win it."
In addition, Belcher's rout of her Republican rival made the national news. Too, Belcher has collected a bounty of best-wishes from state and national Democratic officials.
In an email, the Democratic Legislative Campaign Committee said Belcher prevailed in "the reddest district we've flipped since Trump was elected!"
Kentucky Democratic Party chair Ben Self bragged on the big win, too.
"There has been a lot of talk about a 'Blue Wave' -- pundits pointing to a surge of Democratic victories and flipped seats in post-2016 elections, particularly in districts where Republicans had previously claimed wide margins of victory," he wrote in a fund-raising email.
"This, along with the incredible number of [Democratic] candidates who have signed up to run, is the first evidence this Blue Wave is coming to Kentucky."
In a Daily Kos post, KDP communications chief Bad Bowman hailed Belcher's "historical success." He added, "It's the largest point swing in comparison to the numerous blue-wave successes Democrats have seen in special elections across the nation." Trump pocketed 72.7 percent of the Bullitt County vote.
Bowman also quoted Tom Perez, the Democratic National Committee chair: "Democrats are organizing, investing, and winning elections in red districts across the country as voters reject Donald Trump and the Republican agenda."
Daniel Hurt said the Kentucky Young Democrats, an organization which includes several union members, is helping fuel the Democratic resurgence in the state that's reflected in Belcher's lopsided victory.
"The Democratic party is back in Kentucky, and we're on the move," said Hurt, 24, a YD, honorary delegate to the Paducah-based Western Kentucky AFL-CIO Area Council and the winner of the 2017 Kentucky State AFL-CIO Youth Labor Award.
He said several YDs volunteered for Belcher's campaign. "Young people think it's cool to be in politics again," according to Hurt, who lives in Grand Rivers, chairs the Livingston County Democratic committee, and is one of the youngest members of the KDP's state central executive committee.
Berry Craig