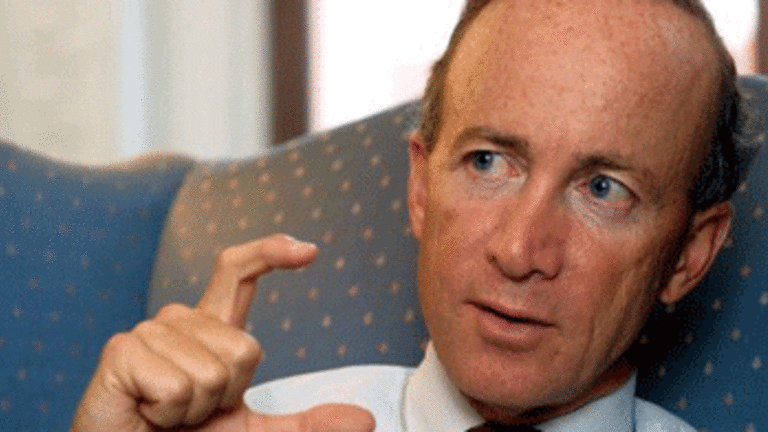 Mitch Daniels Is a Scab
Devin Griggs: His presidential hopes dashed by a "kinder, gentler" approach to hot-button social issues, Daniels has now joined the ranks of scab governors Scott Walker, Chris Christie, and Jan Brewer.
After a brief stint mismanaging the nation's budget for the George W. Bush administration, the soft-spoken Mitch Daniels was elected governor of Indiana in 2004. His presidential hopes dashed by a "kinder, gentler" approach to hot-button social issues, Daniels has now joined the ranks of scab governors Scott Walker, Chris Christie, and Jan Brewer, among other anti-worker scab state chief executives scattered around the country, by signing into law legislation that made Indiana the 23rd "right-to-work' state."
'Right-to-work' sounds good on paper when we have 8.6 percent unemployment nationally and 9 percent unemployment in the Hoosier state, but "right-to-work" laws don't give anybody the right to a job. "Right-to-work" really is the right-to-work-for-less.
Under the Taft-Hartley Act, passed in 1947 by a scab Congress over the veto of President Truman, a state may pass a "right-to-work" law exempting workers from having to pay union dues if they work in a union shop, effectively outlawing the notion of a union shop in the first place.
If you live in one of the 23 states that have right to work for less statutes, you can thus work side by side with union members without being a member of that union or paying union dues while still benefiting from the wages and benefits that union negotiates with your employer. To add insult to injury, these laws also require unions to represent all workers in the plant beyond the bargaining table when it comes to disciplinary and other issues, allowing non-union workers and your employer alike to have their cake and eat it too.
Mitch Daniels and his scab colleagues are perfectly fine with these freeloaders because they help them undermine collective bargaining and drive a wedge among co-workers. I think the use of the word "scab" to describe these folks is entirely appropriate in this context because it we're talking about clowns who will literally do anything to make a dollar, either in the form of increased profits (on the business side) or increased campaign contributions (on the political side). Mitt Romney, Newt Gingrich, Rick Santorum, and Ron Paul (despite his supposed love of "state's rights'") all favor a national right-to-work-for-less law and prominently display their support on their respective websites.
Daniels and Christie, however, are a much more dangerous kind of scab than your garden variety Republican. Media darlings both and probable 2016 contenders (should Mitt Romney not add yet another house to his collection), Daniels and Christie both have the ability to mask a radical right-wing agenda with an air of 'respectability' or 'straight-talking' than the boorish Romney, the serial adulterer Gingrich, or the bigots Rick Santorum and Ron Paul do not.
Daniels' term expires at the end of the year and he'll probably spend the next four years running for President; Christie is up for re-election next year, with the rest of the scab administrations that took office in 2010 facing recall or re-election in the next two years. Defeating these scab administrations and their allies in the scab-laden U.S. House of Representatives – and, of course, stopping a scab politician from taking the White House -- should be the number one priority of the labor movement and the Democratic Party going forward.
Devin Griggs
Devin Griggs is a junior at Murray State University, where he is secretary of the College Democrats. The recipient of the 2011 Kentucky State AFL-CIO Youth Award, he is the son of Cliff Griggs, a member of USW local 9447-5.