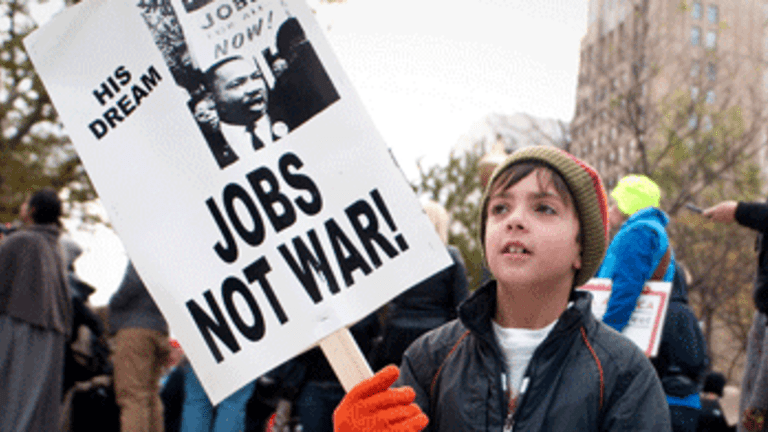 Why Occupying Detroit Is Harder Than It Seems
Rachel Burstein: For many, participating in Occupy Detroit may appear to mean cutting off the hand that feeds them—and failing to address the structural issues underlying Detroit's poor economic state.
If ever there was a city that would seem to cry out for an Occupy presence, it's Detroit. The Detroit-Livonia-Dearborn metropolitan area has an official unemployment rate of 14.4 percent—the highest percentage of any of the nation's most populous areas. A fifth of African-American Michiganders are out of work, including over a quarter of black men in Detroit. A third of the city's residents live in poverty, and Detroit is frequently listed as one of the most dangerous cities in the United States. The city's infrastructure is crumbling, and its population declined by 25 percent in the last decade, resulting in the loss of much needed federal funding. Meanwhile, some of the surrounding suburbs boast enormous wealth.
Yet the first Occupy Detroit organizing meeting wasn't held until October 10, a full three weeks after protests began in New York. The tent city in Detroit's Grand Circus Park houses just 50 dwellings, and rallies attract upward of 200 people, despite a report that over 3,000 people had initially indicated on Facebook that that they would attend the inaugural Occupy Detroit march on October 14. The group is organized, with a full schedule of workshops on direct democracy, and a full online presence, but the occupation is quite small. As one Occupy Detroit protester told a Free Press reporter, "There's nobody here. It's so depressing."
So why hasn't Occupy Wall Street taken off in Detroit?
One of Occupy Wall Street's strengths is the symbolism of infiltrating spaces typically controlled by economic elites. The brilliance of the group's name in places where economic power is on display—Wall Street, Boston's financial district, Rupert Murdoch's Fifth Avenue residence—is its undoing in a city like Detroit. Occupy groups like those in Oakland and Atlanta have attracted large crowds and significant media attention without access to brick-and-mortar symbols of economic power, but their prominence owes more to police action than the appropriation of contested space. Moreover, in New York, occupation is effective because space is valuable. In Detroit—where some employers have instituted programs to pay professionals to settle within city limits—the reverse is true. Here, occupation means inhabiting space that is unclaimed.
Demonstrators have obtained a permit to protest in Grand Circus Park, site of the "Spirit of Detroit" statue, until December. In many ways the location is ideal. It's a stone's throw from Comerica Park and Ford Field, home of the Detroit Tigers and Detroit Lions, respectively. With the historic Fox Theatre a couple of blocks away, and MGM Grand Detroit less than a mile from the site, the space that protesters occupy is positioned to highlight the desperation of the city to those from wealthier areas. But despite Grand Circus Park's proximity to the city's most visited attractions, most visitors will not walk by the park. Instead, they will park their cars in the enclosed sanctity of the casino's garage, or in a lot adjacent to the stadiums. If they do glimpse the protesters, they will not be forced to walk through them, as commuters in New York routinely are.
Furthermore, pitting the 99 percent against the 1 percent is difficult in a city like Detroit. Wealthy residential neighborhoods are few and far between, and the number of large businesses in Detroit is just a fraction of what it once was. But even if the city were more compact, Michiganders would likely object to targeting the downtown headquarters of major corporations like Quicken Loans or Little Caesars—or branches of national banks that other Occupy groups have besieged. These corporations have stayed in or moved to Detroit when so many others have left, and their tax contributions form an important revenue source for a city that struggles to provide basic services to its residents. To occupy sites belonging to the bankers who got rich on risky mortgages and lobbyists who pushed for further deregulation of the financial sector, protesters would have to exit the city altogether.
The region's fortunes pivot on the Big Three auto manufacturers and their suppliers. When two of those companies fell into bankruptcy, residents of southeast Michigan were forced to defend the bailouts that many Occupy Wall Street protesters condemn as constituting a moral hazard. The sins committed by auto company executives—choosing Hummers over smaller and more energy-efficient vehicles, maintaining executive salaries that were hundreds of times larger than the average worker salary, investing in corporate jets to testify before Congressional committees—seem forgivable when contrasted with exotic mortgage securities and Wall Street executive bonuses. Even if there are fewer factories in Michigan than there once were, and even if those jobs are far less plentiful and pay far less than they once did, GM and Chrysler continue to provide jobs to Michiganders, and their executives of old have long since been replaced.
The flight of manufacturing jobs to right-to-work states and abroad has made it difficult to protest the wealth accumulation of those who have stuck around. Car company executives in southeast Michigan may be part of the 1 percent, but for many Detroiters, they're our 1 percent. To a region that was reeling long before the economic collapse, the two-tier wage system (in which a certain percentage of workers form a second "tier" with reduced wages) is better than no jobs at all. There is no love lost between union officials and corporate leaders of the Big Three, but Michiganders have been made to believe—rightly or wrongly—that if the UAW failed to consent to the tiered wage system, and if it didn't agree to increase the cap of tier-two workers to 40 percent, there was little possibility that GM would consent to build low-priced subcompact cars like the Chevrolet Sonic in the United States.
The protesters at Grand Circus Park are not all auto workers, not even mostly auto workers. There are community college students, Ann Arbor progressives, labor activists, religious leaders, teachers, and other professionals, among others. They are of all ages, from the city and from elsewhere. But in southeast Michigan, it is hard to find someone who is not connected to the auto industry—indeed, hard to find someone who does not drive an American car. If a person does not work for a car company or a supplier, a spouse or a friend or a sibling or parent (but rarely a child) does. For many, participating in Occupy Detroit may appear to mean cutting off the hand that feeds them—and failing to address the structural issues underlying Detroit's poor economic state.
It would be impossible to find a way literally to occupy the complex web of public policy, social attitudes, and business decision-making that has led Detroit to its current economic state. All Occupy Detroit can do is focus on contemporary local injustices, rather than to try to identify the ghosts of those who caused the decay once upon a time.
Increasingly, the group is doing just that. In the last week, Occupy Detroit partnered with welfare rights and environmental groups to protest rate increases by DTE, the Detroit-based energy company, and to call for green jobs for Michiganders. These actions may not have the same symbolic value as occupying Wall Street, but they may result in more substantive changes for the 99 percent that the protesters claim to represent.
Rachel Burstein
Rachel Burstein is a PhD candidate in history at the CUNY Graduate Center. Her dissertation examines the public relations strategies of labor unions in the 1940s and 1950s. She lives in Ann Arbor, Michigan. Cross-posted from Dissent Magazine.
Republished with permission from History News Network.