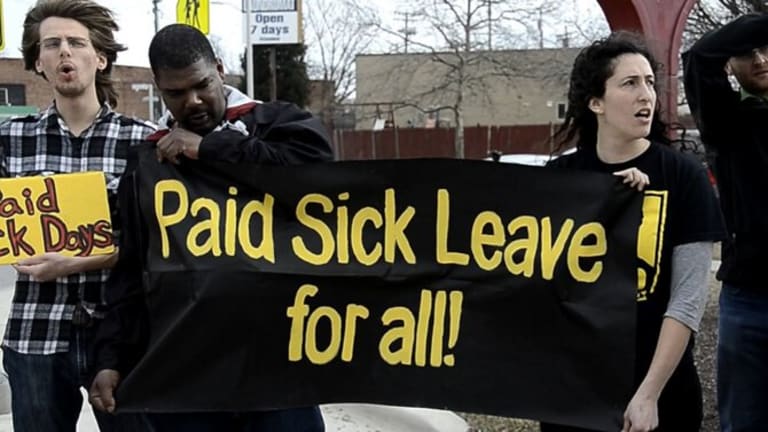 When Are You Sick Enough for Your Employer to Give You Paid Time Off?
So I work at the market where you shop and I have a fever, am constantly coughing and sneezing, have diarrhea to boot, and am touching your food throughout the stocking and/or check-out process. Sounds like a place you would want to patronize?!
I think not, but that is exactly what you are doing nearly every day. It is a miracle that we all aren't sick far more often than we are—and this does not take into consideration those customers and workers whose systems are already weakened by a lack of expensive nutritious food that they cannot afford because they are working two jobs and still don't get paid enough to cover all the bills!
How long would you stand for working a grueling 40 or more hours each week, often not getting paid what you are owed, and then not being allowed to take time off for yourself or a family member because of illness? What are your choices? Would you risk being fired or retaliated against in some draconian way? Would you quit and look for another job (which is pretty much unavailable because of today's economy)?
Well, these are among the many issues that many organizations and individuals are struggling with to achieve a fair resolution with governmental entities and the most egregiously guilty companies which flagrantly abuse worker welfare and as well as that of the entire community.
It is incumbent upon us to grasp the impact of the 4,000,000 people nationwide working without any form of sick leave—that is 1 in 7 laborers (and 1 of 5 women in particular) and to do something about it.
What is being sought is economic and social justice for all—not too much to ask for! It is, therefore, incumbent upon us to grasp the impact of the 4,000,000 people nationwide working without any form of sick leave—that is 1 in 7 laborers (and 1 of 5 women in particular) and to do something about it.
You often hear about work-related injuries and accidents. The victim-worker is almost always blamed: the truck driver, the airline pilot, the engineer, the construction worker. Have you ever noted how many of them have fallen asleep at the wheel because they have not been granted time off when they are ill (and often under medication) or because they have stayed up all night with a sick child and then have had to go on to work the next day?
Have you heard of the young fork-lift driver (true story) who could not take a single day off for fear of losing his job? His leg was injured and became so infected with gangrene that ultimately he lost his leg above the knee (his driving leg which had literally turned black). He is now permanently disabled and must depend on taxpayer dollars to care for him for the rest of his life—a result that could have been avoided had he had sick days during which time he could have recovered after seeking and obtaining a doctor's help and at far less cost to the rest of us!
What of the children who must go to school ill with some kind of communicable disease because their parents cannot take off to care for them? How quickly their contagion can spread to other children and staff members.
Our legislative system is, to say the least, broken. But why? It seems that so many of our lawmakers are in the pocket of Big Pharma and other related industries (such as health insurance), so much so that we commoners are left with a two-tier system—one for the rich and the other for the rest of us. Visually, it reminds me of the pyramid at the very top of which are the one percenters standing on the shoulders of everyone else who did the work to put the wealthy where they are--at the summit—virtually pulling the strings and controlling the rest of us.
We don't have to stand for this! For the immediate future, we must organize and demand that all workers deserve the kind of sick pay they deserve. Here in Los Angeles, we are hoping for City and County decisions (let alone from Councils in the smaller cities) that will align with already successful programs in places like San Francisco with nine sick days for employees at larger businesses and five, for those at smaller businesses. Seattle and New York City are also in the forefront of the metropolises which are taking the lead and becoming the role models for other communities across the country.
There is now, in fact, a State law on the books (as of July 1st of this year) which mandates 3 days off per year (which, if not utilized, can be rolled over to a subsequent year, after which there might be a cap on accrued days). The newly implemented State law indicates that for every hour worked, the employee can earn 1 hour of sick leave up to 3 days in a work year—hence the term "earned" paid sick days.
This law applies to nearly EVERYONE! There are for now a few exceptions. Some laborers, who work under certain union contracts which often already include sick days and/or personal time off and possibly vacation pay as well may be exempt from the 3-day rule because of the negotiating power of the union contract.
I find it hard to take in that there are some union contracts today that offer no sick leave at all! I only learned of that fact in recent weeks.
IHHS workers (those who care, in-home, for patients who cannot take care of themselves) are also (to my horror) currently excluded from the new regulations. Many supporters of these dedicated employees are working hard to help these in-home workers. Those employees are already underpaid and overworked. It is they who certainly need sick time, especially because they are working, primarily, with the frail and ill—all of whom, without doubt, require and depend on IHHS services.
Now that the above-referenced law is on the books, it is up to all of us to make sure the affected workers are aware of the rules. Restaurants, for instance, must place a sign regarding the three-day sick leave in a place where the worker can easily see it. If the restaurant is out of compliance, complaints can and must be filed with the new Office of Labor Standards Enforcement, an LA City agency under the umbrella of the City Bureau of Contracts Administration which, in turn, is under the supervision of the Public Works Department. Convoluted, perhaps, but, unfortunately, that is the way bureaucracy often works.
Since knowledge of these new rules may not be commonly known, outreach and educational strategies must be put into place immediately. Once we advocates are cognizant of these new laws, it becomes our obligation to make certain that the employees are fully aware of their rightful and legal options (without retaliation, by the way).
Incidentally, under the new law, extended family leave is an option when a severe illness or pregnancy (and/or maternity/paternity leave) requires time off. Fifty-five per cent of one's salary would be reimbursed under this program (unemployment insurance is also an option to be pursued, and if a mother requires surgery related to childbirth, disability insurance can kick in).
The Our Walmart campaign, about which I have written earlier, is still as strong as ever. On September 10, 2015, at noon at the Pico Rivera store there will be a press conference to insist that Walmart rehire the 500+ workers who were laid off (without salary or benefits when it suddenly claimed that the store needed renovating). Walmart needs to renovate its thinking about the workers and patrons who put the billions of dollars in profits in its coffers.
Walmart has lately had the audacity to advertise how it supports a fair, living wage for its workers, clearing showing the number 15 in the background of the television commercials; yet, the real salary that its employees earn (even after years of loyalty to the company) is well under $15 an hour for the typical worker.
We can no longer allow the Walmarts in our midst to pretend to be doing right by its workers when just the opposite is happening. A living wage (indexed to the cost of living), earned paid sick leave, no retaliation, safe working conditions are what we must demand at the very least.
Rabbi Jonathan Klein of CLUE recently offered a thought worth noting: There are far too many "citizens" that don't have rights in our country. By "citizens," he meant everyone who lives here—natural born, naturalized, undocumented but also the formerly incarcerated, the transgender, the Black and Brown lives and all the other "minority" ethnic groups in between.
The rest of us often take for granted the advantages from which we benefit every day: a driver's license, a quality education, healthcare, fair treatment on the job, safe neighborhoods, a protective police force. What we have witnessed of late (however extreme it is on both sides) is reminding us once again of the disparities in these areas.
But our eyes are opening (or re-opening) to only some of the injustices that are being perpetrated every day. At the same time, it would be unfortunate and short-sighted to give ourselves permission to be dismissive of the advances currently being made—largely due to the unremitting efforts by thousands (if not millions) of people who are devoted to seeing parity achieved among all our "citizens." We can't afford to close our eyes again—lest we forget.
At a recent meeting, I had the privilege of listening to (and meeting) two gentlemen who were recently appointed as Commissioners to the Huntington Park City Council. They were selected, though still quite young (just beginning the rigors of college) because of the track record each one has created for himself for creative, innovative, imaginative programs established for the welfare of the immediate and larger communities.
How inspirational!! But equally, if not more newsworthy, is the fact that they are undocumented! These are the kind of people about whom Rabbi Klein is referring. Julian Zatarain is now the Parks and Recreation Commissioner and Francisco Medina is the Health and Education Commissioner. They work well together to achieve common goals. One emphasis is on health outreach and education, concentrating on childhood obesity (Huntington Park having the highest obesity rate in California).
But how are they supporting themselves while they are engaged in so much good? Working for a car wash, cleaning homes, fast-food cashiers, all of the above—anything that will help pay the college and survival bills. Here again, they are underpaid (victims of wage theft at the same time), and have no days off when they are ill. For these selfless gentlemen, that is not their principal complaint because they are concentrating instead on so many other areas of their lives to which they can contribute.
But the rest of us should be worried about them. What they are facing are daunting challenges that most of us don't have to worry about for ourselves but about which we must be concerned for the many that share those trials.
I feel like a broken record when I repeat how much we must be our brothers and sisters' keepers. What affects them affects the rest of us in ways too incalculable to be able to mention here. Let us push for fairness and equity with regard to the oft-referred to "three legs of the stool": a living wage that keeps up with the cost of living, earned-paid sick leave, and a stop to any form of retaliation against any worker who is being subjected to unfair labor practices—all of which fall under the purview of a bureau that has the power to enforce the established rules for which so many of us are fighting.
For more information, please see the following:
Attend and participate in meetings on Tuesdays and Thursdays of the LA City Council Economic Development Committee under the leadership of Councilmember Curren Price.
California Work and Family Coalition (a statewide group)
SEIU (Service Employees International Union)
ROC (the Restaurant Opportunities Center)
ACCE (Alliance of Californians for Community Empowerment)
AFSCME (American Federation of State, County, and Municipal Employees)
Los Angeles Black Workers Center
CHIRLA (Coalition for Humane Immigrant Rights of Los Angeles)
LAANE (Los Angeles Alliance for a New Economy)—Raise the Wage Campaign
CLUE (Clergy and Laity United for a Just Economy)—Raise the Wage Campaign
Office of Labor Standards Enforcement for Los Angeles (see above for particulars)
Your own City Councilmember, State Senator, and Assemblymember
Rosemary Jenkins