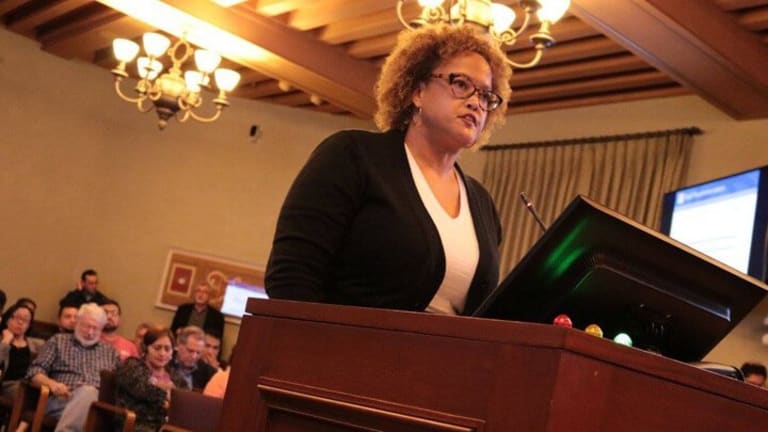 Pasadena City Council Should Pass a Minimum Wage Law Without Gaping Loopholes
Peter Dreier and Mark Maier: The proposal that the City staff submitted to the City Council includes a number of troublesome loopholes that could seriously undermine the law's effectiveness, make enforcement difficult, and hurt the local economy.
The Pasadena City Council is likely to adopt a policy this Monday night that would gradually raise the minimum wage to $15 an hour by 2020. But the proposal that the City staff submitted to the City Council includes a number of troublesome loopholes that could seriously undermine the law's effectiveness, make enforcement difficult, and hurt the local economy. There are four areas that local residents and City Council members should focus on to make sure that the new minimum wage law works for everyone.
The So-Called "Training" Wage
The staff's report recommends that workers who are learning a new skill at a new job should be paid 85% of the minimum wage. This so-called "training wage" would apply to all workers for the first 160 hours of work and to employees age 14-17 for 480 hours, which is the equivalent of an absurdly long six months.
If the City Council members adopt this provision, they are opening the floodgates to widescale abuse and exploitation. This provision encourages employers to fire existing workers and hire new workers at the 85% "training wage." Then, when the training-wage period is over, employers will have an incentive to fire those employees and again bring in a new crop of workers whom they can pay the 85% training wage. That provision, in other words, incentivizes employers to create a "revolving door" of new workers to avoid paying the full minimum wage.
Moreover, the notion of a "training wage" is open to considerable abuse. If someone is working at restaurant making pizzas, and then moves to another restaurant and is asked to primarily make salads or grill hamburgers, the employer could pay this person less than the full minimum wage by claiming that she is now in "training" to learn a new skill – preparing salads. If that's the case, then restaurants will find lots of excuses to convert pizza-makers to salad-makers, or other bogus "training" in order to avoid paying the full minimum wage. The same thing will happen in other sectors as well.
The proposal that the City staff submitted to the City Council includes a number of troublesome loopholes that could seriously undermine the law's effectiveness, make enforcement difficult, and hurt the local economy.
This is precisely the kind of "wage theft" that Council member Tyron Hampton says he wants to prevent, yet he has been the strongest advocate for exempting so-called trainees or "learners" from the full minimum wage. We hope Mr. Hampton will recognize that his well-intentioned idea – which the City staff recommended in its report – will immediately backfire and hurt the very people he says he wants to help. This is particularly true of young people, ages 14-17, who will be paid the subpar wage for six months of so-called "training."
State law limits the training wage to 160 hours. The City of Los Angeles minimum wage ordinance limits paying the training wage to 14 – 17 year old employees for no longer than 160 hours. Pasadena should adopt the same policy as Los Angeles if it wants to avoid the exploitation of working people and their families. The vast majority of minimum wage employees are adults, not teenagers. But even most teenagers who work at low-wage jobs do it to help their parents pay for rent and other necessities. It makes no sense to trap them in a job for six months that pays 85% of the minimum wage when their families desperately need the money.
Stopping the Clock Toward $15
A second troublesome provision in the city staff's recommendation that the minimum wage increases stop on July 1, 2018 so that the City Council can evaluate its impact and then take another vote on whether to resume the path to $15 by 2020. This idea is a dramatic departure from both the City of Los Angeles and the Los Angeles County approach. A better approach, recommended by Dan Flaming, president of the LA Economic Roundtable, a research firm, would be to monitor the minimum wage's impact on a regular basis by comparing city sales tax revenue, business licenses, and employment to corresponding changes in county and state data.
Then, in 2018, the City could look closely at the policy's impact and conduct a study to examine its benefits (such as infusing hundreds of millions of dollars into local businesses) and costs (such as putting a burden on a particular industry, such as car washes or small restaurants), and then modifying the wage for those particular sectors. In other words, the policy should more like a yellow "warning" light than a red "stop" light. For example, we estimated that by the time it reaches $15 an hour, the minimum wage would generate about $230 million in additional spending in the Pasadena economy, since most workers will spend most of the additional income in local businesses. If this impact is offset by some negative impacts, the City should come up with clear standards for deciding if the costs are greater than the benefits. The City should have to prove that the policy is causing more harm than good rather than put the burden on employees by halting the wage increases, even if only temporarily.
By potentially slowing down the path to $15, this provision also has the potential to make the Pasadena minimum wage way out of step with the City and County schedule, creating a compliance nightmare. For example, employers with multiple establishments in Pasadena, Los Angeles, and Altadena would have different rates apply and employees would face a more difficult task to know their rights.
Annual Adjustment for Inflation
A few Council members have voiced concern with the idea that after the wage reaches $15 an hour in 2020, the minimum wage will be adjusted annually to keep up with inflation, measured by the Consumer Price Index (CPI). This annual CPI adjustment is how Social Security works and it is the approach taken by other cities that have adopted local minimum wages, including Los Angeles. Over the past 30 years, the CPI has not swung wildly but has ranged from a low of -1.2 percent in 2009 to a high of only 5.6 in 1990. Despite this, some Council members have suggested capping the annual CPI adjustment at 2 or 3 percent. This is foolish and out of sync with economic trends.
If the Council insists on messing with the tried-and-true CPI adjustment, it should set a floor of zero percent and a ceiling at no higher than 5 percent to reflect economic realities. An artificial cap would also put Pasadena out of step with surrounding areas, making it harder to educate employers and employees and making the minimum wage law more difficult to enforce.
Enforcement
A minimum wage law is only good if employers comply with it. No doubt most Pasadena employers will be responsible and comply with the new law. But there will always be irresponsible rogue employers who will try to circumvent the law and cheat employees out of the wages they are legally entitled to. Employers who obey the law should not have to compete with businesses that violate the law. Responsible employers and employees alike will benefit from strong enforcement.
At a meeting in Pasadena on Saturday, California Labor Commissioner Julie Su explained that her state agency lacks the staff required to enforce the minimum wage law in every city in California. It may be possible, as Mayor Terry Tornek has proposed, for Pasadena to contract with Los Angeles County to undertake some of the investigation and enforcement of the new minimum wage law. But as Labor Commissioner Su observed, enforcement takes time and resources.
Pasadena, like other cities, needs to deploy local staff to enforce the law. That would require a small office, working with County staff, to which Pasadena employees could bring complaints, assured of support from Pasadena law enforcement and local community groups. One staff person would cost the City no more than $150,000 (including salary, benefits, and office space and provisions), which is less than 0.1 percent of its general fund expenses. Having at least one full-time staffperson who sends a warning to employers that the city takes the new minimum wage law seriously. A municipal staffperson who focused on enforcement would certainly help workers recoup much more than the City would spend, and those wages will mostly be spent in Pasadena businesses.
In addition, the local law should be crafted to allow private attorneys to represent workers to make sure that they are getting the wages they are due. To deter them from violations, employers should be liable for triple damages if a court finds that they have broken the law; in those cases, attorneys should be able to collect fees.
These are the issues to look for on Monday night as Mayor Tornek and the City Council members discuss adopting a minimum wage law for Pasadena.
Peter Dreier and Mark Maier
Pasadena Weekly