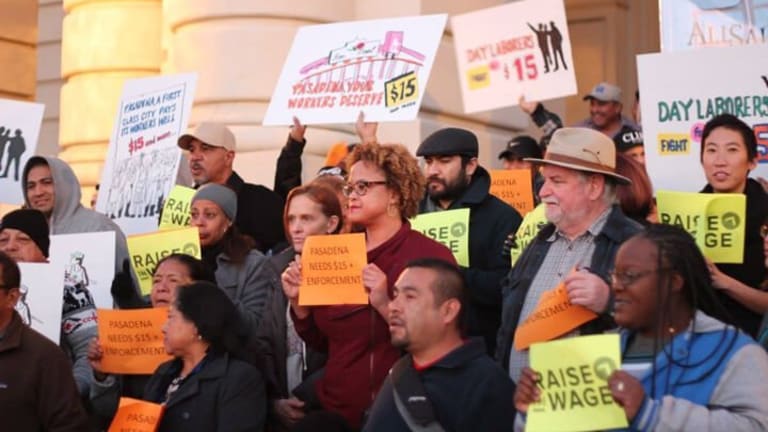 City of Roses Will Soon Be City of Raises
Peter Dreier: At 12:15 am Tuesday, the Pasadena City Council voted 7-0 to adopt a minimum wage policy that will lead to $15/hour by 2020. Pasadena Raises Minimum Wage
VICTORY!!!!
At 12:15 am Tuesday, the Pasadena City Council voted 7-0 to adopt a minimum wage policy that will lead to $15/hour by 2020. This was the result of more than a year of grassroots organizing by Pasadenans for a Livable Wage that includes religious groups, low-wage workers, unions, enlightened businesses, community organizations, nonprofit institutions, and others. (District 2 Council member Margaret McAustin was absent).
In four hours of testimony Monday night, many people spoke out eloquently for Pasadena's working poor. The PLW campaign turned around several Council members who were on the fence or even hostile to the minimum wage plan just a month or two ago. Amazing!
The Council made explicit that the wage would go to $13.25 by 2018, followed by a review to examine the economic impact, then continue to $15/hour by 2020. Future raises beyond 2020 will be indexed to annual cost of living adjustments. The Council also agreed to include non-profits, small businesses, and tipped workers. The new law will directly improve the lives of about 30,000 workers, and lift about 10,000 people out of poverty. It will also generate about $230 million a year in additional consumer spending in Pasadena, which will help local businesses.
The Economic Development/Technology Committee still has to recommend how much city resources will be devoted to enforcement.
The Economic Development/Technology Committee still has to recommend how much city resources will be devoted to enforcement. PWL wants the city to employ at least one staff person to coordinate investigation and enforcement efforts, to contract with community-based groups to educate the public, workers, and employers, and to make it possible for private attorneys to sue employers who steal workers' wages, with workers getting triple damages and attorneys getting fees if employers break the law.
Hundreds of Pasadena community members celebrated after the vote. Many spoke at an earlier press conference. Dozens held up signs in favor of the increased wage. About 60 speakers commented at the meeting, nearly all in support.
"The City Council's vote will finally make it possible for me and others who work in Pasadena to sustain our families," said April Kernell, a Rose Bowl custodian who earns minimum wage. "My wages have been so low that my family had to move in with my mother in law and I had to take a second job just to survive. With $15/hour, my son can now play after school sports and I may even take my family out to eat."
"As a construction worker, employers have stolen my wages many times. This put my family in a financial crisis," said Abel Betanzos, a Pasadena resident. "Until today, we had no way to challenge wage theft in Pasadena. I feel very proud to live in a city that is committed to finding a way to enforce wages and protect us from falling through the cracks."
Thanks to the thousands of folks who, over the past year
signed petitions,
door-knocked and canvassed in key Council districts,
attended and spoke at numerous City Council meetings,
participated in delegation meetings with Council members,
emailed and phone the Mayor and Council members to express support,
marched and rallied with us on many occasions,
attended candidate forums last year to push candidates for Mayor and Council to pledge support for the minimum wage,
donated money to keep the campaign afloat,
spoke to their friends and neighbors to get them on board, and
endorsed the campaign and got their organizations to endorse as well.
Thanks, too, to the LA Alliance for a New Economy, the LA County Federation of Labor, CLUE, the National Day Labor Organizing Network, and the Raise the Wage Coalition for joining forces with Pasadenans for a Livable Wage to make this a truly region-wide struggle. LA City, LA County, Santa Monica, Long Beach and now Pasadena have adopted strong minimum wage laws.
Many other California cities are now discussing the idea of a municipal minimum wage. And in November, California voters may be voting on a statewide ballot measure to raise the state minimum wage to $15.
This is all part of a national movement to address the nation's widening inequality and the persistence of poverty and low-wages in the world's wealthiest country.
Peter Dreier