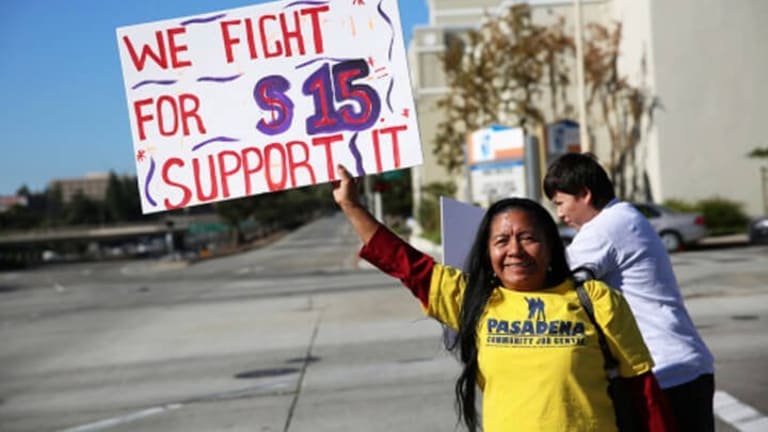 On Minimum Wage, Pasadena's Restaurant Lobby Is Serving Baloney
Peter Dreier: Pasadena workers and supporters are fighting for a living wage. Restaurant moguls Gregg and Bob Smith (owners of Parkway Grill, Arroyo Chop House, Smitty's and Seco) want to stop them.
For the past year, Pasadena, California -- home of the annual Tournament of Roses parade and the Rose Bowl football game -- has been engaged in a spirited debate over the minimum wage. Pasadenans for a Livable Wage and others would like to transform this City of Roses into a City of Raises. In fact, a recent public opinion poll found that 74 percent of Pasadena voters -- including large majorities in every City Council district -- support the $15-by-2020 minimum wage plan with strong enforcement and an annual cost of living increase.
But a few restaurant owners, backed by the Chamber of Commerce, have been lobbying Mayor Terry Tornek and City Council for over a year, trying to get them to include special provisions in the law to exempt them from all or parts of the ordinance.
When Tornek was running for mayor last year, he pledged to support a minimum wage law similar to the one in Los Angeles and to challenge what he called the "unfounded" fears of those who opposed a wage increase.
Pasadena workers and supporters are fighting for a living wage. Restaurant moguls Gregg and Bob Smith (owners of Parkway Grill, Arroyo Chop House, Smitty's and Seco) want to stop them.
Now the restaurant lobbyists are broadcasting those unfounded fears. Like Chicken Little, they claim that the sky will fall if the city adopts a policy to gradually raise the minimum wage, first to $10.50 an hour, then to $15 an hour over the next five years, just as the City of Los Angeles and LA County did last summer and as Santa Monica did this week. They hope to undermine support for a law that will not only lift over thousands of low-wage workers out of poverty but also pour as much as $230 million per year into the local economy.
Don't let the restaurant industry and the Chamber of Commerce feed you misinformation. Their claims are full of baloney. Here are four reasons why Mayor Tornek and the City Council members should take their arguments with a grain of salt.
First, restaurants comprise a tiny part of Pasadena's economy. Restaurants account for only 8 percent of jobs located in Pasadena. Because wages in the restaurant sector are so low, restaurants account for only two percent of the total payroll in Pasadena's economy. Less than one percent (0.8 percent) of Pasadena's municipal budget comes from the taxes on restaurant sales. In other words, contrary to the industry lobbyists' propaganda, Pasadena restaurants do not comprise a significant proportion of the city's workforce or account for much of the city's budget.
Second, employees in Pasadena's restaurant industry deserve the same benefits as employees in other sectors. Nearly one third of working Pasadena residents earn less than $15 per hour. Over one third of those employed in Pasadena earn less than $15 per hour. The situation is even worse in the restaurant industry. A few waiters in upscale restaurants may earn more than $15/hour (although many work part-time), but this isn't true of most waiters, much less the kitchen workers, cashiers, and others. Sixty five percent of Pasadena residents working in restaurants earn less than $15/hour. For example, a typical food prep worker makes $7.87/hour. Like other low-wage workers, restaurant employees struggle to feed their families and make ends meet. About half (48 percent) of Pasadena residents who work in restaurants live in overcrowded housing. Almost one-quarter of them pay more than half of their incomes for rent.
Third, many other cities have already adopted similar laws with no negative consequences to local restaurants. For example, a cover story in the October 23 Puget Sound Business Journal (Seattle's business newspaper) was headlined "Apocalypse Not: $15 and the Cuts That Never Came." Its subheading: "This is a story of the minimum wage meltdown that never happened." Last week, the business-oriented magazine Forbes published an article that echoed the same facts. It reported that since Seattle adopted its minimum wage law, the number of restaurants and restaurant jobs is growing. Similarly, a new study by economists at UC-Berkeley found that since San Jose raised its minimum wage by 25 percent, jobs in the restaurant sector have not declined.
Restaurants locate in Pasadena because it is a destination city, a tourist mecca. They aren't going to move to Arcadia, Glendale, Temple City, or San Marino.
The nation's restaurant industry always has some births and deaths. In Pasadena, for example, every year about nine percent of restaurants close and a similar number open. This cycle is due to consumers' changing food tastes, restaurant owners' management abilities, and other factors. A minimum wage increase will be across-the board, putting all restaurants on a level playing field.
Fourth, the so-called "solution" that the restaurant industry has been seeking from the City Council is illegal and, as City Council member Steve Madison has noted, would expose the City to expensive lawsuits. Some restaurant owners have suggested that the new minimum wage law exempt "tipped" workers. Los Angeles's City Attorney's Office and the California Office of the Legislative Counsel concluded that this idea violates state law. If adopted, it would be struck down by the courts. The City could be liable for challengers' legal fees. Every city in California that has considered the proposal has rejected it; in fact, not one of the 15 California cities and counties that have enacted minimum wage laws has adopted anything like this idea.
Pasadena has several thousand tipped workers in nail salons, parking lots, car washes, hair salons, and hotels as well as restaurants. An exemption for tipped workers would hurt low paid workers in these industries, too, and be a nightmare to enforce.
Pasadena is a wealthy city plagued with enormous disparities. In fact, according to the report, "Pasadena's Tale of Two Cities" (which I wrote with Mark Maier, an economics professor at Glendale College), Pasadena is one of California's most unequal cities. Only San Francisco has a wider income gap between the wealthiest and the poorest residents.
Moreover, Pasadena is rapidly gentrifying. Most of the housing developments approved by the city in the last decade have been luxury condos and expensive apartments. These are out of reach for low-income and middle class families, making it harder for working people to live here. Rents and home prices have spiraled out of sight. More than half (54 percent) of Pasadena households pay 30 percent or more of their income in rent. An astounding 28 percent of Pasadena households pay over half their incomes just to keep a roof over their head.
Over the past few decades, Pasadena has invested hundreds of millions of tax dollars to improve the city's business climate and help developers, hotel owners, restaurants owners and other retailers, high tech and manufacturing corporations, and other business become more profitable. In contrast, the city has done very little to help its working families deal with the huge gap between wages and the cost of living in Pasadena.
Now it is time for the city government to restore some balance to its policy agenda that has favored profits over people.
The City Council's Economic Development and Technology committee is meeting on Wednesday, January 27 at 6 pm at City Hall to discuss, and perhaps to vote on, a minimum wage plan. Pasadenans for a Livable Wage -- a broad coalition of community and civic groups, clergy, low-income workers, nonprofit leaders, educators, unions, and enlightened businesses -- is encouraging local residents to attend this meeting and express their views.
A rational discussion about a municipal minimum wage should depend on facts, not fear-mongering.
Local residents and tourists alike enjoy the diversity of Pasadena restaurants and will continue to do so after the city adopts a minimum wage.
Peter Dreier
Republished from Huffington Post with the author's permission.