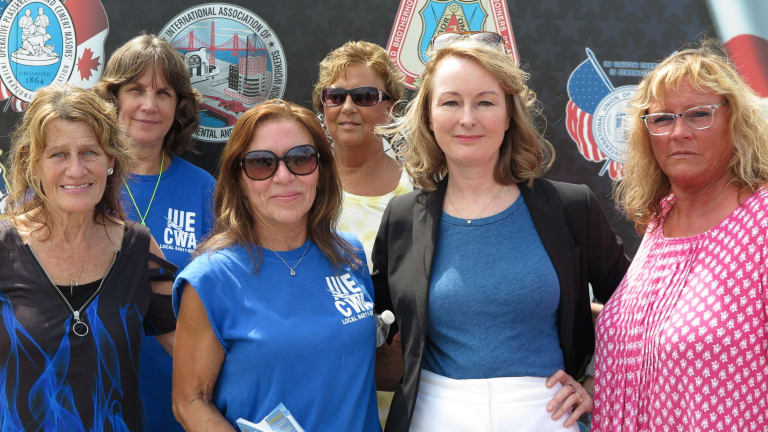 Rapacious LA Vulture Capitalist Firm: Ruins Job, Communities for Profit
Hufcor stands as a perfect metaphor for this especially rapacious form of corporate power.
Real, live vultures are quite literally scavenging on old bits of food as they circle around the old loading docks of the stripped, forlorn Hufcor factory in Janesville, Wisconsin factory, whose 160 workers have been victims of OpenGate, an LA-based "private equity" firm practicing "vulture capitalism."
Hufcor stands as a perfect metaphor for this especially rapacious form of corporate power. Headed up by wanna-be celebrity CEO Andrew Nikou, OpenGate followed the now-familiar private-equity game plan of purchasing a company, pulling out as much profit as possible, and selling off parts of the ailing original firm, leaving workers and communities wrung out and cast aside.
This scenario often winds up in bankruptcy court, where the general directors of the private equity firm are immune from any financial responsibility to the workers and stockholders.
Last fall, OpenGate shut down the Hufcor plant in Janesville which for 120 years profitably produced folding doors. The accordion-style doors are used by schools, convention halls, and hotels, among others. The firm was bought up by OpenGate in 2017.
Last fall, Opengate ended the Hufcor operation in Janesville despite its profitability. The shutdown vaporized 160 union jobs paying in the range of $20.92 an hour. Hufcor had been a community fixture for 120 years,
As it closed down, OpenGate began shipping shipped off the jobs to a new low-wage plant in Monterrey, Mexico.
But the OpenGate geniuses who promoted the new plant in Mexico neglected to consider the severe disruption of the supply chains so closely connected to the Janesville location. Other forms of mismanagement abounded at the hands of OpenGate.
The outcome: Less than one year after the shutdown and shift of jobs to Mexico were completed, Hufcor arrived in bankruptcy court in Rock County, Wisconsin. Hufcor owes suppliers and customers about $44 million with just $5 million in assets.
If the usual script plays out, Hufcor's creditors will be paid pennies from Hufcor's paltry assets. Under the legal rules under which private equity now operates, OpenGate and its leading partners will walk away owing nothing to the creditors, suppliers, and workers. OpenGate and Nikou and its other general directors take no hit at all. Instead, the suppliers and customers will receive mere pennies on the dollar from the $5 million in assets and whatever the split-up remnants of Hufcor can bring on the market,
This is precisely how private-equity firms, an increasingly important sector of the US economy, act in American communities. The term "private equity" itself is a conscious re-branding of the 'leverage buy-outs' which gained momentum—and wide infamy— for job destruction in the 1980's, noted Carter Dougherty, communications director of the Americans for Financial Reform, a watchdog and advocacy group. "There are more private equity firms than those listed then on public exchanges. Private equity purchased $1.2 trillion in 2021, and they have an additional $3 trillion in 'dry powder'—capital which they can use."
OpenGate, with its North American office based on the 30th floor of a shimmering Century City office tower in Los Angeles, boasts a portfolio of $5 billion. Clearly a source of evident pride for OpenGate is its European headquarters, centered in an elegant Paris office displayed lovingly in the firm's web-page video. OpenGate declares that its mission is to "create transformative value" in the firms it purchases and then manages.
However, the "transformative value" has often been measured instead in by the shutdowns of its acquisitions as with Hufcor. OpenGate's PR firm spokeswoman Meredith Bishop insisted that the Hufcor transfer of jobs to Mexico was vital "to ensure Hufcor's survival and long-term viability,"
IUE-CWA Local 84811 (part of the Communication Workers' industrial division) recognized that their own long-term survival was at stake given the paucity of family-supporting jobs in the Janesville area. The union put up several months of high-profile resistance, with rallies in Janesville and Los Angeles, picketing, videos, and electronic signs to spread the word about the looming shutdown's impact in Janesville to workers, the community, and suppliers. The union also won the support of numerous elected officials, including Wisconsin Governor Tony Evers, and numerous civic leaders. While the shutdown eventually went forward, the union's warning left a permanent warning about private equity in the minds of many Wisconsin citizens.
At Hufcor and elsewhere, OpenGate's self-described "human touch," "trust," and commitment to "transparency" has turned out to mean workers kept in the dark until their jobs suddenly disappeared in a puff of smoke. In several cases, workers showed up to work only to find the operation shuttered and a printed notice that their jobs had been terminated. Federal WARN Act requires advance notice of 60 days when an operation is being closed.
At the Golden Guernsey Dairy in Wisconsin, workers experienced a shutdown without absolutely any advance notice in 2013. It took eight years of tenacious legal fighting by the Teamsters union and finally action by state Attorney General Josh Kaul in order for workers to receive the full back pay of $1.1 million that they were owed.
The former Hufcor workers face a difficult future because of an ongoing shortage of family-supporting jobs nearby. Janesville was already in distressed condition before the Hufcor move, still reeling from the impact of a massive GM plant closing in 2008. (The story of the shutdown and its broad, lingering social effects in the city of 64,000 are chronicled in Amy Goldstein's An American Story and Brad Lichtenstein's PBS movie As Goes Janesville )
One Hufcor worker experiencing the shutdown's meaning is Local 84811 member Michelle Hilzik who put in 23 years at Hufcor, while her husband invested 37 years there. For them, finding good-paying work anywhere close to the Hufcor level remains a permanent struggle. After going through three low-wage jobs in three months in a futile hope for something better, she explained, "I don' t want anyone to go through what we have," she said, her voice breaking slightly. "We could have lost our home. What happened was not fair and not fun. We're both working, but we have no health insurance."
Hilzik found herself studying private equity firms when she returned to school under Trade Adjustment Assistance benefits the union won after the closing. "I felt like I was reading my own story again and again," after reading numerous stories about workers facing the loss of jobs after private equity firms plundered their firms and then threw them out of work.
OpenGate's record, in addition to Hufcor and Golden Guernsey, would easily fit into a textbook on the most unscrupulous conduct by private equity firms abandoning of workers and communities include while remaining immune from any accountability:
The Pennysaver in Brea, California, where 678 workers lost their jobs without any notice. The final paychecks of many workers bounced.
Hamilton Scientific in Reynosa, Mexico, Wisconsin, and Texas. Lawsuits were filed in Texas over WARN violations. The Reynosa operation gained media attention as it allegedly had already been overrun by a Mexican drug cartel reportedly connected with "El Chapo" Guzman when OpenGate purchased it.
Fusion Paperboard in Connecticut. Fusion Paperboard was shut down by Opengate just a few months into a three-year union contract and failed to repay $2 million in Connecticut state subsidies.
But armed with the legal immunity afforded the titans of private equity, general partners of these firms Andrew Nikou are operating in a different universe
Nicou hangs out in rarified circles like the Innovation Board of the XPrize foundation whose star-studded list of directors include widely-known CEOs Elon Musk and Larry Page, co-founder of Google. Nikou, while depriving numerous one-time assets like Hufcor of the capital needed to survive, has managed to set up his own Andrew Nikou Foundation. That foundation even proclaimed itself at one time on its website, without a hint of irony, as actually a resource that "can improve lives of people who are disconnected and oppressed"—obviously not referring to the disconnected victims of its maneuvers. Reflecting his apparent desire to network with big celebrities in both the boardroom and Hollywood, Nikou uses the ANF to hook up with stars in music and entertainment like star Pharell Williams, through the foundation supporting Williams' YELLOW project for youth.
Until recently, Nikou also found a seat on the Advisory Board of the prestigious Hammer Foundation, whose roster is filled with some of LA's biggest names. Nicou's presence on the board outraged many Hammer staff members, who saw a huge conflict between the socially-conscious mission of the foundation and the social wreckage repeatedly caused by Nicou and his private equity firm.
Despite the major players surrounding Nicou and the glittering offices which he occupies, operations like OpenGate are now generating a significant movement. The forces from labor, consumer, and other socially-conscious groups are gathering behind the Stop Wall Street Looting Act aimed at finally requiring accountability for private equity firms which maximize profits while incurring virtually no risk because of their immunity from any meaningful regulation.
The "Stop Wall Street Looting" measure would establish a set of stringent protections for the public from private-equity directors who have no accountability or responsibility for the debts incurred by the firms they own. Private equity directors are also lightly taxed due to the "carried interest loophole" (preserved at the insistence of Sen. Kyrsten Sinema, the conservative Arizona Democrat who benefits heavily from the financial industry).
Achieving accountability from private equity firms is central to the Stop Wall Street legislation. "We need to adjust liability laws, and include general partners of private-equity firms so that they can be held financially liable for their actions.
Sen. Elizabeth Warren, who has been a key force behind the proposal, summarized the basic rationale behind the Act: "For far too long, Washington has looked the other way while private equity firms take over companies, load them with debt, strip them of their wealth, and walk away scot-free--leaving workers, consumers, and whole communities to pick up the pieces."
But given the enormous financial leverage enjoyed by the financial industry, an end to debacles like Hufcor will depend on committed Democratic majorities in both houses.