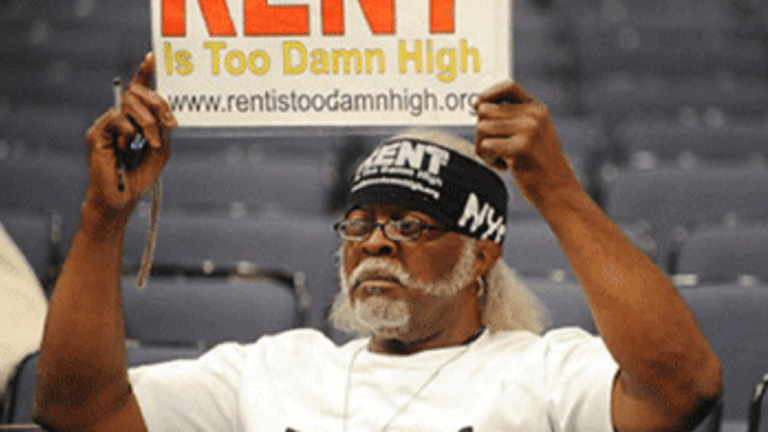 Unions Can't Boost Middle-Class If Tenants Left Behind
Randy Shaw: With rents steadily rising, can unions boost the state's middle class if tenants are left behind?
The California Labor Federation is understandably happy over new laws it got passed this year that "provide significant gains to California workers, boost our state's economy and bolster the middle class." Federation President Art Pulaski noted that "Labor led the way this year in bringing real equality and progress to working people in California."
It was a remarkable year for labor. It won passage of an increased minimum wage and drivers' licenses for undocumented workers, reformed the failed and costly Enterprise Zone corporate tax breaks, and secured historic labor protections for domestic workers.
But left out of this picture is that most of the working people for whom labor advocates are tenants. And for millions of California's tenants, this was a terrible year in Sacramento. Not only did pro-union Democrats kill a bill to help ensure tenants get their security deposits returned, but pro-labor Governor Brown vetoed a critical affordable housing bill pushed by tenant and affordable housing advocates. These actions raise the question: with rents steadily rising, can unions boost the state's middle class if tenants are left behind?
California labor unions and their allies deserve tremendous praise for their accomplishments in Sacramento this year. This was a session of big victories on controversial issues like immigrant drivers' licenses and the Trust Act, and the ability of labor to get Governor Brown's backing on so many critical issues is a tribute to its political savvy.
But the joy in seeing these victories must be placed in context. And that context is that millions of California workers' pay far too much of their income in rent, leaving far too little money for food, clothing, health care and other necessities.
California did not enact a single bill this year to meaningfully address the state's housing crisis. Nor did the state's brighter economic picture lead to increased state affordable housing funds.
Unions often claim, as has occurred in the BART labor dispute, that proposed wage increases are chewed up in increased health and pension contributions. But workers income gains are also offset by rising rents and the frequent non-return of tenant security deposits.
Labor unions helped deliver major victories on immigrant rights in Sacramento in 2013; can they also address their members' needs as tenants?
Labor and Democrats
Labor is the driving force behind progressive politics in California, and its support often decides the winner in legislative races among Democrats. In contrast, tenants and affordable housing advocates lack labor's clout. Their past gains in Sacramento have depended on having strong advocates in leadership like David Roberti and John Burton --- or a Governor like Jerry Brown in his 1975-1982 tenure.
During the late 1990's dot-com boom, labor officials in the Silicon Valley became particularly concerned about rising rents and evictions in San Jose. This soon led to statewide labor-tenant-affordable housing meetings and to enactment of state legislation strengthening housing code enforcement and other tenant protections.
But labor's connection to affordable housing and tenant advocates has weakened to the point where key labor Democratic allies are also in the pocket of the real estate industry. Senate Democrats like Rod Wright and Leland Yee can vote against tenants and affordable housing because these issues are not perceived as part of labor's agenda (the Cal Fed's legislative report does not even mention Brown's veto of the inclusionary bill, even though it impacts housing for the middle and working class that would be built with union labor).
In San Francisco and other cities, most labor unions are strongly pro-tenant and do not support candidates opposed to tenant protections and affordable housing. But at the state level it is different. State Democrats know they can vote against tenantsand accept large real estate and landlord contributionsand be viewed as "progressive" so long as they consistently back labor's agenda.
California Democrats cannot be anti-choice or anti-gay and get labor's backing, but tenant and affordable housing issues---which primarily impact those with little political power outside of unions--- are not subject to this political screen.
Can Housing Issues Become Union Issues?
As the big dog of California Democratic Party politics, labor is often asked to assist politically weaker groups. And unions understandably do not want to sacrifice political capital for constituencies that do not help labor's interests.
But inclusionary housing impacts working people and union members, as do most housing/tenant measures. High housing costs hurt union members who cannot afford to live anywhere near their workplace, or who are forced to pay an unhealthy percentage of income for rent.
Since the most unionized cities often have the highest housing costs, union members particularly benefit from the type of affordable housing whose creation Governor Brown just vetoed (See my October 22, 2007 article, "San Francisco Soon to be Union-Household Free").
Unions have a long history of backing tenant concerns. It's time to revive this historic alliance.
Randy Shaw
Beyond Chron
Wednesday, 16 October 2013