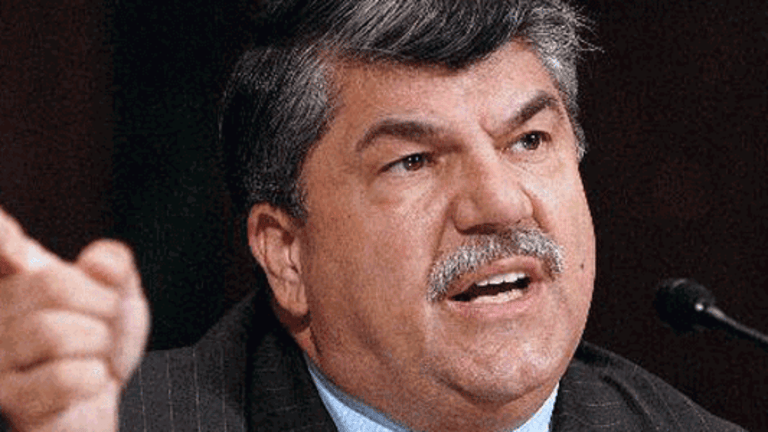 Republicans Keep Flunking on Union Issues, but Trumka Puts Democrats on Notice, Too
Berry Craig: Many union members were deeply disappointed when Congress failed to do more to stimulate the economy and create jobs. Unions wanted more health care reform than Congress delivered, too.
Unions Disappointed With Democrats
I suspect many union halls are still abuzz over Richard Trumka's speech to the National Press Club.
After scorching Republicans for bashing workers' rights with a "wrecking ball," the AFL-CIO president put both parties on notice: "It doesn't matter if candidates and parties are controlling the wrecking ball or simply standing aside -- the outcome is the same either way. If leaders aren't blocking the wrecking ball and advancing working families' interests, working people will not support them."
No group worked harder than unions to elect President Obama and help Democrats win majorities in the House and Senate.
Yet many union members were deeply disappointed when Congress failed to do more to stimulate the economy and create jobs. Unions wanted more health care reform than Congress delivered, too.
In addition, Congress failed to pass the Employee Free Choice Act, potentially the most important labor legislation since the New Deal era Wagner Act.
On the campaign trail, Obama and many Democrats pledged to work hard to boost the economy, fix our broken health care system and pass the Employee Free Choice Act.
Right on cue, the Republicans closed ranks and fought Obama and the Democrats at every turn. But more than a few union members think the Democrats wimped out.
Unions expect the shaft from Republicans. The GOP has been the anti-labor party for years. Most Democrats have been in organized labor's corner since President Franklin D. Roosevelt and the New Dealers.
"When you go back and look at history, history will tell you that the Democrats ramrodded every meaningful piece of legislation for the benefit of working people," said J.R. Gray, a former Kentucky labor secretary, Democratic state legislator and Machinists union official.
Gray is an FDR fan. So are a lot of us who pack union cards.
But conservative, less than union-friendly, "Blue Dog" Democrats – a breed common in Kentucky -- think the party of FDR needs to loosen its ties to organize labor.
Trumka didn't mention the Blue Dogs by name. But I suspect they and like-minded Democrats are whom he mainly meant by politicians "simply standing aside."
I've heard "Blue Dogs" called "Republican Lite" in union halls. So has Bill Londrigan, president of the Kentucky State AFL-CIO.
He echoed Trumka: "With workers and their unions facing an unprecedented corporate-backed onslaught of anti-worker, anti-union legislation across our nation, it is timely and appropriate to ask both Democrats and Republicans Which Side Are You On?"

He added: "Yes, this old labor union song and slogan aptly sums up what workers and their unions want to know from members of both parties: do they support the rights of workers – us -- to form and join unions of their choosing or do they stand with corporations, their wealthy owners and paid political enablers – them -- who are on a mission to destroy the American labor movement?
"It really does come down to that. Are Democrats willing to stand with workers and support them, or are they going to straddle the fence and act as if they are on our side, but then not be there when the war on workers is being fought? Now is the time for Democrats to proclaim that they are on our side. There are no neutral zones in the corporate war on workers."
Trumka stressed that unions aren't giving up on genuinely pro-union Democrats. "We've spent money where we have friends and will continue to do that," he explained.
Despite the "Blue Dogs," unions have many true friends among Democrats, according to the AFL-CIO's current "scorecard" for Congress.[poll id="34"]
The scorecard rates lawmakers on how they vote on issues important to unions.
Jeff Wiggins, a Steelworker and president of our central labor council, went over the card at our June meeting. It graded senators and representatives on votes through 2010.
Jeff focused on Kentucky 's eight lawmakers in Washington. All but two are Republicans.
Senate Minority Leader Mitch McConnell voted the labor position on bills just 6 percent of the time last year. His lifetime score is only 12 percent.
Ex-GOP Sen. Jim Bunning sided with labor 7 percent of the time in 2010. His lifetime rating was the same as McConnell's. (Bunning's successor, tea party tilting Republican Rand Paul, is helping push a national right to work law.)
Taken together, Bluegrass State Republican Representatives Ed Whitfield, Brett Guthrie, Geoff Davis and Hal Rogers averaged a tad over 9 percent "right" in 2010. Their lifetime scores average 16.5 percent.
On the other hand, Democratic Rep. John Yarmuth scored 100 percent in 2010 and 99 percent lifetime. Rep. Ben Chandler, also a Democrat, was rated 71 percent "right" in 2010 and 89 percent lifetime.
Democrats way outscore Republicans in the other 49 states, too.
Chandler is sometimes considered a "Blue Dog." But he scored 64 percent higher that Rogers, the highest-scoring Kentucky Republican, in 2010. His lifetime score is 67 percent higher than Rogers ' mark.
Anyway, after Trumka's speech, some Democratic honchos rushed to promise that the party is still in labor's corner. "Labor's fight is our fight and we're proud to partner with them," Jennifer Crider, spokeswoman for the Democratic Congressional Campaign Committee, told the Associated Press.
I haven't seen a Trumka response. But my guess is he, Londrigan and many others in labor's ranks will be waiting to see if words from the party brass will be matched with deeds.
Berry Craig