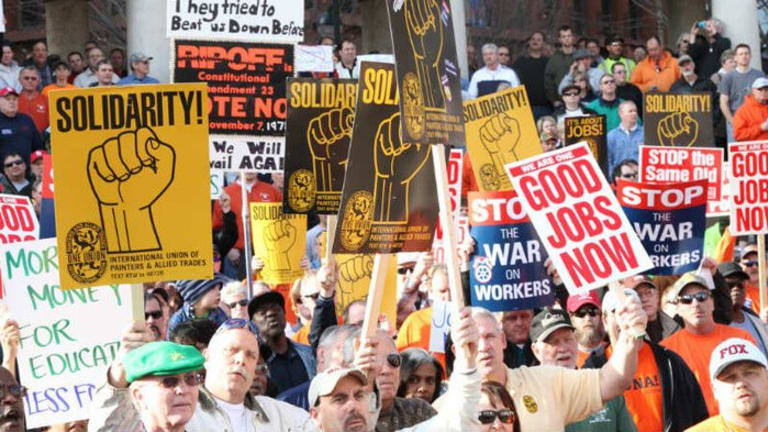 Union-Busters Sending Mixed Messages in the Bluegrass State
Berry Craig: While the voters clearly turned thumbs down on right-to-work last November, it will be interesting to see what local electorates will make of their county officials who passed these RTW ordinances
The ardently anti-union National Right to Work Committee has been cool to the county right-to-work crusade in Kentucky.
Now the Washington-based NRTWC has its national and state executive directors scurrying across Kentucky trying to drum up "grassroots support for a state right-to-work law," according to a recent story in the Bowling Green Daily News.
The duo is worried that the courts will overturn the county ordinances. Thus, they argue, a state RTW law is the only way to go, the story said.
Not surprisingly the union-busters called at Bowling Green, the seat of Warren County, which, in December, became the first county to pass a RTW ordinance. The BG News editorialized in favor of the idea.
The NRTWC national flack claimed the county "ordinances show grassroots support in different areas of the state for a right-to-work law."
Politicians and proponents of various issues always seem to say they have an abundance of "grassroots support."
Kentucky has 120 counties. So far, only about six have passed right-to-work statutes.
The newspaper story also said the Kentucky NRTWC head "agreed that passing a county ordinance could lead to a legal battle." Battle has been joined.
Nine unions have filed suit in federal court in Louisville against Hardin County's RTW ordinance. The suit could be expanded to cover other county RTW measures.
In addition, the newspaper story said the RTW bill the GOP-majority state Senate fast tracked to passage the other day "is expected to struggle in the Democratic-controlled House."
Kids will stop shooting hoops in Kentucky before this House passes the Senate bill.
Yet, according to the BG News story, the RTW tandem insisted they "have had a lot of success talking to people who are interested in supporting a right-to-work law."
The people who voted last November 4 showed a decided disdain for RTW. From Paducah to Pikeville, a host of Republican House candidates promised to make Kentucky a right to work state if the GOP won control of the legislature's lower chamber.
The Democrats held their 54-46 majority.
Meanwhile, another out-of-state anti-union group is in Kentucky, albeit crooning a different tune on RTW. The Florida-based Protect my Paycheck organization vows the county right to work ordinances are constitutional. PMP promises to foot the legal bills for fiscal courts sued because they approved RTW measures.
While the voters clearly turned thumbs down on RTW last November, it will be interesting to see what local electorates will make of their county officials who passed these RTW ordinances, especially when the courts strike them down. It will be doubly intriguing if counties end up having the pay the court costs, to boot.
There's nothing like squandering time and taxpayer dollars merely to make political statements to rile the average John and Jane Q Citizen in Kentucky, or any place else for that matter.
Berry Craig