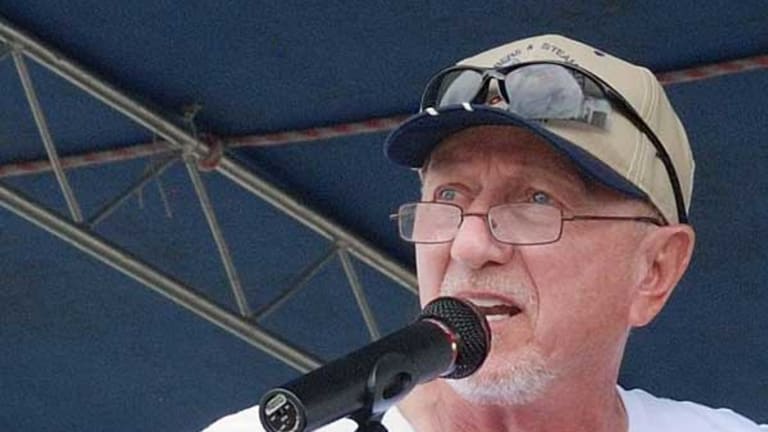 Right-to-Work Republican Rips Unions at Kentucky Labor Day Picnic
Berry Craig: Here Bridges was coming into our house and bragging on his father, a rat contractor, and talking to us like we were a bunch of idiots.
Republican Randy Bridges, who is running for the Kentucky House of Representatives, told the crowd in Paducah that his father, a retired plumbing contractor, spurned unions and "paid his guys top wage."
"They made a good living and he's made a good living and I'm proud of what he's done and I thank you, Dad."
Bridges also touted a right to work law and urged his listeners not to believe "the propaganda that some of these high [paid]…union leaders are telling you to keep their…pay up. Don't let the rank and file hear that, folks."
Bridges wasn't slamming organized labor to fire up the faithful at a GOP rally or a tea party conclave. He lit into unions at Monday's 39th annual Labor Day picnic in the McCracken County seat.
His audience was mostly union members and their friends and families.
"It was all I could do to keep quiet," confessed emcee Larry Sanderson, a retired UA international representative. He said his job was to introduce local candidates of both parties without favoring either side.
"But here Bridges was coming into our house and bragging on his father, a rat contractor, and talking to us like we were a bunch of idiots," Sanderson said later.
Jimmie Johnson, a member of Paducah Plumbers and Steamfitters Local 184, Sanderson's old union, didn't stay silent at the picnic, which followed the city's traditional Labor Day parade.
"Let 'em organize!" he yelled when Bridges said his father's workers made good money without a union.
Bridges' anti-labor comments also triggered some more heckling and a chorus of boos. Apparently unfazed, the Republican kept pouring it on.
"The way I saw it, he was on our turf," Johnson said.
The few Republicans in the crowd cheered Bridges. Most union members seemed stunned into silence by Bridges' blast.
Many spectators seemed equally baffled when Bridges said his wife, daughter, son and daughter-in-law are teachers, then declared that Kentucky Education Association, which he called "the largest union in our state," and the rival Kentucky Association of Professional Educators "are right to work unions. They have open union halls and they work just fine."
Johnson and Sanderson suspect Bridges' remarks will backfire on him. "If this doesn't fire up union members, I don't know what will," Sanderson said.
An audio tape of Bridges' speech is already circulating among unions locally and statewide:
[audio mp3="https://www.laprogressive.com/wp-content/uploads/2014/09/LABOR-DAY-2014-SPEECH.mp3"][/audio]
Unions – and KEA -- have endorsed Bridges' opponent, incumbent State Rep. Gerald Watkins, D-Paducah. KAPE doesn't endorse candidates, according to its website.
Watkins followed Bridges to the microphone. The crowd cheered the first term lawmaker when he said Communist China is a good example of right to work territory.
Berry Craig
AFT Local 1360