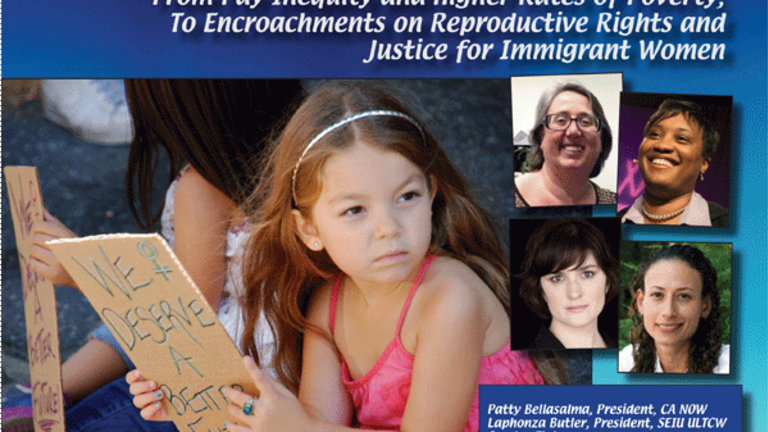 Laphonza Butler, Sandra Fluke Speak at Women's Forum
Sandra Fluke ACLU Forum: The intersection of race and gender is central to the Women's Rights Forum.
Tuesday's bimonthly ACLU Southern California discussion forum will address the topic of women's rights. Organized by the ACLU's Pasadena/Foothills chapter, the event promises to be a much larger event than usual, prompting the chapter's Sharon Kyle to announce its move to a bigger venue. Discussion topics will focus on women's economic, political, social and legal rights, said Kyle, who publishes LA Progressive. Four guest speakers include the California president of the National Organization for Women, Patty Bellasalma; Service Employees International Union United Long Term Care Workers president Laphonza Butler; attorney and activist Sandra Fluke (who so angered Rush Limbaughtwo years back), and Occidental College professor Thalia González.
Kyle, who says that she and other black women haven't always felt connected to the women's movement, thinks this particular topic is ready for revisiting. For Kyle, the intersection of race and gender is central to the Women's Rights Forum. Another major intersection that the forum will address is the one between women's and labor issues. Laphonza Butler stressed how unions can help workers be heard.
"Women are an important part of that workforce," she told Capital & Main. "This forum gives the opportunity for the voice of women in our economy to be heard from many vantage points."
Butler cited a recent move by Governor Jerry Brown to eliminate overtime pay for predominantly female homecare workers — but not their male counterparts in other industries — as an example of how labor and women's issues are one and the same. She believes unions can be powerful tools to address this kind of double standard.
Butler and Kyle also touched on another glaring double standard: the fact that women still earn less than men for doing the same work. Kyle hopes the forum will ask, "Why that is and what we can do about it?"
The forum will also cover education and reproductive-rights issues facing women.
"I hope we can also talk about immigration and the impact of our nation's immigration laws on women, children and families," added Butler.
Although the four speakers come from different backgrounds, according to Kyle they have two things in common. "They are all experts at being women and they are all great speakers," she said.
What: SoCal Women's Rights Forum
When: Tuesday, March 11, 7 p.m.
Where: Hollywood United Methodist Church, 6817 Franklin Ave. (at Highland Ave.)
Free: Open to the public. Info: (213) 434-4643, aclupasadena@yahoo.com
Subscribe to LA Progressive's daily newsletter
* indicates required
Email Address *


First Name

Last Name

Email Format
Powered by MailChimp
Sandra Fluke Speaking