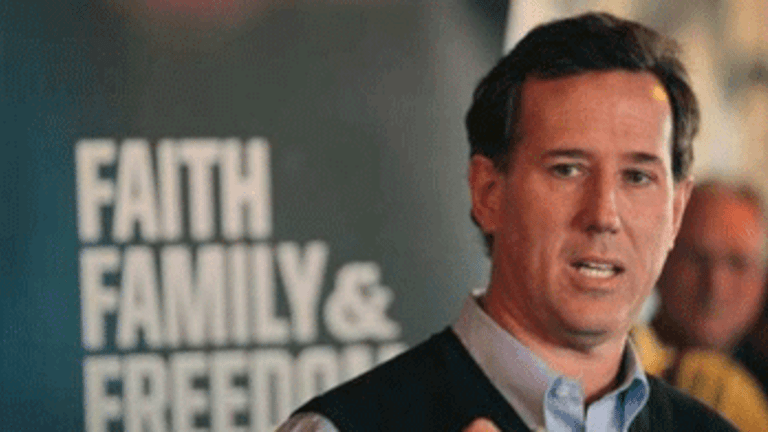 Santorum Loves Unions -- in Iran
"I believe in the American worker," says Rick Santorum, the new anti-Romney in the food fight for the GOP presidential nomination.
A hero of social conservatives, Santorum claims he's a blue collar sort of guy, too. The ex-senator and congressman from Pennsylvania promises he can make factories boom again.
Santorum says he has a plan that "frees business from the constraints of burdensome regulations and taxes that do nothing but hold back the American spirit of innovation."
Santorum also thinks unions are bad for business. He cheered New Hampshire Republican lawmakers for trying to override Democratic Gov. John Lynch's veto which killed their right-to-work-for-less bill.
Santorum commended House Speaker William O'Brien and the other GOP union-busters "for standing up to the union bosses and their Democrat cohorts who are hijacking our economy," according to the Coralville, N.H., Courier online. Santorum vowed that if he becomes president, he "will proudly sign a National Right-to-Work law."
Santorum loathes public employee unions even more than he hates private sector unions. In the Fox News-Google presidential debate, he said he didn't believe local, state or federal government workers "should be involved in unions." He added, "And I would actually support a bill that says that we should not have public employee unions for the purposes of wages and benefits to be negotiated."
On the other hand, Santorum, maybe taking his cue from his hero, President Ronald Reagan, is all for unions in Iran. The Gipper busted the Professional Air Traffic Controllers' union stateside while praising the anti-communist Solidarity union movement in Poland.
"We should have several avenues of getting money into Iran to help striking labor unions, to give them money so they can keep out on strike and disrupt the government and try to create the revolutionary atmosphere there," Talking Points Memo quoted Santorum.
Santorum, who was in the House from 1991 to 1995 and the Senate from 1995 to 2007, was one of the most anti-labor lawmakers in Washington.
The AFL-CIO's Committee on Political Education, or COPE, scored Santorum "right" on votes on union issues just 13 percent of the time.
Berry Craig