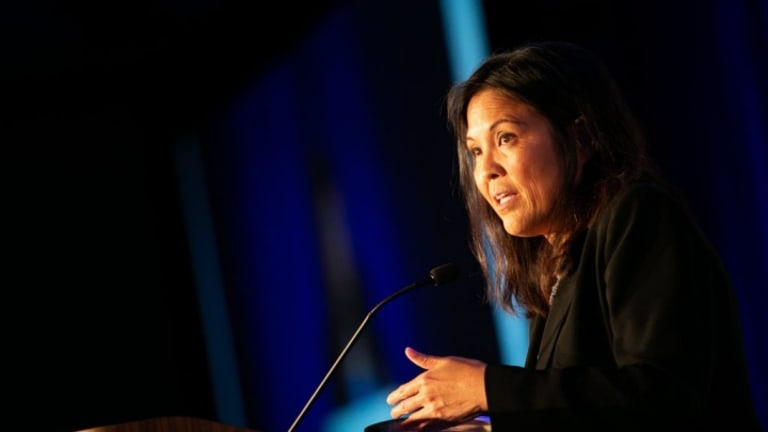 How the Press Demoted a Labor Secretary
Julia Figueira-McDonough: When are white men told their stellar record qualifies them not for the top job but a secondary one, and offered a title less senior than the one they currently hold? Spoiler alert: never.
The most qualified candidate for Labor Secretary may not be a white man, but you'd never know it from reading the news.
When are white men told their stellar record qualifies them not for the top job but a secondary one, and offered a title less senior than the one they currently hold? Spoiler alert: never. But that is exactly what appears to have happened to California Secretary of Labor Julie Su, a Harvard Law and Stanford University graduate, recipient of the MacArthur Genius Award, and a former Labor Commissioner who is fluent in Mandarin and Spanish and widely praised by labor and business advocates alike. 
President-Elect Biden has assembled the most diverse Cabinet in our nation's history, and he's not done yet. But news reports of the Cabinet selection process have been an infuriating reminder of what happens when the most qualified candidates for a job are not white men: they are casually and systematically discounted as diversity picks. Consider the media speculation over who our new Labor Secretary will be. 
Among the candidates are two U.S. Senators, one U.S. Representative, a mayor, veterans of previous Democratic administrations, and former union officials. Only one – Secretary Su – already holds a Cabinet position, in California - the country's most populous state and the fifth largest economy in the world. She is also the only woman of color under consideration for the position.
When are white men told their stellar record qualifies them not for the top job but a secondary one, and offered a title less senior than the one they currently hold? Spoiler alert: never.
Early news reports on the selection process focused on the apparent top contenders, two white men who – notwithstanding significant accomplishments – have never held a Cabinet-level position directing labor policy. Lengthy articles detailed their personal and professional connections to organized labor and to the President-Elect, suggesting and sometimes plainly stating these were the most important qualifications for the position.
Soon conjecture surfaced that Secretary Su's candidacy was being buoyed not by her qualifications, but by a split in union endorsement. A November 22 Op-Ed for The Hill stated that Secretary Su has "received rave reviews in California," and that "Su, who has a reputation for getting things done, is arguably better suited to heading DOL's Wage & Hour division, rather than the more political secretary position." Women of color everywhere winced in collective recognition of this absurd logic, all too familiar with the stereotypes that cast their substantive expertise as mere technical proficiency, too often relegating them to second chair, responsible for the heavy lifting without due recognition or the concomitant power. 
Media coverage shifted – once again, not to Secretary Su's indisputable qualifications, but to her race. One headline after another announced that Asian-American and Pacific Islander (AAPI) politicians and interest groups were pressuring the Biden transition team to appoint an AAPI to a Cabinet Secretary post. Within this myopic frame, most news stories continued to omit Secretary Su's accomplishments, thereby portraying her as a political novice whose most notable qualification is being Asian-American.
The not-so-subtle racism underlying this shallow spin on diversity bubbled over in a December 23 Politico article claiming that President-Elect Biden "definitely wants Marty Walsh" for Labor Secretary, "undefinedut Walsh is a white man … and although Biden has already nominated the most diverse Cabinet in history, some groups are pushing for more." True to form, the authors dedicated two paragraphs to Mr. Walsh's impressive rise through the ranks of Boston's Building and Construction Trades Council to become mayor of that city, his friendship with Biden and his potential appeal to Trump-voting union members, while relegating the two candidates of color to one sentence each: the Congressional Black Caucus PAC was "pushing" for Patrick Gaspard, former ambassador to South Africa, and AAPI lawmakers were advocating for Secretary Su. No mention of Mr. Gaspard's leadership with Service Employees International Union District 1199, the largest healthcare union in the country, the majority of whose members are women of color. Nor of Secretary Su's decades of pioneering advocacy for immigrant and other workers of color – the same workers who have been most devastated by the pandemic, and whose votes provided the winning margin for Biden in several key states.
On December 30, Bloomberg Law reported that under "mounting pressure from AAPI leaders," Secretary Su may have been offered the position of Deputy Labor Secretary, "second in command" to Mr. Walsh, as a "compromise" – portraying the offer as a concession to Secretary Su's ethnicity, rather than her formidable credentials. This proposition is all the more remarkable because the author plainly states Mr. Walsh's qualifications to be his longtime friendship with the President-Elect and his select union endorsements, while citing Secretary Su's experience managing a massive bureaucracy during a pandemic-induced workforce crisis – legitimizing the notion that connections are of equal or more value than the proven ability to do the very job the candidates are vying for.
Purporting to report on diversity while reducing it to demographic descriptors forgets that representation is not solely about who a candidate is, but also the voices they bring to the table. Secretary Su would not be the first woman of color to become U.S. Secretary of Labor, nor even the first Chinese-American woman – that distinction belongs to Secretary Elaine Chao, a lifelong Republican under whose tenure employer voices were heard loud and clear, resulting in draconian roll backs of fundamental wage and hour and workplace safety regulations. In contrast, Secretary Su has dedicated her career to amplifying marginalized voices while trailblazing legal and policy reforms that expanded essential workplace protections.
We can only hold our elected leaders accountable for their hiring decisions if the press shines a full and fair light on the process, dedicating equal time, integrity and thoughtful analysis to all.
To be sure, representation matters, but superficial coverage of eminently qualified candidates of color does more harm than good, reinforcing the pernicious misconception that diversity is just about checking underrepresented boxes, and somehow requires choosing between excellence and equity – a fallacy that could be shattered by responsible reporting on candidates like Secretary Su. 
Julia Figueira-McDonough