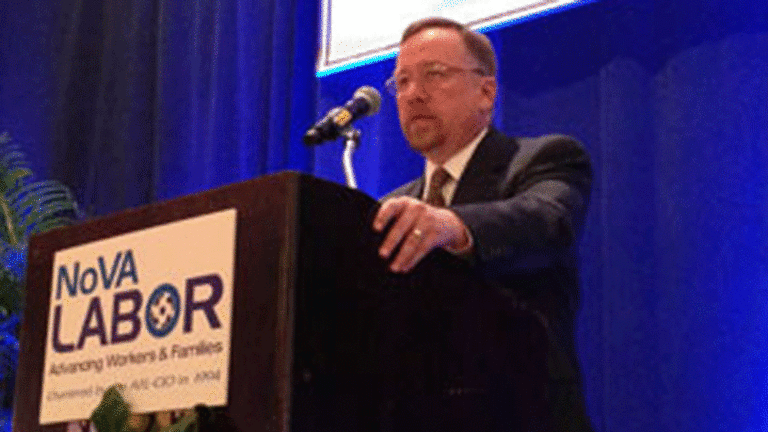 Labor Radio Host, Kentucky Labor Leaders Say 'Thanks, Mitch!'
Berry Craig: The host of a nationally-syndicated labor radio talk show wants union members to "thank" Sen. Mitch McConnell for his "help" with the Friedrichs case.
The host of a nationally-syndicated labor radio talk show wants union members to "thank" Sen. Mitch McConnell for his "help" with the Friedrichs case.
"He refuses to even consider a Supreme Court nominee from President Obama," said Charles Showalter, whose Pittsburgh-based "The Union Edge: Labor's Talk Radio" program is broadcast from coast to coast. "The high court, by a 4-4 tie, upheld a lower court decision favoring unions."
In Rebecca Friedrichs, et al., vs. California Teachers Association, et al., the 9th U.S. Circuit Court of Appeals had rejected a teacher's claim that having to contribute a "fair share fee" to the CTA to help pay for collective bargaining abridged her right to free speech.
Showalter, a member of the Screen Actors Guild-American Federation of Television and Radio Artists, got the idea to "thank" the unabashedly anti-union McConnell from Jeff Wiggins, a Kentucky labor leader.
Showalter announced the capitol switchboard number – 1-202-224-3121– on a recent program. He invited listeners to phone in their "gratitude" to the senate majority leader.
"Thanks, Mitch, you finally did something for labor," said a grinning Wiggins, president of United Steelworkers Local 9447 and president of the Western Kentucky AFL-CIO Area Council.
Wiggins, who lives in Reidland, also serves on the Kentucky State AFL-CIO Executive Board. He conceded that an Obama appointee to replace the late conservative Justice Antonin Scalia likely would have voted to sustain the appeals court judgment.
"Still, we can never know for sure how another justice would have voted," he said. "But thanks to Mitch, it was a tie and we won."
At the executive board's recent meeting, Wiggins found plenty of support for showing "appreciation" to Kentucky's senior senator.
"I'd also like to thank Mitch for handing us a victory in Friedrichs," said Jim Key, vice president of USW Local 550 in Paducah. Key figured that by opting to stall any Obama nominee "Mitch didn't dissect this issue enough to make it beneficial to his agenda."
McConnell, who favors a national "right-to-work" law, is one of the most anti-labor lawmakers in Washington. According to the AFL-CIO's Legislative Scorecard, he has voted the union position on legislation just 12 percent of the time since he came to the senate in 1975.
"Thank you, Mitch McConnell, we appreciate it very much," said Chris Ormes of Bardstown-based USW Local 1241. "Your gridlock finally paid off for us."
"Thank you, Mitch, for blocking President Obama and enabling us to maintain our union rights," said Bo Johnson of Louisville, an organizer with American Federation of State, County and Municipal Employees District 62.
Also expressing "gratitude" to the senator were state AFL-CIO President Bill Londrigan of Frankfort, Recording Secretary Edna Ford of Louisville and board members Bob Blair of Louisville, president of United Food and Commercial Workers Local 227; and Anna Church, financial secretary-treasurer of the Owensboro Central Labor Council.
Berry Craig