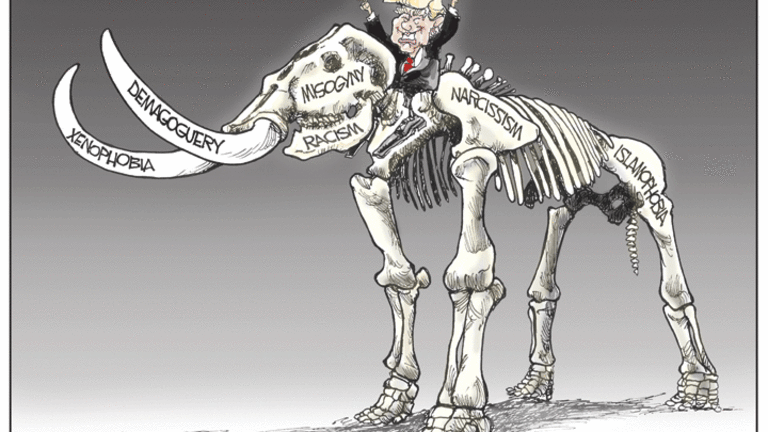 Pack a Union Card? Beware the Trump Con Job
Berry Craig: It looks like a lot of Americans who pack union cards also see Trump for the union-busting grifter that he is.
Who of the following presidential candidates supports "right to work?"
A. presidential candidate Donald Trump
B. newly ex-presidential candidate Ted Cruz
C. both
Who said, "We hear terrible things about outsourcing jobs—how sending work outside of our companies is contributing to the demise of American businesses. But in this instance I have to take the unpopular stance that it is not always a terrible thing."
A. Donald Trump
B. Ted Cruz
True or false, Donald Trump said, "But I think having a low minimum wage is not a bad thing for this country."
Steelworker Jeff Wiggins of Reidland, Ky., knows the answers are "C" for question 1, "A," for 2 and "true" for 3.
"Donald Trump is a liar and a con artist," said Wiggins, president of United Steelworkers of America Local 9447 in Calvert City and president of the Paducah-based Western Kentucky AFL-CIO Area Council. "He'll say anything to get elected, but he is no friend of organized labor."
Cruz, a tea party-tilting Texas Republican senator, is so blatantly anti-labor that his presidential bid had almost zero support among union members. Bilionaire tycoon Trump is trying to sucker union members into voting for him by demonizing outsourcing, a business practice that unions vehemently oppose.
It looks like a lot of Americans who pack union cards also see Trump for the union-busting grifter that he is.
It looks like a lot of Americans who pack union cards also see Trump for the union-busting grifter that he is. "He preaches hatred of minorities to divide us," Wiggins said. "He's also doing everything he can to keep workers at his hotel in Las Vegas from organizing a union."
Like Wiggins, Mother Jones magazine is on to Trump's shell game. Before he became a politician, Trump defended outsourcing, the magazine recently pointed out.
Writer Russ Choma quoted a Trump blog from 2005. MJ even provided a screen shot of the blog, which includes the quote in question 2.
"Losing jobs is never a good thing, but we have to look at the bigger picture," Trump posted.
"Last year, Nobel Prize-winning economist Dr. Lawrence R. Klein, the founder of Wharton Econometric Forecasting Associates, co-authored a study that showed how global outsourcing actually creates more jobs and increases wages, at least for IT workers. The study found that outsourcing helped companies be more competitive and more productive. That means they make more money, which means they funnel more into the economy, thereby, creating more jobs."
Trump also parroted the corporate spin that outsourcing was often necessary for a company to survive or thrive, Wren wrote.
"I know that doesn't make it any easier for people whose jobs have been outsourced overseas, but if a company's only means of survival is by farming jobs outside its walls, then sometimes it's a necessary step," Trump blogged. "The other option might be to close its doors for good."
Choma noted out that 11 years ago, "there was no fist-pounding about corporations that sent jobs overseas and the politicians who did nothing about it. By the way, at that time, Trump was selling ties and clothing under his Trump Collection line that were manufactured overseas.
"These days, Trump routinely rails against companies that ship jobs to other countries. He says he will no longer buy Carrier equipment or eat Nabisco's Oreos. And he has blasted Apple for manufacturing its products in China. When did he change his tune on outsourcing? The Trump campaign did not respond to a request for comment."
Trump put Carrier Corp., front and center in his victorious Hoosier State presidential primary campaign. He never missed a chance to castigate the company for announcing that by next year it would outsource 1,400 jobs from its Indianapolis plant to a Mexican factory, leaving behind only 200 non-union research and development positions, Adam Wren wrote in Politico.
Wren covered a recent March and Rally for Good Jobs at the Indiana capitol building. The scribe reported that the gathering attracted hundreds of Carrier workers from USW Local 1999 who cheered for their presidential choice—Vermont independent Sen. Bernie Sanders, who is running as a Democrat.
Wren waded into the crowd, interviewing a dozen workers. None of them supported Trump. All of them characterized him as a phony and they didn't mince words.
"In all reality, I see Trump as an opportunist," declared 57-year-old Carrier forklift driver Robert James.
Tay Walker, 52. replied with Trump-like bluntness. "He's full of shit," the Steelworker said of The Donald.
"I don't think he's for the people," said Ron Terry, 60, a 17-year employee in the shipping and receiving department. "He's for his pockets."
"He's a loudmouthed fraud," maintained Frank Staples, 37, who has worked at Carrier for 11 years.
Staples conceded that "a few people out there" favor Trump. But Wren wrote that by and large, the workers "see in Trump the same kind of corporate greed that led Carrier executives to outsource their own jobs."
Staples also told Wren: "His own clothes come from China. He's talking about American workers. There's 1,400 people losing their jobs at Carrier. He could employ 1,000 people making his clothes. Bring his company to Indiana. Bring something that's not going to fail to Indiana. Everything he's ever ran has [fallen]. His airline fell. He got kicked out of his own Miss America pageant. I mean, come on. The Apprentice fell. He's a reality star."
Staples can't imagine any union member wanting to vote for Trump. "You can't have it both ways," Wren also quoted him. "He has foreign interests himself, in China, and things of that nature. A few months ago, he made the statement that union workers make too much money.
Then all of the sudden, you got an interest in Carrier?"
Staples ridiculed Trump for vowing not to buy Carrier air conditioners, pointing out that Carrier's Indianapolis factory makes furnaces.
Wiggins echoes Staples' charge that Trump is a faker. "If Trump is such a patriot, loves America and cares so much about American jobs, why doesn't he start making his clothes here instead of in communist China?"
The pro-RTW Trump, who likes a low minimum wage and is fighting tooth-and-nail against a union at his hotel, figures to split the union vote with his new-found opposition to outsourcing. It's the same divide-and-conquer strategy the Republicans have been using on organized labor since 1980 when Ronald Reagan trotted out the so-called social issues.
Reagan won votes in 45 percent of union households on his way to becoming the most anti-union president since Herbert Hoover.
"A union member voting for Ronald Reagan would be like a chicken voting for Col. Sanders," said a sign in a Paducah union hall in 1980. That's ditto for casting a ballot for The Donald.
Berry Craig