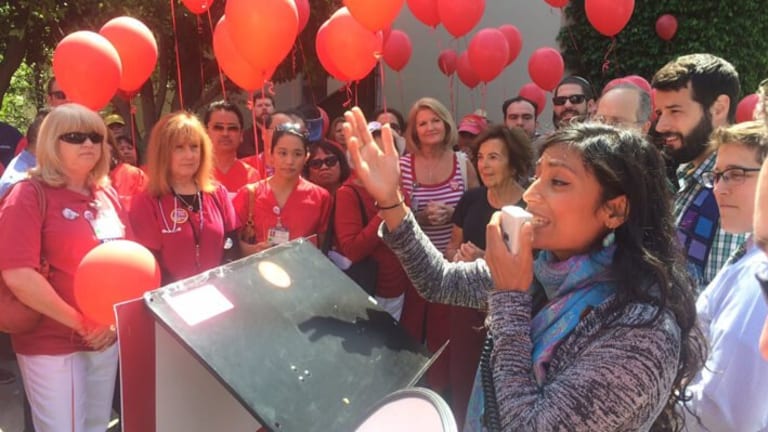 Huntington Hospital's Dirty and Expensive Union-Busting Pays Off
Peter Dreier: After two days of voting, the temporary results are in and the hospital prevailed -- hardly a surprise in light of the one-sided playing field that the nurses had to play on.
Over the past several months, Huntington Memorial Hospital in Pasadena, California, waged a vicious, expensive, and ugly union-busting campaign to undermine its nurses' efforts to win a voice at work. The hospital hired high-priced consultants and lawyers, experienced in union-busting, to intimidate and harass its own employees, including using outrageous (and possibly illegal) efforts to disenfranchise nurses from exercising their right to vote. Hospital CEO Steve Ralph and board chair James Rothenberg should be ashamed of themselves for denying the nurses their right to a fair election free of coercion and intimidation.
The nurses' campaign, waged with the help of the California Nurses Association, gained incredible support from community leaders, clergy from many faiths and congregations, and elected officials.
After two days of voting, the temporary results are in and the hospital prevailed -- hardly a surprise in light of the one-sided playing field that the nurses had to play on. Here's the California Nurses Association's statement about the election:
Federal government officials Thursday night counted votes cast by registered nurses in an election to determine whether they would join the nation's largest RN union, the California Nurses Association/National Nurses United.
Results of the vote remain inconclusive as a result of 175 yet to be determined disputed ballots. Among those that were counted, the hospital administration led 539 to 445.
"CNA salutes the courageous Huntington Memorial RNs who withstood an unconscionable, immoral and illegal campaign of harassment, coercion and intimidation to vote in large numbers for a collective voice for their colleagues and their patients," said CNA Co-President Zenei Cortez, RN.
"While the outcome remains to be determined, what is clear is that the top administration of Huntington conducted a disgraceful campaign against their frontline caregivers," Cortez said.
The National Labor Relations Board has already issued one formal complaint against the hospital citing seven instances of unlawful conduct, including unlawful interrogation of RNs by supervisors, and surveillance and interference with RNs who supported the union. Many other charges are pending before the board.
Huntington officials recently told nurses that they would be going over budget this year by $6 million. We believe much of that - money diverted from patient care delivery - is attributable to the massive, illegal anti-union campaign that included the hiring of at least four separate anti-union law firms and consultants, including two of the most notorious, and expensive, in the nation, the Littler Mendelsohn law firm and IRI Consultants.
The litany of repressive tactics by Huntington, in flagrant violation of federal law, as well as the RNs rights include:
Harassment of pro-union nurses, including surveillance and intimidation with the threat of discipline for those who supported the union.
Bribes, in the form of illegal promises of pay increases if nurses voted "no".
Pulling RNs away from the bedside to attend mandatory anti-union "classes"
Discrimination and retaliation against pro-union nurses
Using beefed up security to create a climate of fear
"Overall, the pattern of hospital behavior has cast an irreparable cloud over the entire election," Cortez said. "The American public and the residents of Pasadena would be horrified if they witnessed the gauntlet of bullying and persecution of RNs by Huntington's administration that made a mockery of the concept of a free and fair election."
A campaign of harassment was even carried out by leading hospital officials and consultants against community supporters of the RNs' right to organize a union, including local elected officials, community and civic leaders and clergy from several faiths.
"These reprehensible and illegal actions are a testimony to the broken state of federal labor law protections for workers seeking collective representation, and the ideal of a free and fair union election," Cortez noted
The parties have a week to file objections to the election with the federal government.
"CNA is committed to defending the RNs' rights to organize a union, and we will continue to advocate for their rights, their voice to advocate for their patients, and their respect as RNs. We are confident that when the wishes of Huntington Memorial RNs are finally determined in a free and fair election, they will have won the union representation that they so deserve," Cortez said.
"We are so proud of our colleagues for standing up for our rights, despite the outrageous and bullying behavior of our hospital administrators," said Huntington RN Jackie Hauffen. "We know in our hearts that we will prevail, and RNs will enjoy CNA representation. When we do, we will have a better hospital, with better care for our patients, our community, and the skilled and caring RNs of Huntington."
Peter Dreier