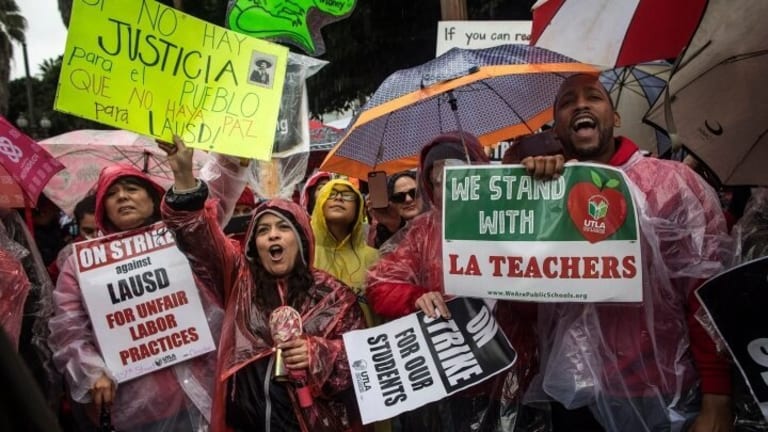 To My Sisters and Brothers in UTLA
Carolfrances Likins: I miss getting on the train and calling out, "U.T.!" and hearing, "L.A.!" shouted back to me by a zillion voices from a zillion sisters and brothers in red t-shirts and high spirits.
[dc]"L[/dc]ook up! Look down! L.A. is a union town! Look up! Look down! L.A. is a union town!"
Congratulations!
I have said this many times to many people and I want to say it to you: I've never been so proud of my union. I don't just mean our amazing leadership, all of whom are teachers and organizers, but also all of you, our rank and file.
81% turnout for the strike authorization vote and, of that, 98% for the "Yes"! Stunning!
I was chapter chair at my school in Watts during the '89 strike, and I don't remember it being anywhere near this level of spirit. I couldn't join you in striking this time because I retired in '05, but I was there as much as possible, and your spirit gave me more than I could have ever hoped to be able to contribute to you.
The '89 strike was over in nine striking days. Some predicted your strike would be over sooner because you were so unified; others said it would probably take more time because the stakes – saving public education from privitizers – were so high.
You did it in six days.
I miss getting on the train and calling out, "U.T.!" and hearing, "L.A.!" shouted back to me by a zillion voices from a zillion sisters and brothers in red t-shirts and high spirits.
Though I will always cherish the memories, these things I already miss: I miss getting on the train and calling out, "U.T.!" and hearing, "L.A.!" shouted back to me by a zillion voices from a zillion sisters and brothers in red t-shirts and high spirits. When I get on a train now with a handful of quiet people, I miss us being crammed together, chanting, into one solid Red-for-Ed mass, only to see a thick wall of red out the window when we come to the next station, sisters and brothers waiting to get on.
And the several times since when I get off the train at the Civic Center station and enter Grand Park with only a few fellow human beings around me, separate from me and mostly from each other, I miss being able to see that gorgeous redness rolling like a never-ending mighty river of energy, emerging from the depths of that concrete cave and flowing into the park. I miss going into cafés or restaurants on strike breaks and seeing some of you there and getting to hear from you what it's like teaching now, post-open-court.
And the next time I'm on any picket line for peace or justice, I'm going to actually miss picketing in the rain and chanting, "Brrr! it's cold out here! We're fighting for our students and their future here."
For those of you that never took a train to a rally, I'm sorry you missed out.
You all know what you have gained for yourselves, for future teachers, and for our students in terms of an excellent contract, but do you know what spiritual gifts you gave to others? As for your students, not only did you give them smaller classes and more support staff, but in the act of striking, you gave them an empowering education. How do you teach about Dr. Martin Luther King Jr., César Chávez, Susan B. Anthony or the like? By textbook? By photos? By films? Or how about this? By being on a picket line when they came out of school, greeting them with shouts of, "We miss you! We're doing this for you!" And for those who joined us on the picket line; would any of them ever forget that?
I want to make sure you know the spiritual gains you made for other working people who now have more solidarity, more hope and, of course, more respect for teachers.
Let's go for that last one first. Once when I was in Cuba, a land where life-long access to education is considered to be an obvious universal right, my friend introducing me to Cubans as a teacher would inevitably get the type of reaction that one might get from introducing a minor movie actor to friends in L.A. – in spite of Cuba being a country of many teachers. It struck me that I never got that kind of admiration at home when I was introduced as a teacher.
You changed that. Now when I wear my red UTLA shirt – or my purple one – strangers stop and congratulate me. I have to tell them, of course, that being retired means I'm not one of those who braved the strike, but I'm grateful for the solidarity.
And speaking of solidarity, I was on a picket line at RFK with many of you and a whole bunch of UNITE-HERE hotel workers – as well as firefighters on their big red truck decorated with our "We support teachers" placards. Then we – teachers, hotel workers, and community people – marched chanting over to a hotel and picketed there. United. And I've heard about other unions offering us solidarity at other school sites.
Do you know what it brought back to the mind of this seventy-year-old activist? When I was first beginning to be politically conscious, I was heart and soul into supporting the United Farm Workers. At first, upon hearing their stories – like when one farmworker told me about his grandmother coughing up blood from the spraying of pesticides – I believed their condition to be unique, disconnected from the good life most other people enjoy in this country. It was when a group from the United Rubber Workers came to join us on a UFW picket line that the concept of labor union solidarity presented itself to me. The system is hurting us all, so we're all in this together!
One more story about that before we move on. When the Writers Guild of America went on strike a decade ago, I was attending rallies for my future union. One of the most memorable moment for me was when Alfre Woodard spoke, encouraging the screenwriters to see their struggle as part of the greater labor movement.
Part of the reason your action was so successful was that our union recognized this need. Building up to the strike, they did their homework, organizing beyond the bargaining unit, even beyond parents and students, in the greater community – including other unions.
That is one of the things I hope we will all do. Remember that we are part of a larger labor movement, which includes many of our grown-up former students and the parents of our current ones. When you hear of other workers going on strike, remember how they supported us. If you can possibly squeeze some time out of your already-overloaded teaching prep hours to join their picket lines, wearing your UTLA shirt is guarenteed to bring you love.
If I might offer two ideas for you to consider for future actions: One, learn "Solidarity Forever," a great song from our ancestors in the labor movement. Singing on picket lines and at rallies is empowering, and if there's a great song to sing, it would be that one. This is Tom Morello's rendition:
Second, I have serious problems with the chant, "The people united will never be divided." Originating in Chile, it was "El pueblo unido jamás será vencido," which translated is "The people united will never be defeated." Then someone came up with changing it to "never be divided" because it rhymes. However, it also makes it tautological, like saying, "as long as we stand in a circle, we won't ever be in a square." And if we can stay united but we're still defeated, what good is that? Do we want to say that unity brings us unity or that it brings us victory? C'mon, now, we're teachers, so we know about putting form over content, like going for something that rhymes but is meaningless. I urge us to take up the stronger statement, "The people united will never be defeated." And let's also learn the original Spanish (which was just about the first Spanish sentence I ever learned), so we can chant it in unity with all Spanish-speaking people who chant it in their actions.
Thank you for your strength, your passion, and your energy. I mentioned that you have inspired other workers throughout L.A. and beyond, that you have contributed to the wider movement. This came out in a chant I heard from some of you which blew me away. There on a train ride I heard chanted in the voices of teachers sitting in seats and packed into the aisle, "Look up! Look down! L.A. is a union town!"
When I began learning labor history, I learned that my city was anything but that. Seattle was a union town, San Francisco was a union town, and L.A. was the town where the bosses, having learned their lessons from Seattle and San Francisco, crushed the union movement. That all began to change with the enormous janitors' strike of 1990 and it continues with the UTLA strike of 2019.
Thank you for helping to make L.A. a real union town.
And none of what I said about your spreading out of your graces to the rest of the working class is meant to detract from what you, as our current body of teachers, have given to yourselves as our current body of teachers – and to your students. I remember sitting next to a young teacher at a South Area meeting just before the strike and she said to me, "I'm terrified." Then, on the first day of the strike, coming back on the train, I called out, "How are we feeling?" The response was immediate: a voice from the crowd called back, "Hopeful!"
Bless you! You did it.
Carolfrances Likins