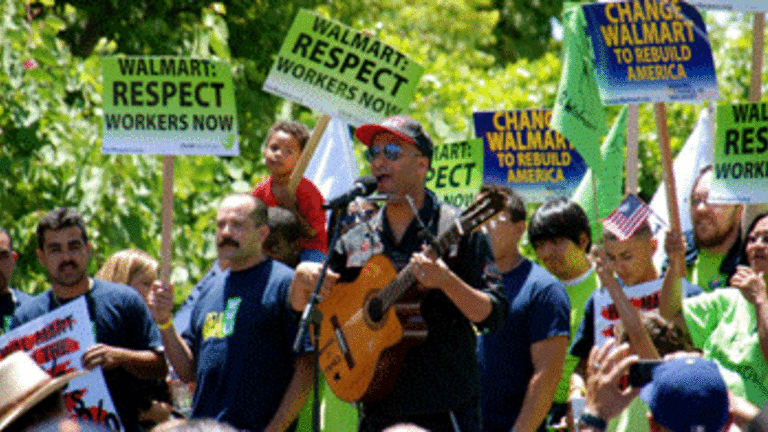 Wal-Fare Benefits: Facts About Walmart Employee Plans
Bobbi Murray: Walmart has repeatedly come under fire from labor and community groups, as well as states, for promoting a health care structure that encouraged employee reliance on Medicaid.
Walmart Employee Benefits
Nearly all employers struggle to contain health care costs. Walmart, however, has long made it part of its business model to externalize those costs. The World's Biggest Company has repeatedly come under fire from labor and community groups, as well as states, for promoting a health care structure that encouraged employee reliance on Medicaid. The Supreme Court's June 28 decision upheld the heart of the Affordable Care Act, which was good for President Obama–and also good for Walmart.
"The 'Obamacare' plan is a huge subsidy to Walmart," Nelson Lichtenstein, author of The Retail Revolution: How Walmart Created a Brave New World of Business said in a phone interview.The Affordable Care Act will also benefit the bottom rung of Walmart's workforce who will be eligible for Medicare under the plan, he added.
Lichtenstein refers to Walmart's army of part-timers. The retailer's Web site features a state-by-state report of its average hourly rate for full-time regular employees and makes much of the figures—but the pay scale numbers don't apply to large numbers of Walmart associates (and are disputed by advocates who use industry research to place the pay scales at a lower rate.)
USA Today reports that Walmart declined to say what the retailer's national hourly wage is for part-time workers.
By its own admission, nearly half of Walmart's workforce is part-time.Walmart, as the nation' s largest private employer, can and does set its schedules so that many can't get full-time hours.The Big W eliminated health care for part-time new employee hires last fall.
So if you work part-time at Walmart, the Affordable Care Act can represent a lifeline for your family. According to Daily Finance:". . . people who make up to 133 percent of the poverty line — for a household of two adults and one child, this would be $23,344 — would be eligible for Medicaid at no cost."
The poorest of Walmart's employees will in effect have a single payer plan—the taxpayer.
Ken Jacobs, chairman of the U.C. Berkeley Labor Center, has a sunnier initial take than Lichtenstein's on Walmart and the Affordable Care Act."It's good for Walmart—ultimately it's good for all businesses in America," said Jacobs, whose areas of specialization include health care and low-wage work.
The ACA "will allow more people to create businesses," Jacobs said. The United States has one of the lowest rate of small business formation and lack of universal coverage (like that enjoyed by other industrialized nations) is one of the factors contributing to that.
Jacobs said the ACA provides a way for Walmart to shift health care costs. The lowest rung workers will gain access to Medicaid and subsidies to purchase care in state health exchanges. "It allows [Walmart] to go in the direction they've been going," he said.
Walmart explicitly laid out its taxpayer-based health care approach in a memo at a 2005 board of directors retreat. The New York Times obtained the document in which Walmart's executive vice-president for benefits "acknowledged that 46 percent of the children of Wal-Mart's 1.33 million United States employees were uninsured or on Medicaid," as theNew York Times reported.
An excerpt: "Wal-Mart's healthcare benefit is one of the most pressing reputation issues we face because well-funded, well-organized critics, as well as state government officials, are carefully scrutinizing Wal-Mart's offering."
The memo sounds the alarm that nearly half of Walmart employees' kids were using publicly funded health care. You could see that's a PR problem.
Walmart's health coverage and other benefits remain a PR pain for the megachain.Mobilizations in Los Angeles, New York and Chicago against the retailer moving into local markets are based on a potential threat posed to depress local wages, benefits and local small businesses – all of which have occurred in other markets.
A retailer of Walmart's size and scale can do that.Walmart disputes the studies that show negative economic impacts, criticizing the methodology.
The megachain touts its 401(k) plan, which matches employee contributions up to sixpercent of pay. That assumes an employee can afford to contribute after paying the bills, a challenge for Walmart's many part-timers.
CNN Money reported: "With its previous retirement plan established in 1971, the company would share its profits with employees by automatically putting company money — the equivalent of fourpercent of an employee's pay — into a retirement plan. The employee wouldn't be required to contribute."
As to health care, the latest figures show some one million associates and their family members covered by company plans, according to spokesman Steven Restivo.
That doesn't mean one million of Walmart's current 1.4 million U.S. employees are enrolled in a Walmart plan. In 2009, the last year Walmart made open enrollment figures available, 733,000 (or 51.8 percent) associates enrolled.
Walmart also offers medical plans with no lifetime maximum and low premiums, Restivo says. But a look at Walmart employees' materials and some applied math show some pricey deductibles–they can be anywhere from $1250 to $2700 for a single enrollee and $2500 to $5400 for a family.
The no-lifetime maximum Walmart touts is law—it went into effect nationally in September 2010—as part of the Affordable Care Act, upheld by the Supreme Court last week.
Bobbi Murray
The Frying Pan
Posted: Tuesday, 3 July 2012