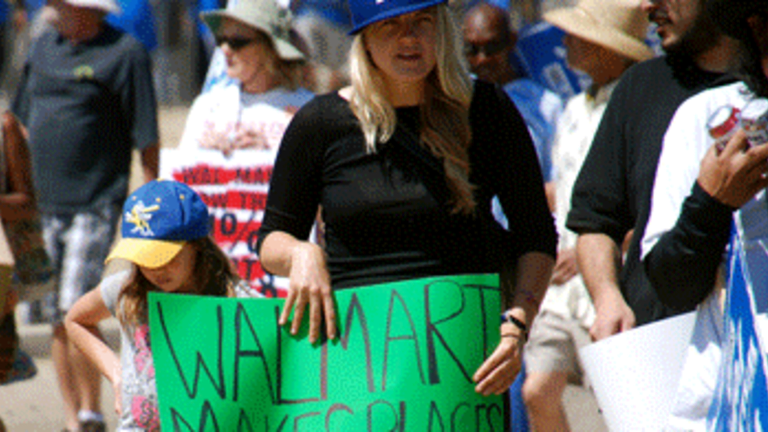 Walmart Workers Fight Poverty: A Cashier's Story
September's shaping up to be another tough month for Martha Sellers. The Walmart cashier cleared $732 on her last twice-monthly paycheck but hasn't paid this month's $700 rent on her place in Bellflower. When she does, she'll have to decide how much of the remaining $32 will be divided between food and gas to get her to the job she's held for the past 10 years.
"I am just always broke, always late on things," Sellers says. "Thank goodness I have a nice landlord who understands."
Sellers' employer, however, is not so understanding. Sellers makes $13 an hour, which on paper doesn't look too bad when compared to many other Walmart workers' salaries, which tend to run less than $9 an hour. The problem is that the retail giant is continually cutting her hours, so that the $13 doesn't tell the whole story.
"When I first started I worked 35, 40 hours a week," she says. "Three years ago my husband passed away. Losing his income was hard. I've begged to get my full-time hours back but they keep cutting everyone's hours. My last two-week check was for 58 hours. How can I live on that?"
It's a question that many economists have been raising in opinion pieces, as the centrifugal forces of America's unequal economy continue to redistribute the country's wealth disproportionately to its top five percent. Over the past three decades, this exclusive group has enjoyed a 74 percent increase in its wealth, while America's bottom 60 percent has suffered a 5.5 percent loss of income. Walmart's own employees have been pressing the question in more forceful ways – organizing into activist employee associations that have staged walkouts and demonstrations. Last Thursday thousands of protesters rallied in 15 cities to demand the rehiring of about60 Walmart employeeswho had been fired earlier this year for strike activities.
In Los Angeles, hundreds gathered in Pershing Square and marched to the entrance of Chinatown, where a new Walmart grocery store will soon open despite community opposition. Sellers was among those who demonstrated in the day's blistering heat and humidity, in a rally that saw 21 protesters arrested for civil disobedience. Sellers wasn't among those jailed – she is already on probation for having been arrested during last November's Black Friday protest.
Sellers stresses that while she, along with her co-workers, are demanding better treatment, they also wish to see Walmart prosper. For many, the company remains the employer of last resort.
"I was my mother's caregiver," says Sellers, who works at a Walmart in Paramount. "That created a three-year gap in my employment record. After she died I looked for work, but when companies saw that gap on my applications, they wouldn't even call me. Only Walmart did, and when they asked about those missing three years I told them and they hired me."
Although classified as a cashier, Sellers is also expected to restock shelves and clean up the aisles closest to the checkout stations when she has time – which is not often, since the company, she says, deliberately short-staffs the registers, creating long lines of shoppers.
"We complain about them cutting hours, but Walmart tells us it's the 'nature of the business.'"
Sellers claims that even the store's quarterly bonuses are hollow gestures, since whatever extra money its "associates" receive is only taken away through reduction of their hours.
Sellers maintains that she's been "a model employee since the day I started," but that she reached a turning point last March when one of her coworkers, Carlton Smith, told her, "If it's this bad now, how bad do you think it's going to be in 10 years?"
"That made me think," Sellers says. "Because my grandchildren might have to work here and it's no job to have." Sellers joined OUR Walmart, an activist association of Walmart employees. She says the company has not confronted her about her activities and she gives them no excuse to discipline or fire her.
"I know they're watching me all the time," she states, adding that after last Thanksgiving's Black Fridayprotests, her supervisor reportedly complained, "How dare she get arrested in front of my store!"
[dc]"I[/dc] want Walmart to survive but I want them to let us survive. I eat a lot of noodles and can't afford to go shopping in my own store. I buy bread, noodles and coffee there. We get a 10 percent discount but only if the food isn't good for you – soda, chips and candy are discounted, but not bread and peanut butter."
After the Los Angeles demonstration Sellers was looking forward to leaving town and the heat behind.
"I'm going fishing with a friend for four days," she says. "I'm going to sit and relax and brainstorm on what other actions we can do to get Walmart's attention."
Steven Mikulan
The Frying Pan
Monday, 9 September 2013