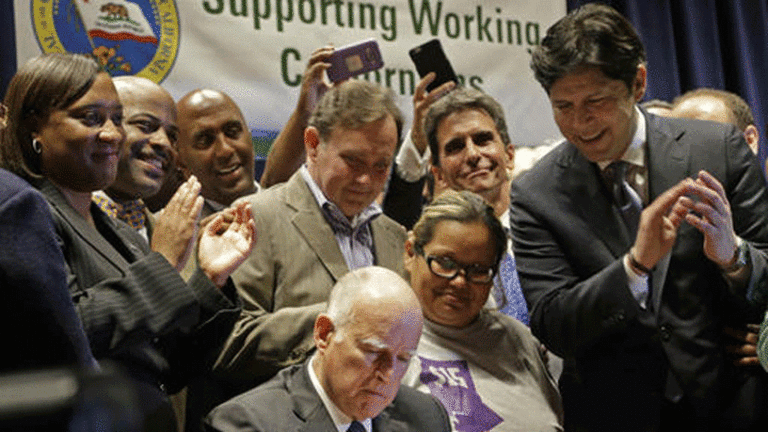 One More Working Class Victory!
Rosemary Jenkins: This is the day Governor Brown signed into law the Raise-the-Wage mandate—$15 an hour minimum wage for nearly every worker in California phased-in over the next few years until it is eventually indexed to the cost-of-living.
Today is Monday, April 4th. This is the day Governor Brown signed into law the Raise-the-Wage mandate—$15 an hour minimum wage for nearly every worker in California phased-in over the next few years until it is eventually indexed to the cost-of-living. Today marks the day Martin Luther King, Jr., gave his life for the cause of fair labor treatment for sanitation workers in Tennessee—people rarely considered when such labor campaigns are pursued. Today is the day that a coalition of workers, unions, social and economic justice groups, members from the religious community united for a demonstration against the El Super Mercados on the same day its parent company, El Chedraui, was holding its annual shareholders meeting in Mexico.
We (especially in the greater Los Angeles area) have waged so strong a campaign against this conglomeration that for the last three quarters, El Super has not only lost money (over $200,000 since the same time last year) from its American stores but also has suffered a significant downgrade from Barclay's Bank.
Yes, Virginia, the power of the everyday trabajador/obrero (laborer) can make a difference when all involved work together for a common cause (you may want to read one of my previous articles regarding the particulars).
Signs waved by the demonstrators screamed out to the passersby. We are fighting for respect and dignity on the job; for living wages under safe and clean conditions without fear of reprisals and retaliation; for a regular, dependable schedule for full-time workers; for earned-paid sick leave; for earnest negotiations (as required by the Federal government). Our zealous actions were met by raised, waving or fisted hands; salutes; and honking cars--all showing, on the part of the onlookers, their approval and support which, in turn, generated even more enthusiasm in each of us.
I have never been so proud to be a part of this movement. The energy was electric. It reminded me of the "golden days" of the decades-old Civil Rights Movement. Today, however, we marched (a mile and a half in the hot sun)—nearly a thousand strong—from one El Super in Los Angeles to another one in nearby Huntington Park.
We marched—this time, not under the bullying and abusive nightsticks of coarse and violent police officers but under the watchful and compassionate protection of Los Angeles County's finest sheriffs. What a difference time and changing attitudes can make!
We marched to the music of Woody Guthrie and of Tom Morello (who has gone from being a member of Rage Against the Machine to composing and recording rallying union songs). We were reminded of Martin Luther King's words that still challenge us to stand up and be counted for a worthy cause or do nothing and be counted out: "In the end, we will remember not the words of our enemies, but the silence of our friends" if the latter choose to do nothing in the face of moral challenges.
People came not just from Los Angeles County, not only from Orange County, but also from as far away as Arizona where El Chedraui also locates some of its El Super stores.
Yes, there still are those (particularly in the restaurant industry) who oppose such measures. On the other hand, Governor Brown, perhaps because of his "moonbeam" history, recognized the controversy but at the same time felt impelled at the signing ceremony to underscore that such legislation is the honorable thing to do, that there is a moral imperative to right the wrongs that have been imposed upon our blue-collar workers for far too long. It should become clear to all of us that businesses of all stripes must adjust to these new circumstances so that their employees can attain a modicum of the standard of living and sense of security that their labor makes possible for the owners of the businesses for which they work so arduously, diligently, and industriously.
At the rally today, speakers came from a broad swath of our society: religious and labor leaders (to be expected), political leaders (most welcome), and representatives from the local Chamber of Commerce (how surprising and yet reassuring). The ask? The demands? Better wages and working conditions. When these are accomplished, economic security, viability, and the general contentment of any community can be achieved. And an additional benefit (perhaps by way of unintended consequences) the reduction in crime.
It is all about offering people a stake in their own communities—from which we all benefit.
Hurrah for today's victories—a continuation in a series built on past achievements while preparing the way for future ones.
Rosemary Jenkins